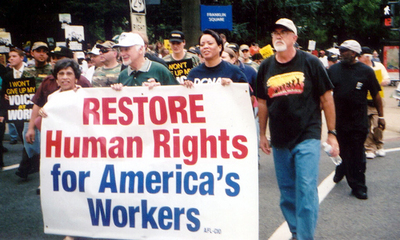 WASHINGTON (PAI) — Joint organizing drives involving two or three unions, some of them in notoriously anti-union "right to work" states, will lead to wins for organized labor, says AFL-CIO Organizing Director Stewart Acuff.
And, he adds, they're also fulfilling other AFL-CIO goals.
One is to bring more African American, Latino and other workers of diverse backgrounds, and women workers, into union ranks and leadership.
Another is to involve union shop stewards in organizing drives, making them campaigners for democracy — in the workplace and out.
A third is to organize more white-collar workers.
A fourth is to increase union presence in the South.
Those points are important, figures show. The private sector unionization rate is below 8 percent and the number of unionists nationwide has grown only slightly in the last five years. That includes AFL-CIO members, the Change to Win federation and the independent National Education Association, the nation's largest union.
Change to Win, whose seven member unions split off from the AFL-CIO starting in July 2005, also has an explicit goal of organizing women and minorities. Four of its affiliates — the Service Employees, Unite Here, the United Food and Commercial Workers and the Farm Workers — are majority minority, majority female or both. Another, the Laborers, is heavily immigrant and minority.
'Army of stewards' plays key role
But as the larger of the two labor federations, and as the one that had to react to the pullout of the seven CTW unions, the AFL-CIO realized it had to redirect its organizing and involve more of its members, both the rank and file and the half a million shop stewards. Their involvement was pushed by new AFL-CIO Organizing Committee Chairman Larry Cohen, a longtime organizer who last year became president of the Communications Workers.
To achieve the goals of increasing minority members, the federation is running what Acuff calls "a very large project in Phoenix involving organizing immigrant construction workers."
And unlike the previous Building Trades Organizing Project in Las Vegas and Seattle several years ago, this campaign targets a mostly unorganized industry sector: home construction.
"We hope it will turn into a national pressure campaign" to unionize the workers who toil for one of the nation's largest homebuilders, Acuff said. He declined to name the company, not wanting to tip it off.
Another effort in a "right to work" state involves a three-union drive for African American workers in Jackson, Miss. Two of the unions there are CWA and the American Federation of Teachers, aided by an industrial union that wants to stay under the radar.
Leadership diversity critical
The AFL-CIO's convention in Chicago last year voted unanimously to amend the federation's constitution to strengthen participation of people of color and women in the leadership of the federation. The AFL-CIO General Council has added seats for each of the six constituency groups — the Coalition of Black Trade Unionists, the A. Phillip Randolph Institute, the Labor Council for Latin American Advancement, the Asian Pacific American Labor Alliance, Pride at Work and the Coalition of Labor Union Women, as well as the Alliance for Retired Americans. All state federations are now required to bring in constituency groups as affiliates. Another amendment increased from 10 to 15 the minimum number of Executive Council vice president positions that must be filled by women or people of color. Union delegations to future conventions will be required to reflect the diversity of union membership.
But to gain more African American, Latino and female members, the AFL-CIO must also recruit and train organizers who look like them, know them and can talk of common aspirations, goals and social conditions.
"We're working hard on that" at the federation's Organizing Institute, Acuff says. And the federation is also citing recent successes among minority group workers in appealing to their colleagues, adds Acuff, a preacher's son who was born in the South and worked for years as leader of the Atlanta Central Labor Council.
Cingular — high-tech workers in the South
One such success, he says, is CWA's campaign to organize workers at Cingular Wireless "since they're both high-tech workers and in the South."
A large percentage of the Cingular workers are African American. African American workers make up a large percent of the workforce at another organizing focal point — the Chicago-based Resurrection Health Care hospital system, where AFSCME has conducted a long organizing drive, Acuff adds.
Acuff calls the Cingular drive "the most important campaign in the last five years." And CWA and the International Brotherhood of Electrical Workers have added almost 20,000 new workers at Verizon Wireless, due to card-check recognition and company neutrality agreements CWA negotiated with Verizon before it bought AT&T Wireless.
Those drives are important for another reason: they show the federation's organizers pursuing another unorganized group — white-collar workers.
The AFL-CIO Department for Professional Employees has argued for years that more attention should be paid to organizing white-collar and pink-collar workers, who have different motivations, outlooks and career circumstances than industrial workers do. And those workers are now a majority of both the overall workforce and the AFL-CIO, the department adds.
Clergy demand fairness — and card check
To build on the successes in joint organizing drives, Acuff points out there are many situations where unions must reach out to the community to achieve their goals. He cites Peabody Coal Co.'s recent agreement to a form of employer neutrality during the United Mine Workers' drive in southern Illinois and Indiana coal towns.
There, he says, the key turning point was a letter to Peabody's CEO signed by 550 members of the clergy and hand-delivered by a clergy committee, demanding fairness in the coal fields — and card check.
"We also think the clergy involvement was very critical in gaining five recent Comcast contracts" with CWA in Western Pennsylvania and one with the IBEW in Chicago, he adds. The latter pacts took five years to reach and came only after public pressure, mounted not just by labor, but also by its allies in the clergy and in politics.
"All of our organizing campaigns now have a very, very heavy community, clergy, civil rights and political component, particularly to demand card-check" recognition of unions, he adds.
Which, of course, brings up what Acuff and the AFL-CIO call another key to organizing wins: politics. It was also a main point of contention with Change to Win.
One key reason the CTW unions left the federation was what they said was an overemphasis on politics as opposed to organizing. They noted that while the federation pledged to invest $22 million in organizing this year, and to devote more of it to strategic organizing — such as the campaigns Acuff describes — it also decided to spend $40 million on nonpartisan politics.
That political program involves intense year-round communication with unionists on key issues, led by the right to organize, and evaluation of where individual candidates and parties stand on those issues. Other issues include fair trade vs. free trade, raising the minimum wage, immigrant workers and their rights and industrial policy.
Employee Free Choice Act — almost there
"We are constantly trying to draw non-labor allies to organizing campaigns," and politics is part of that, Acuff explains. As of mid-July, the labor-backed Employee Free Choice Act had 216 U.S. House co-sponsors and 43 Senate backers — all, he says, as a result of grass-roots pressure from local unions, central labor councils and state feds.
That's two House members shy of a majority in the GOP-run Congress, which has 231 House Republicans. Acuff concedes that EFCA will not pass this year and will not be signed into law until there's a pro-worker president in the Oval Office.
But he contends politics opened the way to organizing wins among previously unorganized groups, including home health care workers, some public employees, and in construction. And politicians' backing of EFCA gives the AFL-CIO an opening to go to them and seek support — now — for specific local organizing initiatives. The result has been lawmakers endorsing the drives at Peabody, Cingular, Comcast, Verizon Wireless, New York University (UAW), Blue Diamond Walnuts (ILWU) and elsewhere.
"Workers in America want unions. The question is: How do we get employers to respect their decisions? That's what we have to keep in front of our minds," he says.
Mark Gruenberg is a writer for Press Associates, Inc., news service. Roberta Wood contributed.