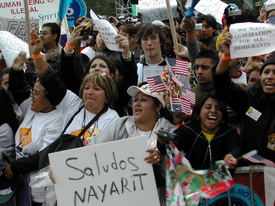 ANN ARBOR, Mich. — Students at the University of Michigan held a Migrant and Immigrant Rights Awareness and Labor Law Roundtable conference here Jan. 17-19. The gathering, organized by the students of MIRA (Migrant and Immigrant Rights Awareness) and the Labor Law Roundtable, with the support of UM faculty and other sponsoring organizations, was projected as the first of a series of conferences that will address issues of immigration and social justice.
Farm labor organizing
Baldemar Velasquez, founder and president of the Farm Labor Organizing Committee (FLOC) of the AFL-CIO, keynoted on FLOC's new initiatives in North Carolina. Velasquez grew up in Toledo, Ohio, where his grandparents had joined thousands of seasonal migrants during the Mexican Revolutionary War era after the fighting ruined many peasant farmers.
Like many other families, the Velasquezes moved from northern Mexico to Texas, from where they were recruited to work on sugar, beet, tomato, cucumber, cherry, apple and other crops in Ohio and Michigan. "You had to pay someone to get back to Texas before winter fell," Velasquez said, "but one year my parents didn't have enough to make it, so we wintered on an Ohio farm."
The family paid to heat a stove and huddled together in an outbuilding all winter, which left them even deeper in debt that spring. After the following year's farm labor, they still couldn't buy their return to Texas. "This went on for eight years," Velasquez told the audience of 100 students and faculty from Michigan and other universities and immigrants rights organizations. "But it meant I went to the local school. There was no bilingual program, no special ed, so there I was in the regular classroom."
Over time he mastered English and got good schooling, but the linguistic challenges affected his academic performance, and his low grades never reflected the intellectual abilities he later showed.
"This trajectory is what's happening all over North America today," Velasquez said. "Migrants from countries south of the border are coming here to work, although they're transitioning from agriculture to other industries."
But some politicians and "talking heads on TV" are misleading the American public about the realities of immigrant labor, he said, and whipping up fear, hatred and threats of deportation, imprisonment and violent assaults by vigilantes and other hate groups at our southern border.
NAFTA and immigration
Most U.S. citizens, he said, are uninformed about the impact of the NAFTA (North American Free Trade Agreement). The agreement has resulted in the ruin of 1.3 million Mexican corn farmers who have migrated to seek work because they cannot compete with the cheaper, subsidized corn dumped into Mexico by the giant U.S. corn industry.
"If people want a fair situation, why not subsidize the Mexican farmers?" Velasquez said. "Of course that will never happen. So there's no competition. It's like a major league baseball team playing a high school team. We have to do something about the cause of immigration if we want a free market."
Velasquez also noted that the United States had forced Mexico to privatize public national farmlands, land that could be farmed more effectively under communal or nationalized ownership system.
End slave labor programs
"Today, Mexican workers are forced to pay bribes that hike what should be a $360 cost for visa and other legitimate fees to payoffs of $1,800 to $3,500 to corrupt police officials, job recruiters and 'coyotes' who carry the workers into the States.
"These are slave labor programs almost as bad as the Braceros Program that was ended in the 1960s," Velasquez said. After being extorted for high fees and risking their lives to sneak across the border, they are denied the right to complain about working conditions, health care or their pay. "Anyone who speaks up is fired, deported and then blacklisted by the U.S. Customs Service from ever returning to the U.S.," he added.
The growers use not only the Customs Service but also the U.S. Labor Department, "which does not adequately enforce or oversee labor regulations," to carry out the systematic exploitation and oppression of immigrant workers.
"A Mexican dies in the workplace every day," Velasquez said. "And that's just the official count. It doesn't include those dying while migrating, and no doubt many work-related deaths are unreported."
The upshot in the United States, he said, is that a well-designed, formal guest worker program is required. However, FLOC opposes President Bush's guest worker proposal, which ties workers to a single employer on disadvantageous terms. Velasquez's group has instead supported the AgJobs bill, which would grant permanent residency to farm workers after a certain number of years in the fields, and the McCain-Kennedy immigration bill of 2005, which, while it includes guest worker provisions, provides more support for migrant worker rights, family unity and a path to citizenship.
Organizing success is possible
Despite obstacles imposed by Mexican officials who arrest and harass union organizers and U.S. growers who deploy a variety of legal and illegal tactics, FLOC has succeeded in organizing several industries. Velasquez says FLOC has gained support not only from the left (though he knocked some segments as "too lazy, inactive, unimaginative and arrogant") but also from evangelical youth from Republican families.
"Most Americans want to get America right, even if to some that means 'right with God.'" Velasquez said. He recounted how Toledo-area students of a Christian school had responded to his appeal to raise money for the widow in Mexico of a migrant laborer who had died in North Carolina as a result of hazardous working conditions.
"I showed them how it says in Ezekiel, Chapter 22, that God punishes those who oppress and exploit aliens and widows. I challenged them to fast one day at lunch, and pray, and collect the money. They did it, and eight traveled with me to Mexico to present $1,000 to the worker's widow. When they saw the thatched huts and barren cornfields down there, they said they'd never complain to their parents about not buying something ever again."
During FLOC's successful union organizing drive in Toledo, all segments of the community backed the worker-led boycott of the local pickle company. Farmers and anti-union "right-to-work" groups have continued to fight against the union even after it won its organizing election, but they lost a $12 million judgment against FLOC before the National Labor Relations Board and have failed to break the collective bargaining agreement so far.
"The growers are trying to get the Department of Labor to help them out," Velasquez said, "so we're urging everyone to contact the Department of Labor and tell them to stay out of [partisan action in] any labor disputes."
'Blood, sweat and fear' in meatpacking
Panelist Lance Compa, a senior lecturer at Cornell, focused on the human rights dimensions of the immigrant workers' experiences in the meatpacking industry.
"In 1906 Upton Sinclair's novel 'The Jungle' exposed the horrendous conditions in meatpacking," Compa said. At first, the novel's impact was limited mainly to improving meat quality, rather than labor standards. "As Sinclair put it, 'I aimed at people's hearts but hit their stomachs,'" Compa recalled. But the great union drives of the 1930s enabled meatpackers to gain wages equal to those in other major industries.
"Then in the 1970s and '80s, the companies counterattacked," Compa said, "and today conditions have retrogressed to what Sinclair described 100 years ago, not only in the abuse of workers and animals but there is backtracking on consumer safety as well."
Compa investigated the industry for Human Rights Watch and in 2005 published his report, "Blood, Sweat and Fear: Workers' Rights in U.S. Meat and Poultry Plants."
"We found massive violations in occupational safety and health, in compensation, in freedom of association" — all on a level that is "a violation of international standards on the treatment of immigrant workers."
In a hog-processing plant in Tarheel, N.C., where 30,000 animals are killed daily, a worker named Glen Birdsong was sent to clean "byproduct" from a slaughter tank one week into his job. Birdsong was alone, ("that was illegal," Compa noted) and he had no safety belt ("also illegal"). When fellow workers noticed his absence after 30 minutes, they found Birdsong dead at the bottom of the tank, overcome by toxicants.
OSHA fined Smithfield Foods, owner of the plant, $4,000 for violating federal standards, Compa said.
At a poultry plant in Virginia owned by Tyson Foods, workers on the butcher line were required to make 25,000 cuts per shift. Room temperature was kept at 68 degrees, which meant the line had to be shut down for five minutes every hour to be washed to prevent growth of harmful bacteria.
"The company found out it could get five more minutes of work per hour if it reduced the temperature to 50 degrees," Compa said. "No more break. And when workers said they needed vests and gloves to keep warm, they were told, 'You get them.' Job-related injuries rose."
At a Smithfield plant in Virginia, investigators proved that in 1997 the company organized an assault on a leading plant activist to intimidate the workers before a certification vote. The union drive failed and the election is still under appeal.
At a meatpacking plant in Nebraska, the company called in the Immigration and Naturalization Service in 2001 to deport 200 workers before a union election. That one was lost, too.
"All of these were violations of international human rights that the U.S. has signed, and they must be analyzed, publicized and fought as such," Compa said.
Compa said what is needed is a reform of the OSHA Act to make regulation more effective and also an immigration policy that protects workers' rights. The experiences of workers must become issues in local, state and national elections, he continued, and campaigns at universities like Cornell, Nebraska, Duke and the North Carolina, in which students organize to support workers, need to spread across the country.
"Students — whether they eat meat or not — are interested in the treatment of meatpacker workers and in the treatment of animals," Compa said. "They are watching to see where their university buys its meat."
Building coalitions
Panelist Fran Ansley, a law professor at the University of Tennessee, described how community involvement had helped organize 700 workers at a chicken-processing plant in east Tennessee.
Ansley began by saying that "employment relations need to be regulated democratically. That means getting rights and powers to workers. The government entered that relationship in the New Deal era, but now capital wants to jump out of that jurisdiction."
Big Business' practice is to escape regulation, or destroy previous regulation, by moving to nonunion areas of the United States. Then, as workers fight back, its practice is to move to cheap-labor regions in other countries. "This leads to global contact points between our workers and others."
Ansley pointed out that east Tennessee plants moved to Mexico but now Mexicans have immigrated "next door to us right in Tennessee." An old Koch Foods chicken-processing plant that was once in Morristown, with 99 percent white and Black workers, is now a modern structure on the outskirts of Morristown "with Latino workers doing 99.9 percent of the hard work," she said.
Where the nonunion native-born workers at Koch Foods, Ansley said, had become "too quiescent and defeatist, prone to not challenging injustices vigorously any more," the Mexicans proved to be a "great group of workers in the organizing drive, because they brought a lot of experience with them from Mexico."
The keys to successful union drives like that in Morristown, Ansley said, include an ability to unite "community, labor and student movements" and a "tenacity that is ready for a long-distance fight."
Organizers made good use of "legal resources via federally funded groups and others, finding a union, the United Food and Commercial Workers, that was willing to get in a fight and also open to work with community partners like Jobs with Justice and others," and identifying Koch Foods as an "attractive target" because of its poor record in labor relations.
Also important was the priority the organizers placed on "dealing with the language issue by providing simultaneous interpretation at all meetings and home visits, thanks to the key participation of an intern from Tennessee's renowned Highlander Institute," which focuses on social justice.
The drive included vigils, boycotts, church folk and letter-writing campaigns to politicians and the press, Ansley said.
The Migrant and Immigrant Rights Awareness conferences aim to bring together leading academics and activists, as well as union leaders and students, to discuss recent developments and new strategies in the fight to organize migrant and immigrant workers. In addition, conference participants are discussing the creation of a university-community-labor partnership in support of immigrant workers in the Ann Arbor-Ypsilanti area.
Speakers included Jennifer Gordon of Fordham Law School; Baldemar Velasquez, president of Farm Labor Organizing Committee; José Oliva, director of Interfaith Workers' Rights Center; Lance Compa of Cornell University's School of Industrial and Labor Relations; Perez Rosenbaum of Michigan State University; Fran Ansley of University of Tennessee Law School; Ben Davis of the AFL-CIO Solidarity Center in Mexico City; and Kate Shaughnessy of Washington, D.C.-based Coalition for Comprehensive Immigration Reform.
For relevant publications by Ansley, Compa, and Gordon, and other useful links, go to the MIRA conference web site: www.personal.umich.edu/~dandanar/mira/conference.html