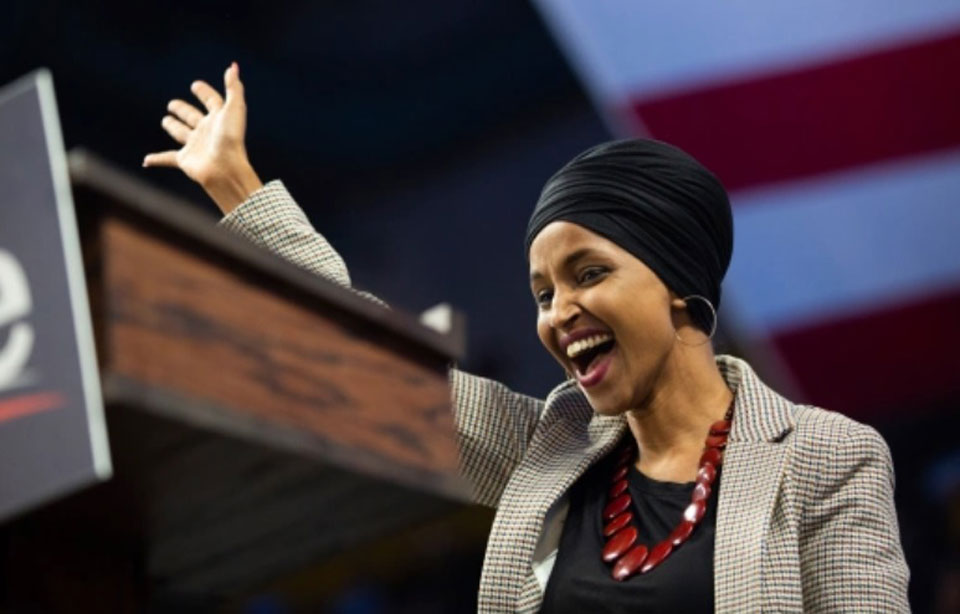 WASHINGTON —It's a little-known nickname, but Capitol Hill's workers—the staff, not the lawmakers–often call their job site "The Last Plantation." Now, exploited staffers are starting to change that.
Congress received that moniker from their own aides and especially from the cafeteria cooks, servers and others who toil in its warrens. The reasons: Low pay, no job protections and impossible hours. When senators and representatives work late night or round the clock, the workers do, too.
One breakthrough came several years ago when probably the most-exploited group, the cafeteria workers, most of them workers of color, organized with Unite Here Local 23 and won a first contract with Sodexho, which runs the House's three cafeterias. But the pay's still too low, so the workers took their cause to the public in a demonstration in mid-September.
The second breakthrough was in the last two weeks. Professional staffers for three progressive lawmakers—Democrats Andy Levin of Michigan, Ilhan Omar of Minnesota and Ro Khanna of California—unionized with the Congressional Workers Union and with their bosses' enthusiastic endorsement. But, true to Congress' reputation, all three had to give the OK first.
Omar's staff voted unanimously on October 6 to unionize. Staffers in four other progressive Democrats' offices have submitted union election authorization cards, a past New York Times article reported.
The breakthrough among professional staffers came this year. Levin responded to his aides and the former AFL-CIO Deputy Organizing Director pushed through a resolution letting staff unionize.
That's what they've been doing, with the Congressional Workers Union. Levin's staffers led the way. Khanna's and Omar's followed. The Times reported staffs of Reps. Ted Lieu, D-Calif., Cori Bush, D-Mo., Alexandria Ocasio-Cortez, D-N.Y., and Melanie Stansbury, D-N.M.., also filed for recognition elections. Overall, Congress employs approximately 9,000 people.
"If we want Congress to have a workforce that reflects America's diversity, if we want poor and working-class people to work here, not just children of the wealthy, if we want to reduce turnover and increase the effectiveness and efficiency of our work, then it's time we afford our staff a say in their working conditions," Levin said in a floor speech. "That's the journey we've started on and I'm delighted to be part of it. Friends, there is power in a union."
"For the first time ever in history of Congress, workers across Capitol Hill are unionizing," Khanna tweeted. "I want to congratulate my staff for helping to lead the campaign and becoming the second office on the Hill to unionize."
"As a former union member myself and someone who represents a union district in Minnesota, I am deeply proud of my staff for making their collective voices heard and voting to unionize," Omar said. "Unions are the bedrock of the middle class. The labor movement helped get us the 40-hour work week, the weekend, and child labor laws.
"Every single worker deserves a union to represent them and fight for their wages, benefits, and basic workplace protections. It is long past time Congress became a unionized workplace, and that includes my staff. I am proud of all the people on my team who have played a leading role in the staff unionization effort. Solidarity forever."
The cafeteria workers, some of whose parents also held the same jobs, still face substandard pay, even with a union contract. The lowest-paid get D.C.'s minimum wage of $16.10 an hour. At that rate in high-cost D.C., a month's rent on a two-bedroom apartment would cost 64% of their wages if they worked 40-hour weeks, Local 23 says.
Together, 100 workers toil at those facilities, or at serving food and tending bar when lawmakers host receptions. But despite the contract and continuing negotiations, workers held the informational rally.
"Our members feed D.C., but have to worry about the cost of groceries," Local 23 President Marlene Patrick Cooper told the parent union. "For far too long, the people who serve food at our government's institutions have had to make do with less. Now with prices skyrocketing it's a whole lot less our members have for their families."
Because Sodexho is a federal contractor, the cafeteria workers don't negotiate with Congress itself. And many lawmakers don't realize the subcontractors' exploitation. Indeed, several years ago, pre-pandemic, Sens. Chris Van Hollen, D-Md., and Tina Smith, DFL-Minn., held a roundtable with workers for a variety of federal subcontractors to discuss their plight.
And early in his term, Democratic President Joe Biden ordered Sodexho and other federal contractors nationwide to pay their workers at least $15 an hour. He also demands they stay neutral during organizing drives.
Unite Here's breakthrough wasn't the first time cafeteria workers in the Capitol and other federal office buildings have tried to unionize, Cooper noted. One notable prior attempt occurred 74 years ago, when D.C. was extremely segregated, had no home rule and was under the thumb of racist Southern congressional committee chairmen.
Then, Black workers picketed their employer, GSI, Cooper noted. Their signs read: "Fight Against GSI Slavery."