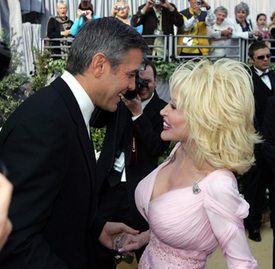 This year's Oscar-nominated films made statements about love, tolerance and humanity. That inspired reporters backstage to ask some interesting questions of the winners.
Best Actress Reese Witherspoon, who won for playing June Carter in "Walk the Line," said in her acceptance speech: "People used to ask June how she was doing, and she used to say, 'I'm just trying to matter.' And I know what she means. You know, I'm just trying to matter, and live a good life and make work that means something to somebody."
So what probing question was on one reporter's mind? "Is [your dress] heavy? It looks so beaded."
Thank god for jokester George Clooney, winner of Best Supporting Actor for "Syriana" and nominated for writing and directing "Good Night, and Good Luck." Asked what he thought of "Brokeback Mountain" director Ang Lee, Clooney replied: "Let me tell you something right now. I don't like that guy. I've seen him a lot. I've spent a lot of time with him. I caught him stealing at the last awards show."
After a beat, he added: "I'm very proud to be even in a game with those guys. There's three first-time directors on this and then there is Steven Spielberg and Ang Lee. So I'm just [proud] to [have] my name on that card. Congratulations to him."
During the course of the evening both Lee and Clooney debunked the idea that Hollywood is out of step with society as a whole. "I think we sense that there's some calling, there's some need to do certain movies … and somehow this year the society catches up I think," Lee said backstage.
Referring to "Brokeback," Lee said, "I'm just glad the audience embraced it. I think the society is, the audience is, very hungry for love, for understanding, for respect, for complexity, for maturity. I think that's what we need."
Lee said his movie had just opened in "Japan, in Hong Kong and Taiwan and it's rated PG," while here in the United States it has an R rating.
Clooney noted that such movies as his and Lee's "might be out of the mainstream at times, but mainstream keeps changing."
"I don't even know that we're all that ahead of the curve," he said. "I think what's important is that we are starting now to reflect … some of the social and political issues that are, for the first time, probably since Watergate, concerning us and we're talking about them. And then films start to reflect that a couple years later. We did it in the '30s, we did it in the '50s, we certainly did it in the '60s and '70s and we'll probably continue to do that, which is reflect society, not truly lead it."
"Crash," a drama depicting racist stereotypes and the interwoven experiences of an array of people over two days in Los Angeles, pulled off a stunning upset over "Brokeback Mountain" to win for Best Picture. There are many theories as to why that was, including that Academy voters are older and urban (most, in fact, live in L.A.) or that many were uncomfortable with "Brokeback's" gay storyline.
The win for "Crash" stunned even its creators. Writer/director Paul Haggis told reporters, "We're still trying to figure out if we got this."