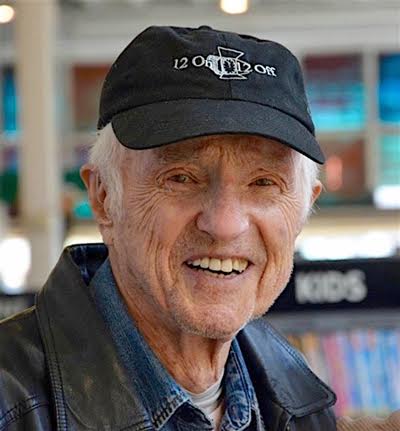 LOS ANGELES (AP) – Haskell Wexler, one of Hollywood's most famous and honored cinematographers and one whose innovative approach helped him win Oscars for Who's Afraid of Virginia Woolf? and the Woody Guthrie biopic Bound for Glory, died December 27, 2015. He was 93.
Wexler died peacefully in his sleep, his son, Oscar-nominated sound man Jeff Wexler, told The Associated Press. Jeff Wexler posted on HaskellWexler.com: "Accepting the Academy Award in 1967, Pop said: 'I hope we can use our art for peace and for love.' An amazing life has ended but his lifelong commitment to fight the good fight, for peace, for all humanity, will carry on."
Progressive activist
A progressive activist, Wexler photographed some of the most socially relevant and influential films of the 1960s and 1970s, including the Jane Fonda-Jon Voight anti-war classic, Coming Home, the Sidney Poitier-Rod Steiger racial drama In the Heat of the Night, the Oscar-winning adaptation of Ken Kesey's One Flew Over the Cuckoo's Nest, and John Sayles' Matewan, tale of a coal miners' strike in 1920 in Matewan, a small town in the hills of West Virginia.
He was also the rare cinematographer known enough to the general public to receive a star on Hollywood's Walk of Fame. Wexler was honored with lifetime achievement awards from the American Society of Cinematographers (becoming the first active lenser to be so honored), the International Documentary Assn. and the Society of Camera Operators.
"We are deeply saddened by the death of one of our most esteemed board members," said International Cinematographers Guild President Steven Poster. "Haskell's cinematography has always been an inspiration to so many of us not only in the Guild, but in the entire industry."
Versatile and intuitive approach
Throughout his career, Wexler was noted for his versatile and intuitive approach.
For Who's Afraid of Virginia Woolf, the last film to receive an Oscar for best black and white cinematography, he used hand-held cameras to capture the tension of the tirades between Elizabeth Taylor and Richard Burton. For In the Heat of the Night, he put silks over the tops of sets and aimed lights at their centers. His aim was to contribute to the tension between Poitier's big-city black detective and Steiger's Southern white lawman.
As visual consultant on George Lucas' American Graffiti, he hosed down the streets to achieve a moody, reflective style. He helped give Terence Malick's Days of Heaven a hazy, dreamlike atmosphere.
He traveled the world directing and photographing documentaries
When Wexler wasn't working on big-budget studio fare, he traveled the world directing and photographing documentaries for favorite causes.
His 1969 Medium Cool mixed documentary and dramatic elements, telling the story of a fictional television photographer who covers the violence of Chicago police against protesters at the 1968 Democratic National Convention. The real-life unrest was filmed on the spot for the movie, and its "cinema verite" approach was closely studied by aspiring filmmakers.
"I was under surveillance for the entire seven weeks I was in Chicago, by the police, the Army and the Secret Service," Wexler once told a reporter.
According to Richard Natale of the entertainment industry news source Variety:
Beginning with his documentary on the Washington Freedom March, The Bus, in 1965, Wexler busied himself with documentaries of social injustice. He shot Interview With My Lai Veterans, directed by Joseph Strick, which won an Oscar in 1970. With co-director Saul Landau he shot Brazil: A Report on Torture and An Interview with President Allende (both 1971), The Swine Flu Caper, The CIA Case Officer, 1982's Quest for Power: Sketches of the American New Right and Target Nicaragua: Inside a Secret War.
Other documentaries included Hail Columbia and Introduction to the Enemy. He also shot the 1980 film No Nukes. His 1975 documentary Underground, which dealt with the leftist faction known as the Weathermen, resulted in a controversial attempt at seizure of his materials by the FBI.
Later documentaries he helmed included Bus Rider's Union, directed with Johanna Demetrakas; Who Needs Sleep, about the danger to film crews of overlong shooting schedules that result in fatigue – and people falling asleep on the road home; and 2013's Four Days in Chicago, in which he returned to the setting of Medium Cool and his hometown to document the Occupy Movement's demonstrations against the 2012 NATO Summit.
As recently as December 5, 2015, Wexler presented, along with Chaz Ebert, the International Documentary Association's prestigious Career Achievement Award to Gordon Quinn, founder and artistic director of Kartemquin Films, Chicago's premier documentary film center.
In addition to his wife, the actress Rita Taggart, and sons Jeff Wexler and film director Mark Wexler, he is survived by a daughter, Kathy Wexler; four grandchildren; and one great-granddaughter.
For a 2004 Vimeo of an interview with Wexler on a boat ride on the Chicago River, go HERE.
Photo: HaskellWexler.com
Barbara Russum contributed to this article.