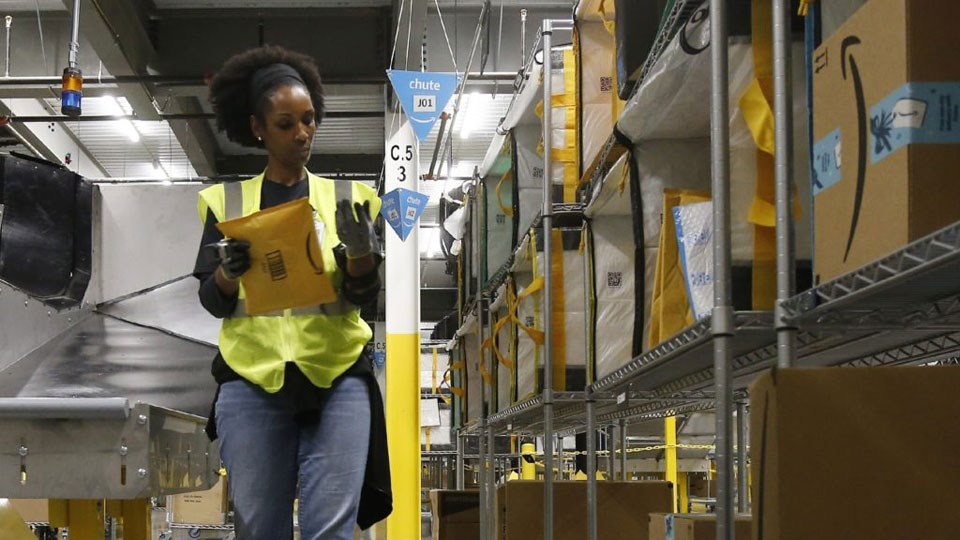 WASHINGTON—In 2019, the Occupational Safety and Health Administration inspected fewer than one-half of 1% of U.S. firms it regulated, the non-partisan watchdog Government Accountability Office told Congress on May 25. And that's around its usual inspection percentage, GAO official Thomas Costa said.
That pattern, combined with what one key lawmaker called "OSHA's own stumbles" and Republican Trump regime interference, left workers with less protection against the coronavirus, GAO Education and Workforce Director Costa added.
The lack of inspections is a symptom of a bigger problem, Costa told the House Workforce Protections Subcommittee hearing: Lack of personnel and lack of power.
OSHA is still short-staffed even though Congress gave it an extra $106 million—on top of $592 million previously earmarked for it–to hire and train more inspectors and conduct more enforcement against the coronavirus plague, he explained. The Democratic Biden administration has since hired hundreds of more inspectors at the still-short agency.
But without a special emergency temporary standard (ETS) to force firms to protect workers against the virus, OSHA inspectors—when they could get out in the field—had to use the agency's "general duty clause" mandating overall protection. That clause requires huge documentation, has a higher standard of proof, and is hard to enforce, Costa testified.
OSHA's performance, or lack of it, is important to workers. Unions, led by the late Oil, Chemical, and Atomic Workers activist Tony Mazzocchi, crafted OSHA. It's the primary agency for protecting worker safety and health, though its inspectors cover only half the states. OSHA-approved state programs cover the others. They're supposed to meet federal standards, too.
But their programs weren't covered in GAO's report. That's important because at least one state, Arizona, has fallen down on the job, OSHA says. It's now taking comments on whether to help Arizona fix the mess—which OSHA would prefer—or take over.
Subcommittee Chair Alva Adams, D-N.C., called the hearing as part of the panel's oversight of Labor Department programs designed to protect workers. "Many causes of occupational disease remain unregulated or underregulated," she said at the start.
"The spread of Covid-19"—the official name for the coronavirus—"caused the worst worker safety crisis in OSHA's history and served as a stress test of OSHA's capacity to address hazards and respond nimbly," she elaborated.
Costa's report said that, in so many words, OSHA flunked during the first year-plus of the pandemic, though it was not solely to blame. He noted a federal court decision years before sharply cut the number of "summary injury and illness data" reports firms must send in to OSHA, aggregating illnesses and injuries on the job. The agency uses the summaries to set inspection and enforcement priorities.
As a result, OSHA cited firms only 300 times from late 2017 through Sept. 30, 2019, for failing to file the summary reports and cited firms 110 times from then through April 15, 2022.
"All citations were issued as a result of inspections, and OSHA and the agency inspects only a small percentage of all establishments it oversees each year—less than one-half of 1% in fiscal year 2019, for example," Costa reported.
Further, Costa testified, firms "did not report injury and illness data for more than 50% of their establishments for which they were required to do so between 2016 and 2018."
Realizing that, he added, OSHA tried to recoup by encouraging firms to electronically file and, once, sending out tens of thousands of postcards to companies reminding them to report the numbers. It has no data, though, on the success, or lack of it, of the mass mailing. And fewer than half of the covered firms responded electronically.
The agency also had an uneven performance in issuing an emergency temporary standard (ETS) to force firms to protect workers against the virus. Though Costa did not say so, an ETS has been a key goal of organized labor in general and National Nurses United in particular. But the courts got involved in that and OSHA lost each time, Costa pointed out.
The first loss was when the Republican Trump administration's OSHA opposed an NNU-AFL-CIO suit to force OSHA to issue an ETS covering health care workers. The U.S. Circuit Court of Appeals for D.C. tossed the suit. In early 2021, OSHA imposed a revised health care ETS, but withdrew it in December, except for its record-keeping requirement.
Another loss came early this year. In late 2021, Democratic President Joe Biden's OSHA issued an ETS covering all firms nationwide with 100 workers or more. It ordered them to ensure all workers are vaccinated against the virus, plus other mandates. Costa pointed out the Supreme Court overruled that as "regulatory overreach."
What Costa did not say, since GAO is non-partisan, is the Republican-named Supreme Court majority tossed that ETS, acting on a suit by Republican state Attorneys General and a raft of businesses with "Christian" in their names. The foes overturned the standard by judge-shopping for a favorable federal court in deep-red rural Texas. OSHA is now working on an overall standard to order all firms to protect workers against all air-borne respiratory diseases, agency Administrator Douglas Parker testified.
As might be expected, subcommittee Republicans complained OSHA was too intrusive. They contended it should concentrate on "compliance assistance," the GOP code word for sending OSHA to firms to offer advice in return for a promise to follow it—and avoid future inspections.
Rep. Fred Keller, R-Pa., who under the current lineup would take over the panel if the GOP takes House control next year, criticized OSHA's "overreach and predatory policies that unjustly target job creators." That's another GOP code word, for corporate chiefs.