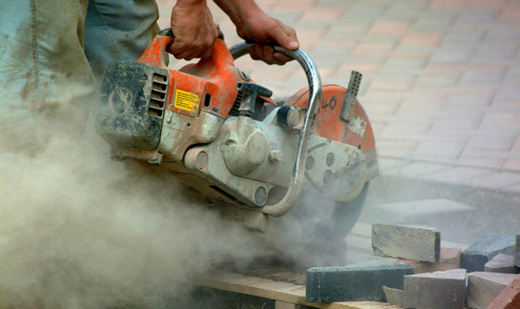 WASHINGTON (PAI) – After years of consideration, including one final attempt by an industry lobby – in a closed-door meeting – to derail it, the Obama administration today issued a final rule that it says would cut workers' exposure to harmful silica dust in half.
The rule, proposed by the Labor Department's Occupational Safety and Health Administration, was approved by the Office of Management and Budget on March 21 despite a last-minute industry attempt to derail it.
A month before OMB's decision, the Interlocking Concrete Paving Institute, a lobby whose website forthrightly proclaims its opposition to cutting workers' silica dust exposure – and one of many business lobbies that opposes the new rule – met behind closed doors with OMB, OSHA and other federal officials to complain about it. They got nowhere.
The silica rule is one of two big-ticket pro-worker rules the administration unveiled this week. The other would change the definition of when so-called "labor consultants" – otherwise known as union-busters — must file reports on their spending with DOL.
DOL first recognized silica was a hazard to workers in a 1938 warning film. It's especially hazardous to construction, factory and shipyard workers. The new rule, DOL says, would prevent 700 deaths and exposure to silica dust of 1,600 workers per year.
As a result, unions have campaigned for years for the silica exposure rule. The current 45-year-old rule has outdated measurements of silica, while the new rule would let businesses expose workers to 50 micrograms of silica dust per cubic meter of air per worker each eight-hour day.
"Silica dust is a killer. It causes silicosis, a lung disease that literally suffocates workers to death," the Steelworkers said just before OSHA hearings on the rule two years ago. "It also causes lung cancer, respiratory and kidney diseases."
So the union reaction to OMB's release of the rule could be summed up in one word: Finally. That's because OMB has sat on the rule since the middle of 2013.
Not only that, but a new source of silica exposure has arisen in the U.S. economy since
DOL started working on the silica rule, according to the Center to Protect Workers' Rights, a labor-funded construction safety organization: hydraulic fracturing for natural gas, or fracking.
"Every year some two million workers are exposed deadly silica dust each year and, according to public health experts, more than 7,000 workers develop silicosis and 200 die each year as a result of this disabling lung disease," an AFL-CIO policy paper said in 2014.
"The current OSHA silica standard was adopted decades ago and fails to protect workers. It allows very high levels of exposure and has no requirements to train workers or monitor exposure levels. Simply enforcing the current rule, as some in the industry have called for, won't protect workers."
Photo: Atlantic Environmental Incorporated