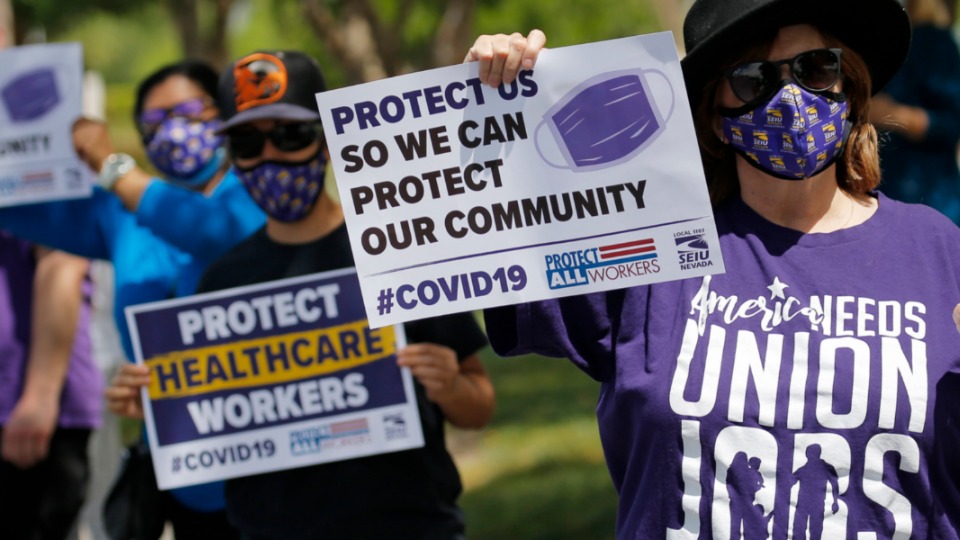 WASHINGTON (PAI)—The Occupational Safety and Health Administration has permanently yanked its Emergency Temporary Standard requiring firms with at least 100 workers to develop and implement plans to protect employees against the coronavirus. But it'll keep working on a permanent standard to achieve that goal.
OSHA's January 26 decision obeys the January 13 ruling by the GOP-named six-person majority on the U.S. Supreme Court against the ETS. Those justices said OSHA exceeded its authority because the ETS is supposed to apply only to workplaces, not the wider society. The wide application made the ETS a key part of the Democratic Biden administration's campaign to curb the virus's spread.
The justices also left OSHA, for now, with the vague and hard-to-enforce "General Duty Clause" as its only weapon against firms that don't protect their workers against the modern-day plague.
In its announcement, OSHA continued to urge employers to voluntarily protect their workers. OSHA's ETS would have protected some 84 million workers, including front line workers such as meatpackers, teachers, and delivery truck drivers, by requiring masking and vaccinations, or—for workers who refuse vaccines—passing weekly anti-coronavirus tests.
Another several million workers, in health care, remain covered by another standard ordering hospitals and nursing homes to protect them or lose Medicare and Medicaid money. The justices, by a 5-4 vote, left that requirement in place.
"Although OSHA is withdrawing the vaccination and testing ETS as an enforceable emergency temporary standard, the agency is not withdrawing the ETS as a proposed rule," it said. That point was buried deep in the original 253-page ETS. "The agency is prioritizing its resources to focus on finalizing a permanent Covid-19 Healthcare Standard," it added, using the virus's official name.
The justices dumped the ETS after an emergency Supreme Court hearing January 7 on both rules. The so-called National Federation of Independent Business, a key cog in the radical right, and 27 companies all of which had "Christian" in their names, sued OSHA.
And in oral arguments before the justices, their attorney candidly admitted preserving corporate revenues and profits was a key motivator of the challenge to the ETS. He claimed imposing it would drive up costs as droves of workers would leave.
"After evaluating the court's decision, OSHA is withdrawing the Vaccination and Testing ETS as an enforceable emergency temporary standard," the agency's Federal Register notice said. It also dumped the public comment period on the withdrawal as "impracticable, unnecessary, and contrary to the public interest… because it would unnecessarily delay the resolution of ambiguity for employers and workers alike.
"This becomes effective immediately both because there is good cause and because the action removes a requirement on the regulated community," i.e. businesses, OSHA stated. Its decision upset the labor-backed National Council on Occupational Safety and Health.
"Covid-19 vaccines are safe, effective and an important way to reduce the risk of the deadly virus that is spreading rapidly throughout U.S. workplaces," Jessica Martinez, a public health specialist and the council's co-Executive Director, emailed to Press Associates Union News Service.
"It's extremely unfortunate the Supreme Court, which operates with strict Covid protocols, denied similar protections to tens of millions of U.S. workers," Martinez continued.
"It's vitally important—literally a matter of life and death—that OSHA proceed with implementing permanent standards to protect all workers against Covid-19 and other infectious diseases, not just for health care workers but for workers in all industries. The agency must also enforce current rules that require all employers to provide a workplace free from known hazards."
National Nurses United, whose RNs are on the frontlines of the fight against the coronavirus, had denounced the High Court's ruling yanking protections from all other workers while lauding protections for health care workers.
"At a time when we're closing in on 850,000 Americans having died in the worst global pandemic in a century, and when infections and hospitalizations are continuing to soar, it is the obligation of our public agencies to require and enforce essential public safety measures to protect the lives and health of all American workers," NNU President Zenei Triunfo-Cortez, RN, said then.
In a prior letter, United Food and Commercial Workers President Marc Perrone urged CEOs of large grocers, retailers, and warehouse firms whom his front-line members toil for to protect their workers, regardless of the fate of OSHA's anti-virus rule. Many haven't.
"With the new winter surge and the emergence of the Omicron variant, it is critical for our nation's largest retail and food employers–including Amazon, Walmart, Kroger, and Whole Foods–to take immediate steps to protect essential workers and members of the public," he wrote them last month.
"Waiting for this pandemic to once more spiral out of control is not an option. These actions must be taken now to help reduce the risk of more essential worker infections and deaths."
Calls and emails for comment to the AFL-CIO's job safety and health department, the National Employment Law Project, and the National Partnership for Women and Families were not immediately returned.