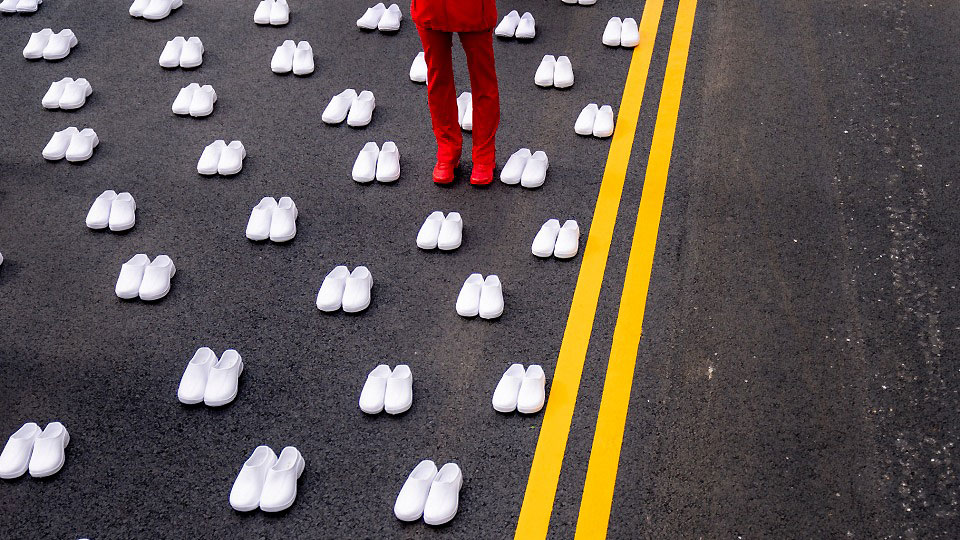 WASHINGTON—Almost 16 months and 600,000 deaths after the government officially declared the coronavirus a pandemic, the Democratic Biden administration issued its Emergency Temporary Standard forcing health care firms to protect their workers, now.
But the Occupational Safety and Health Administration (OSHA) mandate only applies to the health care firms, which lead all the rest of "essential" occupations in reports of coronavirus outbreaks and illness numbers.
It doesn't apply to other essential workers toiling in high-risk industries, such as grocery workers, truckers, retail workers, and, most importantly, meat and poultry plant workers. The processing plants have been sites of some of the worst employer refusals to protect workers against the virus and its community spread.
"We've identified the grave danger for the health care workers, but we recognize there's a hazard in other industries," Jim Frederick, OSHA's current top official as acting assistant administrator told a June 10 telephone press conference.
As a result, neither National Nurses United, which was first and foremost in campaigning for the emergency standard, nor the labor-backed National Council on Occupational Safety and Health (NACOSH), was completely satisfied.
"This is still a dangerous and deadly pandemic," explained NNU Co-President Zenei Triunfo-Cortez in a statement. NNU says it's counted at least 400 deaths among its RN members so far, among 3,800-plus dead health care workers overall.
Hospitals' failure to protect workers and foot-dragging to protect profits "is directly responsible for the appalling level of infections and deaths we have experienced. An ETS is a major step toward requiring accountability for hospitals who consistently put their budget goals and profits over our health and safety," she added.
"NNU has had to battle hospital employers from the outset of the pandemic to ensure the provision of optimal personal protective equipment and other infection control measures," the union said.
NNU also supports stronger workplace pandemic safety measures for all workers, all patients, and all communities, she added. She also warned against a potential resurgence of the pandemic in coming months.
"Health care workers who have saved lives during this pandemic deserve full protection—and so do all the other workers who provided us with food, shelter, sanitation, and everything else we needed," said the council's co-executive director, Marcy Goldstein-Gelb.
AFL-CIO President Richard Trumka lauded the standard as a good first step while pointing out most other "essential" workers it does not cover are low-wage workers of color.
NNU identified two more hazards to workers and customers. One is lack of protections against aerosol-driven (sprayed through the air by speech, coughs or sneezes) Covid-19 droplets. NNU will check the standard to see what it mandates about that. The other is governments' loosening of anti-pandemic rules as infection numbers have declined.
As for meatpacking firms, grocery stores, retailers, and other firms with higher infections, OSHA "will continue targeting inspections at the plants with the highest numbers of sufferers from Covid-19," Frederick said. If it finds those firms don't protect workers, OSHA will charge them under its General Duty Clause, a vaguer standard without specific criteria.
The Emergency Temporary Standard decision was delayed for weeks. OSHA sent the ETS to Democratic President Joe Biden's White House Office of Intergovernmental and Regulatory Affairs in late April. OIRA finally approved it on June 9. There was no explanation for the delay.
But that's an improvement over the prior GOP Trump regime. There, the regulatory office was where rules were killed, thanks to secret insider lobbying from corporate interests.
And as part of its strategy of public denial of the virus and its danger, Trump's OSHA fought NNU and the AFL-CIO in court when they tried to force the agency to issue an ETS protecting health care workers against the virus. It crowed when it won last summer.
OSHA's standard will force hospitals, nursing homes and other health care facilities to "conduct a hazard assessment and have a written plan to mitigate virus spread," OSHA said.
Bosses will have to provide workers "with N95 respirators or other personal protective equipment, and "ensure 6 feet of distance between workers," unless that's physically imposing. In those cases, "employers should erect barriers between employees where feasible."
The bosses also have to give workers paid time off to get vaccinated against the virus and to recover from side effects, and if workers test positive—even if they're asymptomatic—they "must work remotely or otherwise be separated from other workers if possible, or be given paid time off up to $1400 per week."
"The Biden administration missed a crucial opportunity to protect all workers," NACOSH co-executive director Jessica Martinez said in the group's statement. "This is a new insult on top of the injuries, illnesses, and deaths suffered by frontline workers and their families. Vaccines have not reached all workers and COVID-19 is not over."
"Workers have organized all during this pandemic to protect the health and wellbeing of their fellow workers and communities. Protests, strikes, job actions, and other creative tactics made a huge difference and delivered real protections in the workplace. President Biden needs to have workers' backs—by ensuring the nation's federal safety agency has the resources and teeth needed to hold employers accountable."