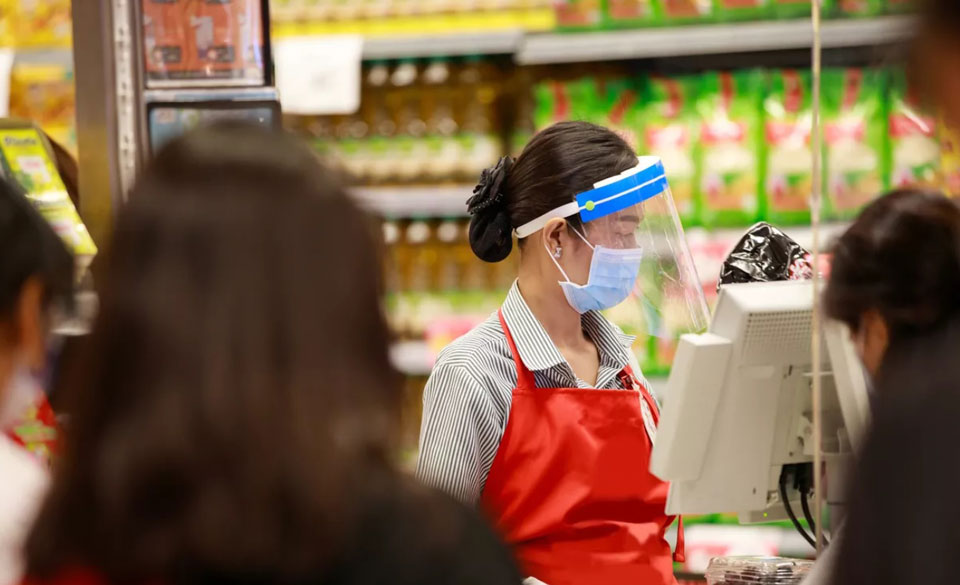 WASHINGTON—Carrying out Democratic President Joe Biden's executive order, the Occupational Safety and Health Administration's inspectors will put health care firms—including hospitals and nursing homes—and meat and poultry packers at the top of its inspections and enforcement list in the war against the coronavirus. It's especially going to focus its ire on employers who retaliate against whistleblowers.
The agency's announcement does not completely fulfill union demands that it produce an Emergency Temporary Standard ordering firms to protect workers, especially health care workers, against the virus's spread. Such a standard—the first such OSHA order since 1983—would force firms to act immediately.
But it does fulfill Biden's Jan. 21 executive order that OSHA "provide clear guidance" to firms on how to protect their workers.
OSHA did so, by repeating and stressing federal Centers for Disease Control recommendations on worker protections against the virus. Though those are recommendations, OSHA served notice on erring firms that it will take enforcement a lot more seriously under Biden than it did under the GOP Trump regime.
In other words, OSHA inspectors will descend on firms, especially in the most dangerous industries, which it listed. If they aren't following CDC's recommendations, or not protecting their workers, or retaliating against those who complain, they'll get hit.
The enforcement will be obvious. Under Trump, most OSHA coronavirus complaints were handled by phone, with agency inspectors under orders to minimize enforcement. And tons of complaints were dismissed with no real investigation.
In one particularly repugnant case, the area inspector from Omaha, Neb., told Duice Castenada, a pro-worker health officer and daughter of an immigrant meatpacker, by phone that her complaint about coronavirus violations at the plant her father toiled at in Crete was dismissed because, in so many words, it was so common, she told Congress on March 2. "To be fair, this is happening at plants all over the country," she quoted him as saying.
"He added as long as the employer was providing information on the hazards, they were in compliance. He said 'the employer can't sit there and watch them [workers] all day."
Now, OSHA said in its March 12 announcement, inspectors will show up on-site at high-hazard firms named in its one-year National Enforcement Program against the virus. They'll be masked and protected themselves. And that includes meat plants.
The agency's "program seeks to substantially reduce or eliminate coronavirus exposure for workers in companies where risks are high, and to protect workers who raise concerns that their employer is failing to protect them from the risks of exposure," said James Frederick, principal deputy assistant secretary for Occupational Safety and Health, who is currently OSHA's top official.
"This deadly pandemic has taken a staggering toll on U.S. workers and their families. We have a moral obligation to do what we can to protect workers, especially for the many who have no other protection," Frederick's statement added.
By contrast, GOP President Donald Trump hated OSHA and enforcement. He ordered "essential" workers—such as meatpackers and RNs—to stay on the job though employers didn't protect them against the modern-day plague. Trump also ordered OSHA to issue no new standards, emergency or otherwise, to protect any workers at all. And he didn't try to get Senate confirmation of his nominees for OSHA administrator.
Follow-ups can be expected
Frederick also said some high-hazard plants and worksites inspected last year "will be subject to follow-up inspections" to ensure firms follow OSHA and the CDC.
Health care, in particular, needs the attention, OSHA's data show. From Jan. 1-March 14, OSHA fielded 3,142 complaints from health care workers about coronavirus protection problems. In that same time, there were 3,636 complaints from workers in the next six industries combined, led by retail trade (1,706) and bars and restaurants (877).
Union leaders had welcomed Biden's Jan. 21 order and responded to OSHA's March 12 announcement with "Yes, but…" statements. They hailed the increased enforcement but said OSHA should take the next step and recognize coronavirus aerosol—virus droplets in the air—transmission as high danger, too.
That can be battled through more-comprehensive personal protective equipment (PPE), better ventilation and air filtration, the union leaders said in a joint announcement with the labor-backed National Committee on Occupational Safety and Health.
"Since the start of the pandemic, the nation's nurses have demanded the CDC's guidelines be based on scientific evidence. Nurses know that to effectively battle this virus, we all need to get on the same page about how it spreads," said National Nurses United Executive Director Bonnie Castillo, RN.
"The CDC's failure up to this point to recognize aerosols as the primary mode of transmission hurts all other guidance and efforts that stem from this lack of understanding. We urge the Biden administration to honor its commitment to listen to experts in the battle against Covid-19, which includes having CDC and other federal agencies explicitly recognize aerosol transmission."