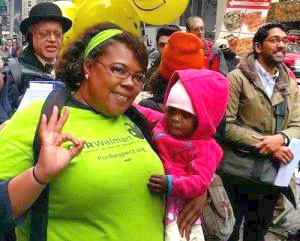 When workers at Walmart began mobilizing to make changes at the world's biggest employer-one with the deserved reputation of disrespecting its workers and slapping down any attempt by workers to influence workplace policies-most folks' initial reaction was "well, good luck with that."
But it wasn't good luck that brought about some recent workplace changes at Walmart. It was the hard work and the mobilization of Walmart workers and community supporters across the nation in Our Walmart (Organization United for Respect at Walmart)'s campaign to bring the company's abusive policies and treatment of workers into the spotlight.
Now, not only has Walmart made changes in the way it treats pregnant workers, but it has made important changes to its scheduling policy that will allow workers to get more access to the hours they need to support their families.
Tiffany Beroid, a Maryland Walmart worker and OUR Walmart member, said, "Lots of women are afraid to even say they're pregnant at Walmart, because they're afraid they'll lose their jobs or be forced to leave."
When Beroid began experiencing complications with her pregnancy, her doctor wrote a note requesting she be placed on light duty. Not only did her managers wait a week before responding-a week in which she couldn't work- they said they didn't have any light-duty work at her pay scale ($0.40 above other positions) and therefore she would have to take a leave of absence.
Along with her new friends from Respect the Bump (a network of pregnant moms and people who have had issues with pregnancy who work at Walmart who are demanding better treatment), Beroid and others began to mobilize.
In Minnesota, workers held an event around scheduling issues for single mothers. They sent a letter to Walmart's headquarters about how pregnant women and mothers were being treated. A group of Walmart workers who are also shareholders put a resolution on the ballot of Walmart's upcoming shareholders' meeting calling for a change in pregnancy policies.
Shortly thereafter, Walmart overhauled their pregnancy policy for pregnancy-related complications. While the announcement is a huge acknowledgement of the workers who have been urging Walmart to change, they say there is still a long way to go.
Since its inception, OUR Walmart workers have spoken out about the struggles of rarely being scheduled for the hours they need to get by. It was a major issue addressed in the group's first Black Friday strikes and actions in 2012.
Shortly after their Black Friday actions, Walmart announced it would increase transparency in scheduling. Few stores saw these promised changes take effect.
Following dozens of delegations of Walmart workers and community supporters to store managers last month and the launch of a national petition, Walmart has instituted a major shift in policy that will allow workers to get more hours when they want them.
The scheduling change is an important step toward improving jobs at Walmart. But it also shows that together, workers can make change even at the largest private employer on the planet.
The above article by Mike Hall appeared in the AFL-CIO Now Blog.
Photo: Tiffany Beroid. Interfaith Worker Justice