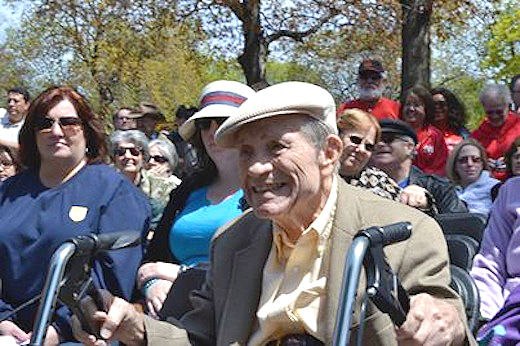 CHICAGO – Leslie Fray Orear, a union organizer for the United Packinghouse Workers of America, editor of its newspaper and co-founder and president emeritus of the Illinois History Society, died peacefully in his home surrounded by family in the early hours of May 30. He was 103 years old.
Orear was born in Marshall, Mo., on May 11, 1911, and grew up in Chicago's Hyde Park neighborhood. Because of the Great Depression, he left college at the Alexander Meiklejohn Experimental College at the University of Wisconsin (1929-31) prematurely to get a job and help support his family. He went to work in the stockyards for Armour & Co. in 1932, earning 32.5 cents an hour tying strings on hams.
Hearing about the CIO's growing success organizing autoworkers in Detroit, Orear and a group of co-workers began to organize the packinghouse workers, sneaking in leaflets and CIO sign-up cards in their boots. Their union, which became known as Packinghouse Workers Organizing Committee in 1937, promised equality for all members-white and black, men and women-making it one of the most progressive unions in the country. Orear was editor of the PWOC edition of the CIO News as well as an organizer. PWOC became United Packinghouse Workers of America in 1943, and Orear worked to organize plants in Topeka and Kansas City, Mo., from 1940 to 1946.
He was the editor of the UPWA's newspaper, The Packinghouse Worker, from 1952 to 1968. He also edited several photojournalistic books depicting workers' lives, including "Out of The Jungle" in 1968 and "On the Job in Illinois: Then and Now" in 1976, which included some of his own photographs. Orear spoke at hearings before Congress in support of the Wholesome Meat Act of 1967, a landmark in consumer protection that amended the Meat Inspection Act of 1906 inspired by Upton Sinclair's "The Jungle."
In 1969, he co-founded the Illinois Labor History Society with the late Bill Adelman and Studs Terkel, and he served as its president until age 98 and president emeritus until his death. Orear dedicated his retirement to ILHS, where he helped preserve the state's rich labor history and bring that history to the public and to generations of local students. He was instrumental in preserving the Union Stock Yard Gate and helped secure the Haymarket Monument and the Martyrs' Monument. He developed and guided many tours of important labor history sites in the Chicago area. He was the first and loudest to belt out "Solidarity Forever."
Orear served as a trustee of the Illinois State Historical Library from 1974 to 1977 and was a member of the Illinois Humanities Council from 1978 to 1982, among other community organizations.
He believed in and lived "truth, beauty and love" and fought for justice and equality for all races and classes. He believed firmly in democracy and dedicated his life to the common good.
In his personal life he raised three children with Hermine Orear and made sure they camped in many U.S. national parks and that they all completed Antioch College. He climbed the Grand Teton in 1952 with his mountaineering half-brother Jay Orear, now a retired physics professor at Cornell. He is survived by his children, Linn Orear, Leslie Orear Jr. and Radha Jill Richmond-Covey; his son-in-law, Robert Covey; grandchildren Riva Richmond, Matt Covey and Mark Covey; and half-brothers Jay and Craig Orear.
Leslie and Hermine Orear were members of the Beverly Unitarian Society of Chicago and were given keys to the castle for their work restoring its historic building.
A memorial service will be held, details of which will be forthcoming. In lieu of flowers, his family asks that donations be made to the Illinois Labor History Society.