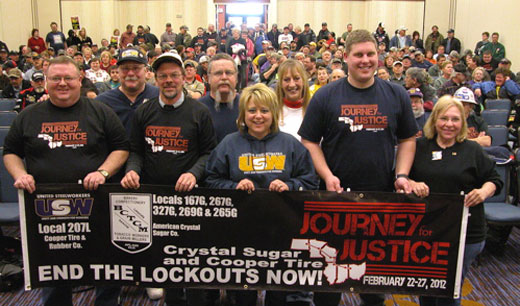 FARGO, N.D. – At the beginning of the Journey for Justice here Feb. 22, hundreds of locked-out workers and community supporters from this town and from nearby Moorhead, Minn. tried to serve a petition on American Crystal Sugar's CEO, Dave Berg.
Signed by more than 33,000 people, the petition demands that the company end the more than six month lockout of its union workforce and return to the bargaining table. The workers belong to the Bakery, Confectionery, Tobacco Workers, and Grain Millers International Union.
Security guards told the hundreds of protesters trying to get into Berg's corporate headquarters here that the executive wasn't taking any visitors.
Among those who attempted to get in to deliver the petitions were a variety of religious, political and labor leaders led by North Dakota State Senator Tim Mathern, who actually carried the bound signatures.
After they were barred Mathern tried calling Berg on his cell phone, but no one picked up, not even the voicemail, according to the state senator.Mathern.
"Maybe American Crystal is a little surprised on how much community support there is," Mathern told the crowd massed outside the corporate headquarters. "These petitions basically represent many honest concerned people and…should be received by this company so that they know this is not just a matter of 1,300 workers,. This is a matter of 1,300 workers, their families, their community members and their brothers and sisters around the country."
Before the crowds attempted to deliver the petitions yesterday there was a rally in Moorhead attended by hundreds of union members and their families. After the attempt to deliver the petitions the crowd was invited back to the Fargo Labor temple for refreshments. From there a delegation of four Crystal Sugar workers and four Cooper Tire workers were sent off on a 1,000mile road trip that has bben dubbed "From Fargo to Findlay: A Journey for Justice."
It was on Nov. 28, just after Thanksgiving, that Cooper Tire and Rubber Co. locked out 1,050 members of the United Steelworkers from its plant in Findlay, Ohio.
The company hired Strom Engineering to staff the plant with scabs, the same contractor that supplies the scabs for the Crustal Sugar lockout.
The lockout is a particularly bitter pill for workers to swallow because, in 2008, when Cooper Tire said it was in financial trouble, members of USW Local 207L made concessions worth $31 million to save their plant.
Cooper's CEO Roy Ames, meanwhile, more than doubled his own compensation between 2007 and 2010 to over $4.7 million per year. Workers voted down the company's unfair proposal but offered to keep working while negotiations continued. The company went ahead and locked them out, instead.
"When we heard about the lockout in Findlay, it just all sounded so familiar," said Becki Jacobson, who was locked out after 30 years on the job at the American Crystal Sugar Moorhead factory. Jacobson, who is one of the eight making the 1,000 mile journey, said, "We were looking for a way to build solidarity with the Steelworkers because their struggle is our struggle. This trip is a way to take that message beyone our own area to a wider audience."
"We're thrilled to be here in Fargo," said Therese Brown, who worked for Cooper for 12 years before they locked her out." When we talk to people they start to understand what it means to be union and what it means to fight for a voive in your workplace."
Davis Foster, a former regional director for the Steelworkers and now Executive Director of the Blue Green Alliance was among those at the protests yesterday. He warned that lockouts are spreading as a tactic employers are using, particularly during tough economic times, top force concessions on workers.
"If companies can so easily lock out experienced workers and hire replacements through a contractor like Strom," Foster dais, "then we'll see labor standards drop across the board. This just isn't about these two lockouts, this is about our way of life in this country."
Photo: Locked out workers and their supporters gather at the Labor Temple in Fargo to send off those making the 1,000 Mile Journey for Justice. Courtesy Bakery Workers union.