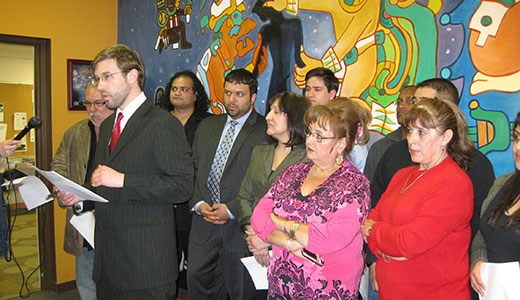 DEARBORN, Mich. – Anger has continued to grow here over a March 31 incident in which Detroit Immigration and Customs Enforcement (ICE) agents in six tinted-glass SUVs surrounded the Hope of Detroit Academy elementary school and playground, terrifying students, parents and staff.
Monday night, Illinois Congressman Luis Gutierrez led a 1,000-strong rally here at the United Auto Workers Local 600 hall, protesting the raid on the school and other recent abuses by the local ICE office. Incidents that have spurred outrage include refusal to let a pregnant woman have access to her medication while in detention, and numerous warrantless, illegal searches that have terrorized the large Latino population in Southwest Detroit, adjacent to Dearborn and the Local 600 office.
The rally was sponsored by the Alliance for Immigrants Rights and Reform Michigan. Local officials attending the event included Democratic Congressmen Hansen Clarke and John Conyers, State Reps. George Darany and Harvey Santana, UAW International Vice President Cindy Estrada, and representatives from the office of State Rep. Rashida Tlaib.
Gutierrez, on a 20-city tour to press for enactment of immigration reform, emphatically called for holding Immigration and Customs Enforcement officials responsible for their improper and illegal actions. "When those we have trusted to uphold the law, take the law into their own hands, all of our civil liberties are at stake," he declared.
"Every ICE action, every deportation, and every new escalation has a lifetime of consequences for families," Gutierrez said. "The toll in immigrant communities across the country has been huge and the stories I am hearing on my tour are heartbreaking and harrowing."
Angela Reyes, director of the Detroit Hispanic Development Corporation, said the behavior of the Detroit ICE office reveals a pattern of abuse. "We have documented numerous examples of the most egregious violations," she said. "ICE's Detroit Field Office routinely violates its own policies as well as the civil rights of immigrants and U.S. citizens. This isn't the work of a few 'rogue agents' but a pattern of behavior. ICE leadership needs to get a grip on their officers."
Last week, Detroit immigration advocates met with ICE Director John Morton. At the meeting, Morton committed to a case-by-case review of the incidents, as well as a systematic review of the pattern of ICE behavior, and promised to deliver results of that assessment within 30 days.
Gutierrez's stop in Detroit was part of his 20-city "Change Takes Courage" tour. The tour comes at a critical time. A record 393,000 immigrants were deported last year, drawing criticism in immigrant and Latino communities. Gutierrez and other immigrant rights advocates hope to prompt President Obama into addressing the issue before the all-important 2012 elections.
At a March 31 Washington press conference to kick off the tour, Gutierrez, who was joined by other members of Congress, immigration advocates and immigrant families, said, "We have not come here to ask the president to sign an executive order somehow relieving these families from being deported; we have not come here to ask for Temporary Protected Status. We understand he has the responsibility and obligation to enforce the law. We're asking him to use the discretion that he has to implement the law so that American citizen families can stay together."
Photo: Ryan Bates, director of the Alliance for Immigrant Rights and Reform Michigan, speaks at a press conference following last week's meeting with ICE Director John Morton. Courtesy of Alliance for Immigration Reform Michigan