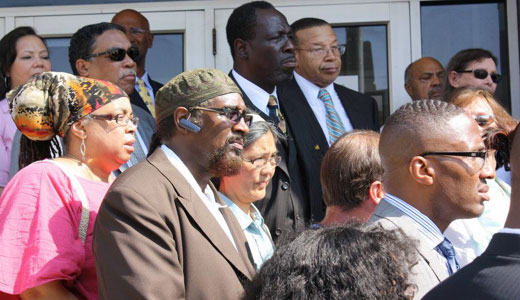 Cleveland, Ohio – Outrage at a new attempt by Republicans to suppress voting in heavily Democratic Cuyahoga County boiled over Monday at press conference on the steps of the Board of Elections.
The event, attended by some 60 public officials, religious, labor and community leaders, was called by Congresswoman Marcia Fudge after GOP Secretary of State John Husted ruled Friday that, unlike previous elections, the Board office could not be open for voting on weekends and after regular working hours in the weeks leading up to the November Presidential election.
Fudge blasted Husted's claim his action was driven by "budgetary constaints."
"This is not about finances," she said. "It's about politics. It's like point shaving in sports. They hope to depress the (Democratic) vote by two, three or four percent.
"Shame on you, John Husted," she said to loud cheers.
State Senator Nina Turner said that over 29,000 residents, over 4 percent of the county's vote, had used the hours, now cut by the ruling and earlier legislation GOP legislation, in the 2008 Presidential elections. Over 65 percent of this vote came from Black neighborhoods according to a study by Norman Robbins, research director of the Northeast Ohio Voter Advocates.
"Jim Crow has packed his bags and is moving North," Turner said.
"This is the most important swing state in the Presidential election," said State Rep. Sandra Williams. "This is an effort to stop Black churches from mobilizing their members. This is about (U.S. Senate Majority Leader) Mitch McConnell's statement that his number one priority is make Barack Obama a one-term president."
Husted's ruling applies only to Cuyahoga County and leaves intact extended hours adopted by local election boards in heavily Republican Warren and Medina counties.
"The right to vote is sacred," said Harriet Applegate, Executive Secretary of the North Shore AFL-CIO. "Our jobs have been off-shored, our retirement security is in jeopardy. We are not going to let them take away our right to vote."
Poor people, she said, often holding several jobs and juggling child care, need the after hours and weekend voting time.
"This is not over. We're going to be back. We are going to convert this attack into a terrific Get Out The Vote effort."
"John Husted, you have just awakened a sleeping giant," said Rev. Tony Minor of the United Pastors in Mission. "Twenty thousand churches have been planning to take their congregations to vote at the Board. We will not be deterred. We had planned for a Holy Sunday. There will now be a Holy Monday, a Holy Tuesday, a Holy Wednesday …," he said before being interrupted by loud applause.
"The buses will continue to roll and justice will roll down like a river," he said. "Shame on Husted. We will remember your actions."
Applegate told the People's World the AFL-CIO and United Pastors in Mission now are planning joint efforts for an even more massive voter turnout in light of Husted's ruling.
"Today is only the beginning," Fudge said, ending the event. "You will hear more from us." She urged people to call Husted's office demanding that he reverse his decision.
"Call till you shut down his phones and shut down his emails."
Husted's office can be reached at 1-877-767-6446 and by email through the website: www.sos.state.oh.us.
Photo: Cleveland Jobs with Justice on Facebook Photo by Debbie Kline