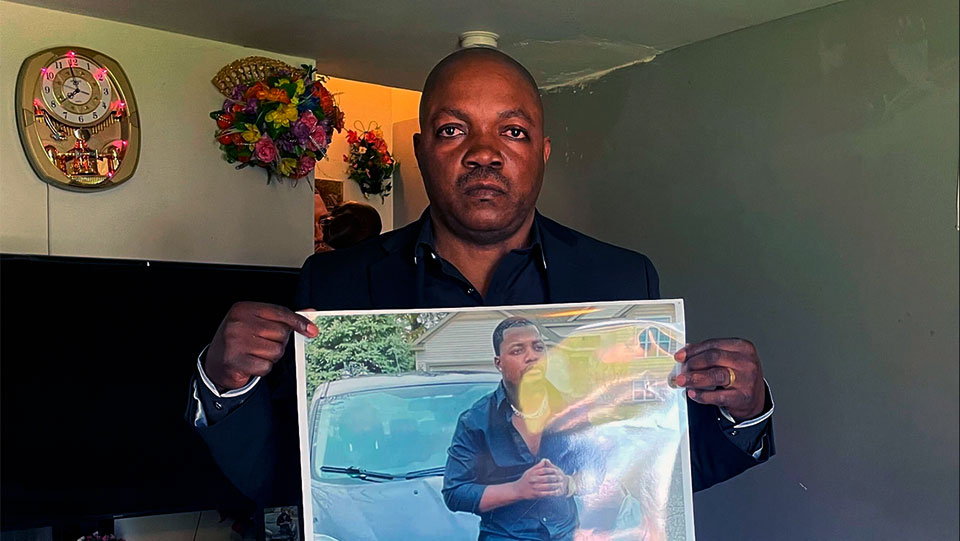 GRAND RAPIDS, Mich.—From City Hall to the city streets to Capitol Hill, outrage continues over the police killing here of an unarmed Black man, the execution-style shooting of Patrick Lyoya, 26, after a traffic stop in Grand Rapids, Mich. Many protesters call it murder. His family, after the killing, demanded an outside, impartial investigation.
The first protest marches, after a jammed April 12 meeting of the city commission, occurred the day a videotape of the April 4 killing surfaced. It showed the white officer stopping Lyoya for a license plate violation—and the ensuing confrontation and death. The family is also demanding the officer be identified.
The tape showed Lyoya starting to run, the officer catching up to him, the two struggling for the officer's taser, Lyoya being tasered twice, and then, as he lay semiconscious and prone on the ground, the officer lying on Lyoya's back and shooting him, execution-style, in the back of the head.
"Say his name!" the peaceful protesters demanded as they marched through the streets of Grand Rapids on April 13, in a city of 198,000 people, 18% Black, with a history of police violence—a familiar chant from the protests of other police killings of unarmed Black people, particularly Black men, which sent millions of people into U.S. streets in 2020.
"Stop murdering us!" was another chant by the Grand Rapids marchers.
"We've constantly, constantly been talking about the harassment and the brutality that's done right here," Grand Rapids NAACP President Cle Jackson told a press conference after authorities released the video. He was referring to past police excessive force.
Almost 200 people produced a standing-room-only crowd in the City Commission chambers the evening of April 12. Even with remarks limited to three minutes each, the open-microphone session lasted more than four hours.
The commission opened its meeting with a moment of silence in Lyoya's memory. That day, the Kent County District Attorney turned the investigation over to the Michigan State Police.
For the attendees, many wearing Black Lives Matter t-shirts, that wouldn't do.
"Anytime someone who looks like me can add our voice" in protest "it has to remind our leaders that this is not just a Black issue. It is an American issue," said the leadoff speaker, Lucas Everett,  a middle-aged white man with glasses wearing a BLM t-shirt.
"People like me need to show up and express our support because when it comes to murderous cops and a corrupt culture, we all bleed."
"This is horrifying, heartbreaking, and deeply frustrating because we had meaningful legislation designed to avoid exactly what we are all witnessing in this video,' said national NAACP President Derrick Johnson in a statement.
"The law enforcement officer involved has blood on his hands, and so do the partisan (U.S.) senators who killed the George Floyd Justice In Policing Act, a bill aimed at reducing police brutality and holding law enforcement accountable for egregious abuses of power.
"An unregistered license plate should not be a death sentence."
Lawmakers crafted that George Floyd bill after Minneapolis police officer Derrick Chauvin killed unarmed Black man Floyd by kneeing the unresisting, prone man in the neck for eight minutes and 46 seconds in 2020, crushing his windpipe and asphyxiating him.
Floyd was struggling to breathe and calling for his mother, but Chauvin refused to move, even after bystanders pleaded with him. He's been convicted of murder. Three other officers, who did not stop him, face trial as accomplices.
Floyd's murder set off the nationwide BLM protests—including one in D.C., where then-Oval Office occupant Donald Trump, a Republican, had unidentified federal law enforcement officers forcibly clear Lafayette Square so Trump could shoot a photo-op.
"Another Black man has died at the hands of police, and the officer in this video has got to be held accountable," Johnson said.
Outrage also came from Rep. Brenda Lawrence, D-Mich., who represents part of Detroit, the majority-Black metropolis on the other side of the state from mostly white and Republican Grand Rapids. That city's lawmaker, Republican Rep. Peter Meijer, posted no comments on his website about Lyoya's death at the officer's hands.
"My heart sank in my chest as I watched the video of the police shooting of Patrick Lyoya, an unarmed Black man," Lawrence said in a statement. "This is yet another death and loss of life by the hands of an untrained officer with motives that must be revealed during the investigation.
"Gun violence and excessive force aren't always random. They are deliberate, and they always lead to unfortunate injury and death. We need full accountability and transparency. Anything less would be unacceptable.
"For Black Americans in Michigan and across the country, we are all too familiar with this injustice. We don't need another march. We don't need another hashtag. We don't need thoughts and prayers. We need action."