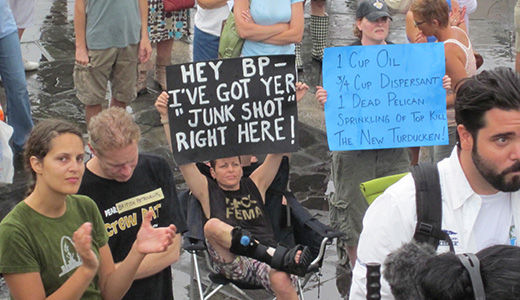 Outraged at the environmental catastrophe in the Gulf of Mexico, a movement to boycott BP is growing across the country.
Adding to the catastrophe are recent reports of workers employed on cleanup who are being hospitalized with rashes and respiratory problems.
A Facebook page in support of the boycott has 250,000 fans, doubling in just three days.
The consumer group Public Citizen, originally set up by Ralph Nader, is avidly supporting the effort and has an online petition as well. Public Citizen is calling for a three-month boycott.
Public Citizen's head, Robert Weissman, said BP must pay because "11 oil workers are dead. One of the largest oil spills in U.S. history continues to worsen. BP's oil gusher at the floor of the Gulf of Mexico may be 100 times worse than BP first estimated (and 20 times worse than the company presently claims). 100 times!"
BP allegedly refused to install a half-million-dollar safety device that could have averted the catastrophe. BP chief Tony Hayward initially grossly downplayed the effect of the spill. The Financial Times quotes him saying, "I think the environmental impact of this disaster is likely to have been very, very modest."
Democracy for America is lending support to the demand for a boycott, suggesting its one million members buy gas elsewhere. Talkingpointsmemo.com quotes the organization's chairman Jim Dean: "Even as we await the results of the latest attempt to stop the flow of oil gushing from the well BP continues to not allow anyone other than themselves the ability and access to fully investigate the extent of the problems."
Over the Memorial Day weekend, local grassroots protests cropped up at BP stations across the country. T-shirts calling for the boycott are being sold online as well.
In Virginia, CharlottesvilleDailyProgress.com quotes Brandon Collins, a Charlottesville resident who helped to organize a local protest, as saying, "We're here to express our outrage over the whole situation." He was holding a sign that read: "Clean Up, Not Cover Up."
Big business interests are started to feel the heat. The LA Times editorialized against a boycott, claiming BP is the wrong target: "It's not surprising that people want to take action to express their despair over the ruin of one of the country's richest coastal ecosystems, but attacking BP isn't the answer."
The Los Angles paper calls for focusing attention on Washington instead, where a Senate climate bill would allow for increased offshore drilling.
It is likely, however, that a sophisticated pubic will concentrate on both targets, realizing that pressure must be brought to bear in every way possible.
BP, which recorded record profits this year, is apparently beginning to feel the effects of widespread dismay and plummeting stocks. Its stock has lost a quarter of its value from recent highs.
Companies owned by BP include Aral, am pm, Arco, Castrol, and Wild Bean Café.
Photo: http://creativecommons.org/licenses/by/2.0/deed.en