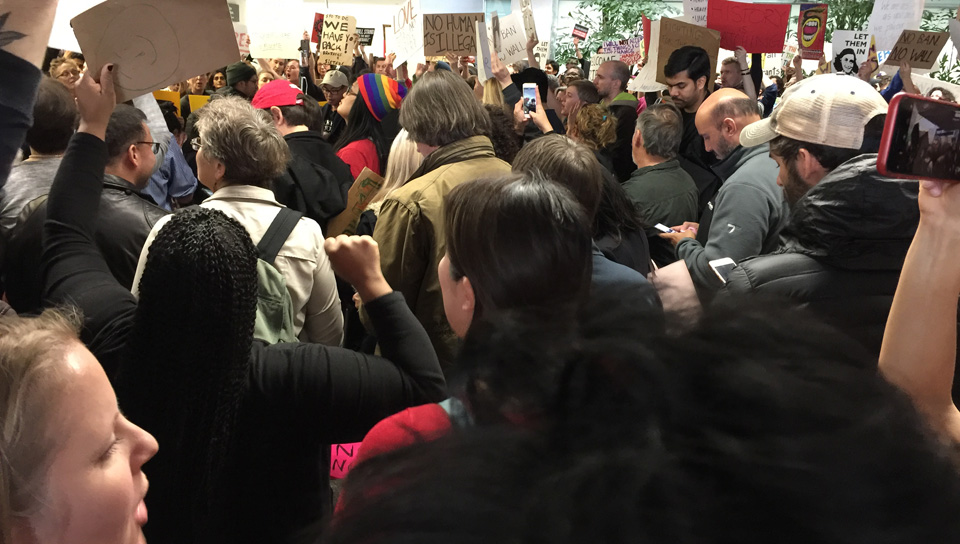 SAN FRANCISCO, Jan. 29—Well over 1,000 people packed two floors of the San Francisco International Airport for a second day to express their outrage over President Donald Trump's immigration measures and to demand that the innocent travelers from Muslim-majority countries be released immediately. The executive orders, suspending the Syrian refugee resettlement program indefinitely and blocking entry to the U.S. of travelers from seven Muslim-majority countries, were sold under the pretext of keeping the U.S. safe from terrorists; but observers have pointed out that neither any refugees from Syria or elsewhere nor any person entering from the seven countries named in the orders have ever taken any lives on American soil and that a stringent screening process is already in place.
The crowd was diverse in race, ethnicity, religion, and age (though young people predominated). Quite a few people carried signs identifying themselves as Jews standing in solidarity with Muslims. Others pointed out the contradiction between Trump's orders and the values upheld by Christians; "I was a stranger and you welcomed me," proclaimed one sign, from the Book of Matthew 25. And of course Muslims came out to support their sisters and brothers. Nahid, a Yemeni woman, drew loud cheers when she said, "I am Muslim and I am American." She spoke of coming to the U.S. 25 years ago "to seek freedom" but continued "now I am worried about my children, about myself, and about my mother; I am wondered with I can practice my religion in public." The crowd responded with a boisterous "Yes you can!"
Nahid identified herself also as a member of Local 2 of Unite Here, the hotel and restaurant workers' union, which has officially condemned the immigration ban and brought out quite a few of its members, many of whom are immigrants, to the protest. The Local 2 statement branded Trump's actions as "an attack on the founding principles of our country and an attack on countless working families." Some of the most enthusiastic cheers of the event were given to union representatives, including those from SEIU airport workers and San Francisco area teachers' unions. The chant "Union power!" rang out throughout the airport.
Loud cheers also greeted the news that "people power" had brought about the release of several detained Iranians.
Laura from the Arab Resource and Organizing Center summed up the spirit of the protest: "This is a war that we are in for the next four years—the last gasp of white supremacy. If Trump and the Republicans think that they can steal this country from the people, they have another think coming!"