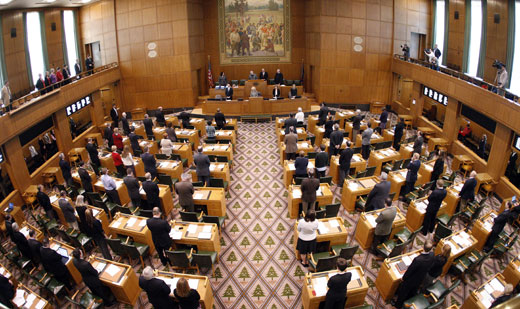 SALEM, Ore. – More than a thousand public employee unionists, educators, parents, environmentalists, and Occupy activists rallied in chilling rain for a "Strong Schools, Strong Oregon" day of mass action Feb. 20 at the state Capitol here.
The action was called to build support for funding public education and social services, threatened by proposed cuts, and to oppose measures being considered by the governor and legislature to privatize key elements of public education. The proposed cuts seek to close Oregon's projected $340 million shortfall in projected tax revenue.
Adopting the slogan "Wear red for public ed," many in the crowd sported red T-shirts, jackets and hats as they voiced strong opposition to budget slashing, which would adversely affect hundreds of thousands of working families in Oregon.
Among the organizers and supporters of the day of action were the Oregon Education Association, the American Federation of Teachers, AFSCME, SEIU, and the Oregon League of Conservation Voters, from around the state, and activists from Occupy Salem. The rally was preceded by a blitz of legislators' offices by unionists, activists and concerned parents lobbying against balancing the state's budget by taking from Oregon's working people, students, seniors, and the disabled.
"No more cuts," chanted Portland parent Janet Reilly, as she joined demonstrators in marching around the Capitol building after hearing educators and union activists decry the callousness of legislators to the impact of spending reductions on the 99%.
The rally was her first experience of political action at the state level, although she had been a participant in demonstrations at Occupy Portland. "Enough is enough; I see art and music programs, everything but teaching to standardized tests going away in our schools, and I don't want that for my daughter," she said, holding a sign blazoned "Solidarity!"
Other signs borne by demonstrators at the noon rally highlighted issues of crucial importance at stake in the Oregon budget crunch: maintaining current levels of public school funding, preventing closure of a state prison in Salem, and preventing reductions in pay and benefits for workers who provide in-home services to seniors and the disabled.
Participants also voiced concern that Gov. John Kitzhaber's plans for reorganizing higher education in the state would amount to privatizing the state university system and further reducing the availability of higher education to Oregon students. Leaflets passed out by the organizers also demanded that the Republican co-speaker of the House, Bruce Hanna, take action on health care reform bills stalled in the legislature.
Photo: Members of the House of Representatives stand at the start of the Oregon Legislature, Feb. 1, in Salem. The Oregon Legislature kicks off a one-month session, the first in an election year since voters decided to create annual legislative sessions in 2010. Rick Bowmer/AP