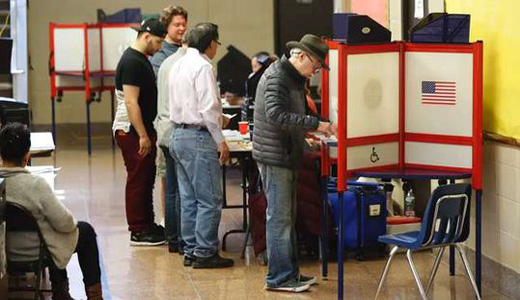 NEW YORK – The big question was: after unusual acrimony between the candidates, would the Democratic Party emerge unified after yesterday's presidential primaries in New York? It did, although – no surprise – the Republican Party did not.
The outcome of the primaries were no surprise, either. As universally predicted, Donald Trump clobbered Ted Cruz and John Kasich in the Republican balloting and Hillary Clinton won handily, although the relative standing in the Democratic presidential nomination race between her and Bernie Sanders remains about the same.
What is shocking is that some 126,000 New Yorkers, mostly Democrats and mostly in Brooklyn, found themselves disenfranchised. They've sued the New York Board of Elections.
According to Election Justice USA, a grass roots voting rights advocacy group, people went to their polling places only to be told their names had been purged from the voting lists and that they could not vote. Election Justice filed a court suit on their behalf.
The New York State Board of Elections claims that those purged from the lists had not voted in the past two elections and that when inquiries were mailed to them, the U.S. Post Office marked the mail "undeliverable."
A similar situation came up months ago in Nevada. Many people had lost their homes in the 2008 recession and were forced to move. It was difficult for the Post Office to track them down.
However, in New York there was an additional problem: some voters found that their party affiliation had been changed without their authorization.
Along with the lawsuit, New York City Mayor Bill de Blasio has called for an investigation.
Even without list purges, New York State makes it difficult for people to vote, especially in primaries. You have to register to vote, and list your party affiliation, at least 25 days before the balloting. To register, you need a "valid" ID. Unlike many states, you can only vote in the primary of your own party. To vote by absentee ballot, you have to prove you'll be out of town or are physically unable to go to a voting site.
Worst of all, there is no early voting in New York State.
According to the New York Times, "because the act of voting is cumbersome and uninviting … [New York] has one of the worst voter turnout records in the country. … New York [is] 44th among the 50 states and the District of Columbia for voter participation."
Acrimony, unity
Clinton and Sanders were unusually harsh with each other during the primary campaign. Sanders blasted Clinton for taking millions of dollars from Wall Street and for unfairly (but legally) maintaining a joint fund raising operation with the Democratic Party itself. He also questioned Clinton's judgement in supporting the war in Iraq as a senator and of helping to create chaos in Libya as Secretary of State.
Clinton accused Sanders of peddling "pipe dreams" of universal health care and free college tuition without having "concrete plans" for achieving these goals. She also said he doesn't have the wherewithal to reform Wall Street.
Observers said Sanders and Clinton were doing in New York what New Yorkers are famous for doing: being direct.
They're probably correct. Sixty eight percent of New York Democratic respondents in a CNN poll said that the Sanders-Clinton clashings energized the party.
On the other hand, 57 percent of Republican New Yorkers said that the carryings-on between Trump and Cruz split their party even more than it had been.
In fact, one of the GOP's top strategists, Cheryl Jacobus, is suing Trump for $2 million.
However, progressives should not take comfort in the Republican implosion. No matter who emerges victorious, billionaires will back that candidate with untold sums of money. And if elected, that candidate will allow huge corporations to run roughshod over the American people and will try to turn back the clock on voters' rights and women's rights.
More delegates than any state to date
At this writing, the New York Democratic Party is still applying its rather complicated formula for allocating delegates, but so far Clinton has won 135 and Sanders 104.
In a press release, the Sanders campaign points out that it has picked up more delegates in New York than in any other primary or caucus to date.
Including the incomplete New York totals, Clinton has won 1,446 delegates through balloting. Also, 469 super delegates have said they will support her at the Democratic National Convention in July.
Thirty-one super delegates have pledged to support Sanders and he has won 1,200 delegates through balloting.
In other words, Clinton has won 246 more delegates than Sanders through primaries and caucuses, more or less the same lead she has held throughout most of the campaign season.
A candidate must have the support of a total of 2,383 delegates to win the Democratic nomination.
There are seven more weeks to go of primaries and caucuses before Clinton and Sanders can tote up their final delegate support numbers.
Meanwhile, both candidates have been stressing that their top priority is protecting the White House from being captured by the right wing.
As Hillary Clinton said in her victory speech last night, [As Democrats] "there is more that unites us than divides us."
Photo: Voters in Yonkers at Lincoln High School on Apr. 19. Over 126,000 New Yorkers found that their names had been purged from registration lists when they arrived to vote. | AP