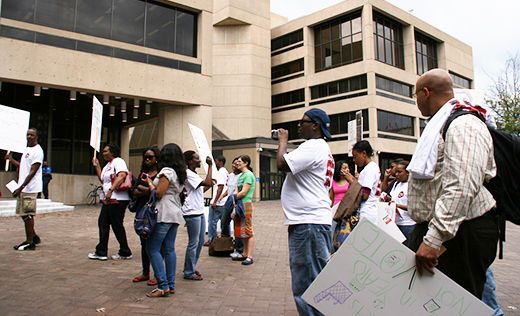 A protest rally calling for restoration of voting rights for ex-felons was held last week at the University of the District of Columbia. The rally was sponsored by the National Black Law Students Association. Speakers included Katherine S. Broderick, dean of the University of the District of Columbia's Law School, and representatives of the American Civil Liberties Union and the NAACP Legal Defense and Educational Fund.
Kimberly Haven, a rally participant and ex-felon, described the feeling of having her voting rights restored due to Maryland's Voting Registration Protection Act: "My vote is my voice. My voice is my power," according to civilrights.org. Ms. Haven is executive director of Justice Maryland.
In the U.S. over 4 million people have lost voting rights after receiving felony convictions.
A bill to end felon disenfranchisment, the Democracy Restoration Act, co-sponsored by Sen. Russell Feingold and Rep. John Conyers, was introduced as S 1516 and HR 3335 on July 24, 2009.
Thirty-five states restrict prisoner voting rights. Virginia and Kentucky eliminate ex-convict voting rights permanently. Carl Wicklund, executive director of the American Probation and Parole Association, speaking at a March congressional hearing, said that in Kentucky 183,000 people are denied the right to vote. Twenty-three percent of all African Americans in the state are in this category.
Two million African Americans have lost the right to vote across the country. Hilary Shelton, representing the Washington, D.C., NAACP, said at the hearing, "Specifically, nationwide, an estimated 13 percent, or 1 out of every 8 African American men, cannot vote because of the law in the state where he resides and a prior felony conviction. This is seven times the national average."
He continued: "African Americans, who make up about 13 percent of the U.S. population are disproportionately kept out of the voting booth: about one-third, or 33 percent of those disenfranchised are black."
Latinos are disproportionately affected as well. In California for example, two -hirds of the Hispanic citizen voting-age population cannot vote because of a criminal conviction.
Sen. Feingold, a Democrat, and the late Jack Kemp, a Republican, in an article in the Baltimore Sun wrote that the practice of denying convicts the right to vote has its origins in the Middle Ages and the concept of "civil death."
They wote: "The principle of civil death, a vestige of the Middle Ages, declared that convicted criminals were outlaws – irrevocably expelled from society. Perhaps civil death made sense in a land of kings and peasants, but it has no place in America today."
Pointing to its racist orgins in the U.S. they continued: "Civil death in America has an explicitly racist past. It is no accident that it disproportionately affects African- mericans. Nationwide, 13 percent of all African American men are disenfranchised; in some states, it is almost 25 percent. Like the poll tax and the grandfather clause, civil death was a tool of Jim Crow."
Fifteen states and the District of Colombia have restored voting rights for former felons. The Democracy Restoration Act would allow ex-felons to vote across the country.
Photo: Part of the rally calling for restoration of voting rights for ex-felons, lsst week at the University of the District of Columbia. (civilrights.org)