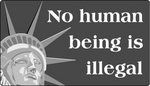 LOS ANGELES — The over half million immigrant rights supporters who rallied in Los Angeles March 25 sent their fellow Americans and their government a clear message: We are Americans, we are workers who build up this economy and society, we are not terrorists nor criminals, we deserve justice and equality with legalization!
Hundreds upon hundreds of thousands in the march sent these messages on their white T-shirts, on placards, carrying banners and American flags, with chants as well as roaring cheers for the speeches of community, labor, political and religious leaders.
The action was timed to precede Senate debate on immigration policy starting March 27. The labor-community coalition has been growing by leaps and bounds, drawing in Democrats, some Republicans, religious groups and some business groups.
The earnestness of the message was embodied in the character of the marchers. They arrived hours early. Hundreds of thousands were already there at the 10 a.m. assembly time. They came as community: whole families, from infants in strollers to grandparents. Others came in groups of co-workers and neighbors. Over two-thirds wore white as a symbol of peaceful advocacy for their rights, as requested by organizers and the Spanish-language radio disc jockeys.
Carrying themselves with dignity, people were so solidly pressed together that smoking was virtually absent. No alcohol was present and no arrests were made.
The L.A. march came in the wake of the huge Chicago rally March 10 that rocked the nation. Millions have taken to the streets in opposition to HR 4437, known as the Sensenbrenner bill, which criminalizes undocumented workers as well as anyone who provides them with assistance. Protesters are demanding "pro-immigrant" immigration reform with a clear path to citizenship.
At the L.A. rally, the crowd resoundingly cheered calls by rally organizers for permanent residency and amnesty, not bracero-like temporary worker programs. They cheered calls to oppose anti-immigrant politicians at the polls, and cheered warnings of boycotts and work stoppages should bad legislation pass.
California State Assembly Speaker Fabian Nunez said, "We are a community looking for justice, we want permanent residency. This week President Bush and Congress can decide whether to open their arms … or turn their backs on our beautiful community." Father Mike Kennedy, pastor of Dolores Mission Catholic Church, spoke of the Catholic Conference of Bishops' support for immigrant rights. He said that the anti-immigrant proposals in Congress "are sinful … we need an amnesty." Many diocese leaders are vowing to "get arrested" if laws are enacted that criminalize those who work with undocumented people.
Los Angeles Mayor Antonio Villaraigosa was joined by many others urging legalization. "We are here as one family" seeking legalization as part of the American Dream, he said. "We are not illegal, we are workers."
Maria Elena Durazo, leader of the 800,000-member Los Angeles County Federation of Labor, said the nation's labor movement was "entirely behind you." Labor union members, along with community activists, led the security detail. Durazo was joined by SEIU Local 1877 President Mike Garcia in calling for keeping up the pressure, including, where appropriate, work stoppages.
Democratic Congresswomen Hilda Solis and Linda Sanchez of California said they were struggling hard against the anti-immigrant measures of Republican leaders. Solis got a rousing cheer when she told the crowd, "We are fighting in Congress. Help us in the elections!"
Other important immigrant rights actions were initiated by students and farm workers. Starting on March 24 and continuing on March 27, tens of thousands of students in the area walked out of school. On March 26, some 4,000 members and supporters of the United Farmworkers Union commemorated the March 31 anniversary of Cesar Chavez's birth.
Dolores Huerta, a co-founder of the UFW with Chavez, said the farm workers would picket and demonstrate at the offices of every Republican politician in California if the Republican leadership moves forward with anti-immigrant legislation.