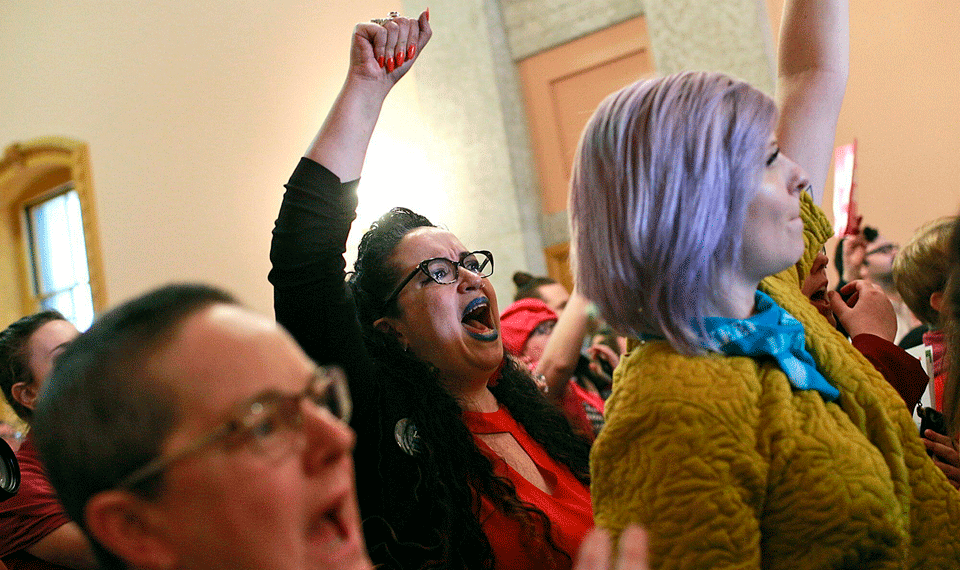 Last week, the Ohio General Assembly passed Senate Bill 23—the six-week abortion ban that Republican legislators are calling the "heartbeat" bill. Ohio is one of 16 states to pursue such a bill, part of a growing trend to limit women's access to reproductive health options. According to the Guttmacher Institute, a reproductive rights research and advocacy group, more than 250 bills restricting abortions have been filed in 41 states this year.
As of 2018, public support for legal abortion remained high—with 58% of U.S. adults saying abortion should be legal in all or most cases, while only 37% believe it should be illegal in all or most cases. Although demand for modern contraception and reproductive health services is increasing, the GOP has orchestrated a massive campaign in support of its "heartbeat bills" across the nation.
Anti-abortion campaigners see Senate Bill 23 as one step in a long-term strategy to implement a national abortion ban. "The heartbeat bill is the next incremental step in our strategy to overturn Roe v. Wade," Ohio Right to Life President Mike Gonidakis admitted.
For many working-class women, bodily autonomy is more than just a political talking point, though. "I had an elective abortion when I was 24 years old," Ohio native Elizabeth Dumler told People's World. "I was fresh out of college and only making $13 an hour." Dumler grew up in Appalachia in the state's rural Athens County. She later studied biology at Ohio University before eventually settling down in Chicago.
Like so many people from her hometown, Dumler was raised in strained socioeconomic conditions and relied heavily on access to public health care services. "I was raised in poverty, I spent time living in a trailer," she says. "I understand what it means to have a financially unstable childhood." Her experience speaks to the reality faced by many working-class women and the desperate need for affirming community health care services, like Planned Parenthood.
Studies have indicated that denying women access to legal abortion does very little to actually reduce the number of abortions. In the years prior to Roe v. Wade, unwanted pregnancy often meant injury or death as a result of self-inflicted abdominal and bodily trauma, ingestion of dangerous chemicals, self-medication, and reliance on unqualified abortion providers.
After the 1973 Supreme Court decision that legalized abortion across the nation, mortality rates due to septic illegal abortion decreased. Women across the country were finally able to access accurate information about their reproductive health and medical services.
Abortion continues to be a necessary health care service, sometimes needed to save the lives of pregnant women. In Dumler's case, there were a number of factors that went into her decision to have an abortion, including a history of cervical cancer. "I was told that it might lead to some problems and that it would likely be a high-risk pregnancy."
News of the passage of Ohio's anti-abortion bill comes just weeks after the Sixth Circuit Court of Appeals upheld a law that bars federal funding to programs that provide essential health services. The new regulation would prevent organizations that provide abortion referrals from receiving federal family planning money.
Many medical professionals have expressed outrage over this decision. They say it severely limits their ability to provide safe and comprehensive health care to their clients.
"It is incredibly cruel and unconscionable to have lawmakers making these decisions," says Dr. Sarp Aksel, a physician in obstetrics and gynecology based in New York. Aksel has worked as a reproductive health advocate and spoke to People's World about the direct impact that recent pro-life legislation has had on his patients. "The fact that women are nowhere in the conversation and decision-making process, especially women of color, really speaks to a certain intent," he says.
Aksel says the anti-abortion policies being promoted prevent women from receiving "medically accurate information." Part of his job as an OBGYN is to counsel patients on all the best possible options they have available, he says, but restrictive legislation limits him from sharing that information. "These types of 'trap laws' limit access to abortion and other legal medical procedures, which limits my ability to educate my patients."
Ultimately, anti-abortion bills serve as an attack on working-class communities, and in particular working-class women, who rely on access to safe public medical services. Although the U.S. has seen a steady and significant drop in the number of abortions in recent years, current research suggests that one-in-four women will have an abortion by the age of 45. Low-income people and people of color will continue to be among those disproportionately affected by Ohio's "heartbeat" bill.
Ohio will be the sixth state to ban abortion after the first month and half of pregnancy; its bill also includes a number of additional restrictions. The Senate bill's ban has no exclusions for women who experience pregnancy due to rape or incest. Additionally, the legislation threatens to place felony charges against doctors who provide care to patients under these circumstances.
Many medical professionals have called the six-week time cap unreasonable. "The six-week bans are incredibly problematic for a number of reasons," says Aksel. "I can tell you that there are a number of women I see on a day-to-day basis that don't know they are pregnant, that are past the six-week mark."
Women are often burdened with the unfair expectation of being able to immediately identify symptoms of an unwanted pregnancy. However there are a number of medical, non-pregnancy related reasons a person might not be menstruating, including stress, weight loss, hormonal conditions, use of contraceptives, and other health factors, he explains.
Research from the Guttmacher Institute revealed in 2013 that approximately two-thirds of abortions occurred at 8 weeks of pregnancy or earlier, and 89% occur within the first 12-weeks. "I took a pregnancy test right at the six-week mark," says Dumler, who explained that she had experienced menstrual irregularities in the past due to her previous chemo treatment.
The Chicago transplant says that she is grateful for the options she had available—and has no regrets about her decision. "It took me a week to think over things," she says. "I looked over the laws in Illinois and saw that I had time, so I called Planned Parenthood and made an appointment."
Many others, however, may not have that option. With more restrictive abortion bills being pushed by Republicans, it is now up to women to fight for their own agency and bodily autonomy. "I knew I wasn't ready to have kids," said Dumler. "If I'm going to bring children into the world, it isn't going to be like this."