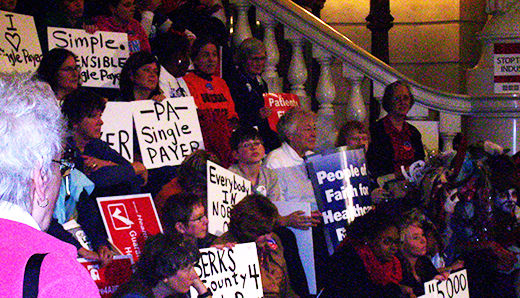 HARRISBURG, Pa. — Close to 1500 Pennsylvanians packed the main Capitol rotunda recently to call for passage of a bill that could make their state the first in the nation to put a single payer health insurance plan in place.
State Sen. Jim Ferlo from western Pennsylvania captured the sentiment of the day and drew loud applause when he told the crowd, "We are for a public option; a public option is a single payer plan." He went on to say that "We have never seen such a movement for health care as we see today, but our voices are not always heard because we are facing a corporate media." He called the attempts by some in Congress to appease the private health insurance industry "gobbledy gook" and contrasted the complex 1000 page bills with the single payer HR 676, which he noted is only nine pages long. Kevin Zeese of Prosperity Agenda agreed and denounced the influence of big insurance in Washington saying "We need to make the insurance industry radioactive!"
The rally drew supporters from all parts of the state and included a wide range of health care, professional, community, labor and faith based groups. They carried signs bearing the words "Everybody in; Nobody out!" and "Health care for all now". One sign proclaimed "Pregnant with hope for health care for all!" The crowd was addressed by a remarkable range of speakers: some from local Pennsylvania communities and some from national organizations. Former CIGNA executive Wendell Potter told how he had travelled a political journey from private insurance industry PR representative to strong advocate for single payer. Dr. Margaret Flowers of Physicians for a National Health Program (PNHP), one of the activists forcibly removed from the Senate Finance Committee hearings earlier this year, said that making sure everyone has access to quality health care "is what civilized countries do." The rally also included moments of levity and political satire, such as when the "billionaires for wealthcare now" displayed signs reading "Down with socialism! Up with feudalism!"
Following the rally, the crowd broke into smaller groups, and many headed for the offices of key legislators to urge support for the two key bills which would bring a single payer plan to the keystone state. House Bill 1660 and its companion Senate Bill 400 have the support of organizations ranging from PNHP and the Progressive Democrats of America to the Pennsylvania AFL-CIO, represented at the rally by its president Bill George, to the nonpartisan League of Women Voters. Governor Ed Rendell has said he would sign single payer legislation if it reaches his desk.
Diane Mohney also contributed to this article.