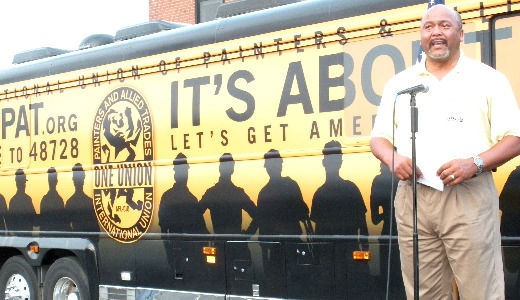 ST. LOUIS – "This is about you. This is about listening to the members that are hurting. This is about putting our people back to work. This is about building momentum for the elections. This is about knocking-and-dragging on November 2nd," James A. Williams, general president of the International Union of Painters and Allied Trades (IUPAT), told union members and activists at a rally here outside the IUPAT District Council 2 building on September 18.
The rally was part of a nationwide, month-long "It's About The Jobs" bus tour organized by the Painters Union. The bus tour, which started in Seattle, will make its way to the East Coast and eventually end in Delaware.
According to Williams, a 42-year union member, the unemployment rate among painters and allied tradesmen hovers somewhere between 30 percent and 40 percent.
"We need politicians with the will to listen to what's important: Putting America back to work." Williams told the rally. He added, Robin Carnahan "will be your next U.S. senator."
Many of the union members and activists at the rally had just returned from canvassing for Carnahan, who is campaigning to unseat Republican incumbent Roy Blunt. She spoke with union members earlier in the day in Kansas City, Mo., when the 'It's About The Jobs' bus tour stopped there.
Rep. Russ Carnahan, brother of the Senate candidate, addressed the crowd here. "This election is about our future and what kind of country we are going to have," the pro-labor Democrat said.
"The former administration, the Bush administration, left us with a big pile of shit, and we have to deal with that. We have to clean up the mess. We have to fix all of the problems. But we can't fix all of the problems that they left us with overnight," Rep. Carnahan said.
He added, the Republicans are "offering the same old plan that drove our economy into the ditch."
Referring to his sister's Senate bid, Carnahan continued, "The Senate is messed up. Things languish and die there. And Roy Blunt is part of the problem."
Robin Carnahan and Roy Blunt are currently neck-to-neck in local polls.
However, as the Missouri AFL-CIO begins its Labor 2010 elections mobilization program, local unionists are optimistic that Robin Carnahan will win on November 2.
As part of its elections program, the Missouri AFL-CIO plans on "touching" every union member, retiree, union household and Working America member at least 25 times between now and November 2. There are 430,000 union voters in Missouri, about 25 percent of likely voters.
Tom Angelo, a 26-year member of IUPAT Local 137, said about today's bleak economic situation, "It's never been like this before. People should be working."
Angelo blamed the banking industry. He said, "We have jobs waiting on financing. Contractors can't get financing. I don't get it. Two years ago we bailed out the banks. We saved their lives. And now here we are, and they turn their backs on us."
St. Louis Mayor Francis Slay said, "Unions are the backbone of our nation, of our economy."
According to Slay, St. Louis has invested $900 million in local construction jobs because of the Obama administration's economic stimulus package. He added, an additional $300 million was invested by the AFL-CIO Housing Investment Trust fund, insuring union jobs for union members.
Slay concluded, "Unions are investing in our people, in our families. They are making sure St. Louis stays a union town."
St. Louis Central Labor Council President Bob Soutier summed up the rally when he said, "We have to fight hard every day. We have to work tirelessly. We'll never have as much money, but we have the people. We have to stand-up and get out and fight. Drag someone to the polls with you!"
Photo: With the "It's About The Jobs" bus in the background, IUPAT Executive General Vice President Kenneth Rigmaiden addresses the rally. PW/Tony Pecinovsky