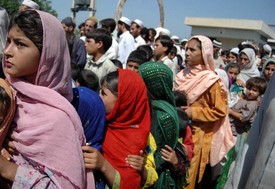 The Pakistan Peace and Solidarity Council sent out an urgent appeal today to the "philanthropists, donors, supporters, international relief organizations and international community" for humanitarian aid to assist the some 1.3 million displaced people from Swat, Bunir, Dir and Malakand, the semi tribal areas located in the north of North West Frontier Province near the Pakistan-Afghan boarder.
"Due to the current continued fight between the Pakistan Forces and the Taliban fighters more than 1 million people have been forced to leave their homes. They are in dire need of the food, shelter, medicines and other daily use items," the peace committee said.
While the Pakistani government has set up camps, only some 20 percent of the people are there, the committee reports. "The majority is living with their relatives and friends or they have rented out buildings."
There is not enough food and medical care, the committee reports, while water seems to be provided.
"Food is not enough, while water is provided in the water tankers. Government male doctors perform duties but due to shortage of medicines, the treatment is not done fully in the camps. Some very essential medicines for gastro problems, malaria, skin, eye, allergies, etc., are not available in the camps.
"Due to non availability of female doctors and paramedical staff, females are reluctant to visit these clinics. The children have no recreational/ education facility inside the camps and hence the families, and specially mothers, face difficulty."
Pakistan Peace and Solidarity Council said it is providing food, drinking water and assistance to the displaced people in in Shergarh, Takht Bhai, Mardan and Jalala.
To provide any assistance to the Pakistan Peace and Solidarity Council to provide relief to the displaced persons contact, or .