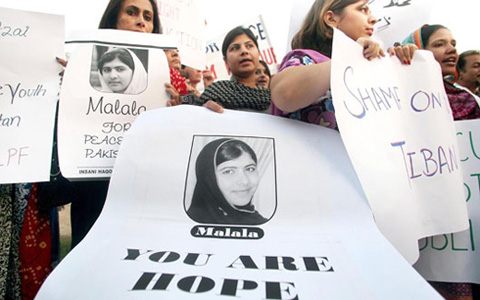 Malala Yousafzai, the 15-year-old Pakistani woman gravely wounded in a Taliban attack last week, has come to symbolize a broadening struggle in that country, against the extremist views the Taliban seeks to enforce there and in neighboring Afghanistan.
Yousafzai, struck in the head and neck by Taliban gunfire Oct. 9 as she rode home in a school bus, arrived in Britain Oct. 15, to be treated in a British hospital that specializes in care of British service members injured in Afghanistan. Doctors there say she has a chance to make a good all-round recovery, but will need prolonged treatment.
Two other young women, Shazia Ramzan and Kainat Ahmed, were injured, but not as severely.
Despite her youth, Yousafzai has long been an outspoken advocate of education for girls and young women, in a region where this has often been a sharply contested issue.
Her hometown, Mingora, lies in the Swat Valley, in northern Pakistan, an area controlled by the Taliban from 2007 until 2009.
Taliban spokesperson Ihsanullah Ihsan immediately credited his organization with the attack, saying Yousafzai had become "a symbol of western culture in the area," and vowing the Taliban would try again to kill her if she survived.
Public responses followed quickly.
Just days later, 50 Islamic clerics in the Sunni Ittehad Council issued a religious ruling against the Taliban attack, declaring it "un-Islamic." The Council declared, "Islam doesn't prohibit women from getting education," and accused the attackers of violating Islamic principles.
On Oct. 16, as the Council marched to protest U.S. drone attacks and the anti-Islam film, "Innocence of Muslims," its chairman, Sahibzada Fazal Karim, again condemned the attack on Yousafzai, calling it a conspiracy against Islam, which he said is a religion of peace, tolerance and brotherhood.
Tens of thousands protested in Karachi Oct. 14, in the largest rally to date, organized by the Muttahida Quami Movement, a liberal secular party.
As he visited the public school headed by Yousafzai's father, Interior Minister Rehman Malik announced Oct. 16 that Yousafzai will receive one of Pakistan's highest civilian awards for bravery, and offered a bounty for Taliban spokesman Ihsan. Malik also visited Yousafzai's two injured companions, bringing them monetary awards.
The Indian newspaper The Hindu reported that children were increasingly participating in daily vigils for Yousafzai's recovery, with parental encouragement: "Even in Peshawar – where there are indications of various terrorist outfits regrouping and mobilizing after a brief lull – girls are coming out in support of Malala, fearing that silence is no longer an option."
General Ashfaq Parvez Kayani, who heads Pakistan's army, visited Yousafzai in the hospital before she was evacuated to Britain, and blasted the "twisted ideology" of the "cowards" who attacked her.
Nor were demonstrations limited to Pakistan.
In Afghanistan the Education Ministry organized a nationwide prayer vigil for Yousafzai in schools.
The United Nations this week declared a petition in Yousafzai's name, with the slogan, "I am Malala," calling on Pakistan to establish a plan to educate every child, urging all countries to outlaw discrimination against girls, and urging international organizations to make sure 61 million children around the world who aren't in school now, be there by the end of 2015.
Yousafzai first came to public attention when at age 11, she began to blog, under a pen name, for the British Broadcasting Company's Urdu programming. Her father, poet, education activist and school owner Ziauddin Yousafzai, fully supported his daughter's role in the struggle for girls' education during a period when the Taliban was destroying schools in the area.
Yousafzai was earlier nominated for the International Children's Peace Prize, received Pakistan's National Youth Peace Prize, and has had a girls' school named after her.
"Malala may become a role model not just for girls in the region but also for peace, Pakistani journalist Ahmed Rashid wrote in The New Yorker this week. "Her story now has the potential, if fully utilized, to bring about serious geopolitical change in the region that could actually help stabilize both Pakistan and Afghanistan.
Photo: Get well soon Malala Yousafzai. From Britain's HOPE not hate website.