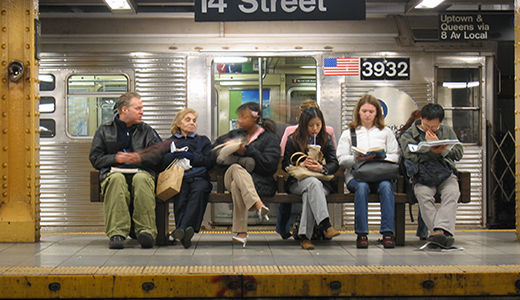 NEW YORK – It's the regular tea party style: point out an actual problem, and then follow it up with exactly the wrong solution.
During the few moments in the past week when he wasn't spouting homophobic hate speech, Carl Paladino, New York's increasingly unpopular GOP gubernatorial candidate, has done just that. He called the Metropolitan Transportation Authority, which runs this city's subways and buses, as well as the Long Island and Metro-North commuter railroads, a "bloated bureaucracy" that is unaccountable to anyone.
Well yes, but his solution would make it worse.
The MTA has drawn public furor by announcing huge fare increases for the third year in a row after equally huge service reductions. In order to save money, the authority scaled back all train services, cut dozens of bus lines and two train lines.
The MTA is mandated by law to hold public hearings whenever it enacts such changes, and it did so each time. At every meeting in each of the city's five boroughs, as well as the suburban towns the transit system services, crowds of angry people showed up to demand that the MTA not enact its announced plans. And each time, with barely an exception, the authority's board of directors made the changes anyway.
While the riding public suffers, the MTA bosses live lavish lifestyles, paid for by public money. Most of them don't ride the trains or buses they control. Because they are appointed, they also don't have to worry about public backlash; they are insulated from their detractors in a way that elected officials are not.
The MTA is a shadowy agency that seemingly no one, outside of its board, controls. It makes deals with developers that make no sense: it sold a parcel of land in Brooklyn for tens of millions of dollars less than it was worth to a huge corporation while another company offered to pay more and pay the debt faster. City Council members and other officials protested, but the MTA did what it wanted. The authority was even found to have been keeping two sets of books: one that it showed to the public and another that contained the agency's actual financial affairs.
The MTA is a public agency. But it is not accountable. It does what it wants, and politicians are able to wash their hands of problems, as they can say, like Mayor Michael Bloomberg often does, that they have no way of telling the authority what to do.
The board is comprised of 17 people. Four are appointed by the mayor; Nassau, Suffolk and Westchester counties appoint one member each; three upstate counties appoint three people who can cast one collective vote; and the governor appoints the remaining six. The personnel are then confirmed by the state Senate, which generally acts as a rubber stamp on this issue.
Clearly this state of affairs is no good, and this is the part Paladino got right.
But his plan to abolish the MTA and transfer all authority to the state is ridiculous. The Urstadt Law, passed in 1971, did the same thing for rent laws: it took away authority from the city and gave power to Albany – with disastrous results. The landlords have been able to use this lack of home rule to work with upstate Republicans and other reactionaries to weaken the city's formerly strong rent-control regulations to a point where many can barely, if at all, afford to live in the city.
Clearly, something should be done, but not what billionaire businessman Paladino suggests. He is, in actuality, proposing that New Yorkers have less control over the subway system, not more.
It would be good, for example, to dismantle the MTA, but in a democracy-friendly way. New York City Transit, the division that runs city buses and subways, should be controlled by the city itself, as it was up through the 1970s. The City Council is the closest elected body to the people, understands the needs of New Yorkers, and would be far more responsive – and accountable.
Mayor Bloomberg and his ilk, as well as the big developers, like that they can use the MTA as a money-making racket – for example, by selling undervalued land in Brooklyn to their friends – while at the same time being able to act disgusted and blame the MTA board of directors.
But Paladino is one of those people. He himself is a big real estate tycoon. Like all tea party leaders, he strikes a populist tone to push an anti-people agenda.
Photo: New York City subway riders have to wait longer for trains, Colin Mutchler // CC BY 2.0