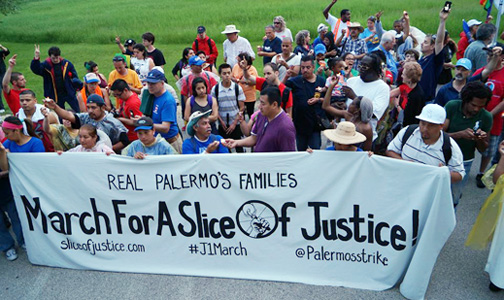 (AFL-CIO NOW) In a settlement reached with the Palermo Workers Union and the National Labor Relations Board (NLRB), Palermo's Pizza has agreed to return eight fired workers to their former jobs with back pay.
The company also has agreed to post a notice in its Milwaukee plant informing workers of their rights under the National Labor Relations Act and to hold a union election.
The workers have been on strike since June 1, 2012, to protest unfair labor violations, workplace safety and to call for a voice on the job. After the workers requested that Palermo's recognize their union and bargain with them over serious workplace problems, Palermo's fired more than 75 workers.
Raul de la Torre, an organizing committee member of the Palermo Workers Union, says:
"Palermo's Pizza repeatedly violated our rights to join a union. This agreement confirms that Palermo's used threats, intimidation, surveillance, discrimination and retaliation to deny the freedom to choose a union voice."
The United Steelworkers (USW) union has been working closely with both the fired Palermo's workers and those currently on the job who are seeking a union voice. USW District 2 Director Mike Bolton called the settlement positive but also a disappointment, and said the following:
"It took much too long to get even this small bit of justice for these workers. And unfortunately, they will be going back to jobs where union-busters have created such an atmosphere of fear and intimidation that a democratic election is not possible. So for Palermo's to claim they want a union election is a travesty of justice-they know that 75% of employees already expressed support for a union when they signed a petition calling for union representation over a year ago, and that most of those workers-more than 100 former employees-will never get to vote because they were fired for speaking out."
The Palermo Workers Union says there still are numerous issues related to the labor dispute at Palermo's Pizza that remain outstanding.
There is a pending NRLB settlement with BG Staffing, a temp agency that was the employer for numerous fired union supporters.
The NLRB is currently investigating recent charges that Palermo's illegally fired an African American employee who was engaged in pro-union activity at work.
The Occupational Safety and Health Administration (OSHA) is expected to open an investigation into Palermo's refusal to release federally mandated records of injuries, which have been requested by a lawfully designated representative of numerous employees.
Palermo's so far has refused requests from elected officials to provide evidence that they fulfilled promises to create family-supporting jobs with some of the $48 million in taxpayer money they have received in recent years, including loans they received, via the Wisconsin Economic Development Corp.
Read more about the settlement from the Palermo Workers Union.
Photo: Support Striking Palermo Workers Facebook page.