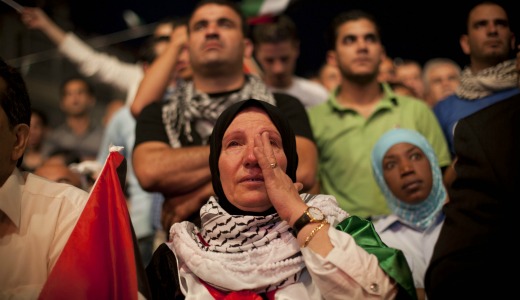 The United Nations Security Council, in a unanimous action Wednesday, sent the Palestinian application for UN membership to a standing committee that reviews new member applications.
The committee is made up of all 15 council members.
Such a review normally takes up to 35 days, but it can be extended. Nine votes are needed to refer approval to the full council for a vote. Security Council approval then requires nine votes and no veto by the council's five permanent members – the U.S., Britain, France, Russia and China.
The Obama administration has said it will veto the Palestinian membership application, arguing that negotiations are the only solution and that the UN move is a unilateral action that will interfere with resumption of talks. The UN membership process is expected to go slowly, with the U.S. reportedly making strenuous diplomatic efforts to avoid casting a veto.
Prospects for negotiations were dealt a blow Tuesday when Israeli authorities announced approval of plans to build 1,100 new housing units in an Israeli settlement in Palestinian East Jerusalem.
The announcement came just days after UN speeches by Israeli Prime Minister Benjamin Netanyahu and President Obama calling for resumption of peace talks with no "preconditions."
That refers to insistence by Palestinian leaders that Israel halt further settlement construction as part of a return to negotiations. Over the past year, the Netanyahu government has repeatedly announced new settlement plans just as efforts to restart negotiations were under way – snubbing requests by the Obama administration that Israel voluntarily suspend settlement building.
Palestinian official Saeb Erekat described Tuesday's Israeli announcement as a "slap in the face to all international efforts to protect the fading prospects of peace in the region," the Ma'an news agency reported.
The Palestinian Authority said in a statement, "The Israeli Prime Minister claims to have no preconditions, but with this decision is putting concrete preconditions on the ground. He says there should be no unilateral steps, but there could be nothing more unilateral than a huge new round of settlement building on Palestinian land."
Some 500,000 Israelis now live in settlements and outposts throughout the Israeli-occupied West Bank, including East Jerusalem. The number has nearly doubled since the 1993 Oslo accords. These settlements benefit from Israeli military protection, special subsidies and services, specially constructed private roads from which Palestinians are barred, and other support. Construction of such settlements in occupied territory is prohibited by international law.
On Tuesday, the White House said it was "deeply disappointed" by the new Israeli action.
But the U.S. is widely seen internationally as having pulled back from a leadership role in resolving the Israeli-Palestinian conflict – driven by fear of Republican efforts, teaming up with the Israeli right, to exploit the issue to try to attract Jewish voters.
That fear seems misguided, with numerous polls showing that Jewish voters are not single-issue-driven, are motivated primarily by concerns about the economy and social justice, and support a two-state solution to the Israeli-Palestinian conflict.
Obama's speech at the UN last week did not help the U.S. standing in the world community. Unlike the speech of Palestinian President Mahmoud Abbas, which drew repeated applause and standing ovations, Obama received only polite applause at the end of his speech.
Reuters columnist Bernd Debusmann put it this way: "Its tone differed sharply from his moving description of the plight of the Palestinians in a speech in Cairo in 2009, five months after taking office. For 60 years, he said, they had endured the pain of dislocation and 'the daily humiliations – large and small – that come with occupation. Let there be no doubt,' he said, 'the situation of the Palestinians is intolerable.'
"The Cairo speech raised expectations in the Arab world that here was a president who sympathized with the Palestinians and had the power, global prestige and commitment to succeed where a long line of his predecessors had tried and failed – help create a Palestinian state side-by-side with Israel. It didn't work that way."
Instead, as Debusmann and others noted, on Sept. 21 the president made no mention of the "daily humiliations, dislocation, occupation, intolerable conditions" experienced by the Palestinians. Instead he focused entirely on the plight of Israelis. It was clearly a speech aimed at what the White House perceives as the sentiments of Jewish American voters.
That approach was reinforced when former New York Mayor Ed Koch, a right-wing Democrat, said Tuesday he was endorsing Obama for re-election in 2012 because of his UN speech. Just two weeks ago, Koch helped elect a Republican to Congress in a special election in a heavily Orthodox Jewish district in New York, by campaigning against Obama's supposed "anti-Israel" policies.
Daniel Levy, a former Israeli peace negotiator who now works with peace advocates in the U.S., told the New York Times, "The U.S. cannot lead on an issue that it is so boxed in on by its domestic politics. And therefore, with the region in such rapid upheaval and the two-state solution dying, as long as the U.S. is paralyzed, others are going to have to step up."
One possibility is that European countries could step up, both in regard to advancing serious peace negotiations and on the UN membership issue.
Palestine currently has observer status at the UN as a "non-state entity." If the Palestinian UN membership bid is blocked in the Security Council, the General Assembly can upgrade Palestine's status to observer state, which gives it additional diplomatic status, including the ability to file human rights charges against Israel.
Photo: A Palestinian woman cries during the speech of President Mahmoud Abbas at the General Assembly of the United Nations, in the West Bank city of Ramallah, Friday, Sept. 23, 2011. (AP Photo/Bernat Armangue)