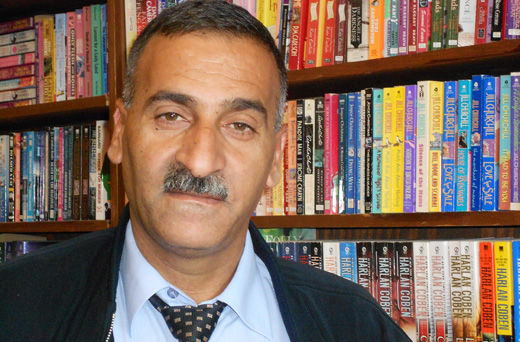 HAMDEN, Conn. – Mahmoud Abu Odeh is hoping American trade unionists will help Palestinian workers achieve basic rights and a life with dignity. Abu Odeh, a leader of the Palestine General Federation of Trade Unions, says it is a question of "human issues," human needs shared by Americans, Palestinians and Israelis.
Abu Odeh brought this message to the convention of the Connecticut AFL-CIO last week, where he received a standing ovation. His visit was arranged by the Tree of Life Educational Fund, a Connecticut-based group that organizes cross-cultural and trans-national programs to promote peace and social justice.
Abu Odeh, 45, is from Bethlehem in the Israeli-occupied Palestinian West Bank. He was born in a village west of Hebron that is now part of Israel. As an infant he lived in a refugee camp. He got his start as a union activist working in health care, became a physical therapist, and later studied law "because I felt that trade unionists must have a good understanding of law, especially labor law." He is a member of the PGFTU executive committee and secretary of its legal department.
Speaking at the convention and in an interview Thursday, he described the soul-shattering conditions endured by Palestinian workers.
Because of the occupation-stifled Palestinian economy, many Palestinians depend on work in Israel or the illegal Israeli settlements in the West Bank for their livelihood.
Every day, some 40,000 Palestinian workers get up at 2 a.m. to wait in long lines at Israeli checkpoints – waiting as many as three to five hours to show their permits – in order to get to jobs in Israel where the official pay is higher than in the West Bank, but where they are further humiliated and deprived of basic employment rights.
In Israel, or in the settlements, they work in construction, janitorial, agricultural and textile jobs. The employers often pay them less than the Israeli minimum wage and don't pay them for all hours worked. Their employers save on taxes by under-reporting their work to the Israeli Labor Ministry, thereby making extra profits. Although these practices are widely known, the Labor Ministry turns a blind eye to the situation.
Another 35,000 Palestinians are undocumented workers in Israel or in the settlements. Like undocumented workers in the U.S., they are subject to severe abuse.
Working without protection of health and safety laws, these "illegal" workers are often injured on the job. Instead of being taken to an Israeli hospital, they are often dumped on the street, Abu Odeh said.
Palestinians who find these jobs are called "lucky people" by other Palestinians because they have a job, he said. "But they are not lucky, they are suffering." The daily stresses, humiliations and hurt these workers suffer take a physical and psychological toll on them and their families, he said.
A week ago, newspapers reported the death of a 57-year-old Palestinian worker in Tel Aviv, Israel. The undocumented construction laborer, Ihsan Abu-Sitta, had been injured on the job, and his employer simply put him out on the street, where he bled to death.
In other cases, rather than being taken to a nearby Israeli hospital, injured workers are driven to a checkpoint and dumped there to wait for a Palestinian ambulance to pick them up.
"But he's a human," said Abu Odeh. "Any human deserves to be taken to the nearest hospital."
Of a total Palestinian workforce of about 4.29 million, 25 percent – more than 1 million – are unemployed according to Palestinian Central Bureau of Statistics figures.
Palestinian universities graduate about 30,000 students each year for whom there are no jobs, Abu Odeh said. That leads many educated young people to seek better prospects abroad, a "brain-drain" that further hurts Palestinian economic and social development.
The main problem for Palestinians now, one that affects all areas of life, is the occupation, the union leader said. Living surrounded by Israeli settlements, settlement roads and checkpoints, "Palestine is a very big jail, but every city is a small jail," he said.
Palestinian unions officially have had a relationship with the Histadrut, Israel's labor federation, since the 1993 Oslo accords. Palestinian workers pay dues to the Histadrut. But in practice, Abu Odeh said, the Histadrut is of no help in defending Palestinian workers' basic rights in Israel or easing their plight at the checkpoints. "They throw up their hands and say they can't do anything because of the Israeli government," he said.
The Palestinian union leader told the Connecticut AFL-CIO delegates, "We are looking forward to have a good functional working relation with the Israelis, so that the Palestinian workers can live decently and respectfully and end their suffering at the checkpoints and on the jobs. This requires pressure on the Israeli government to change its policy toward Palestinian workers."
U.S. unions have ties with the Histadrut, often inviting their representatives to speak at conventions. One thing Abu Odeh hopes U.S. unions will do is use these relationships to press Israeli trade unionists to speak up on behalf of their fellow Palestinian workers.
And not just to defend the Palestinian workers in Israel, but to press for an end to the occupation so all Palestinian workers can live a decent life, in cooperation with their Israeli counterparts.
Photo: Mahmoud Abu Odeh. Susan Webb/PW