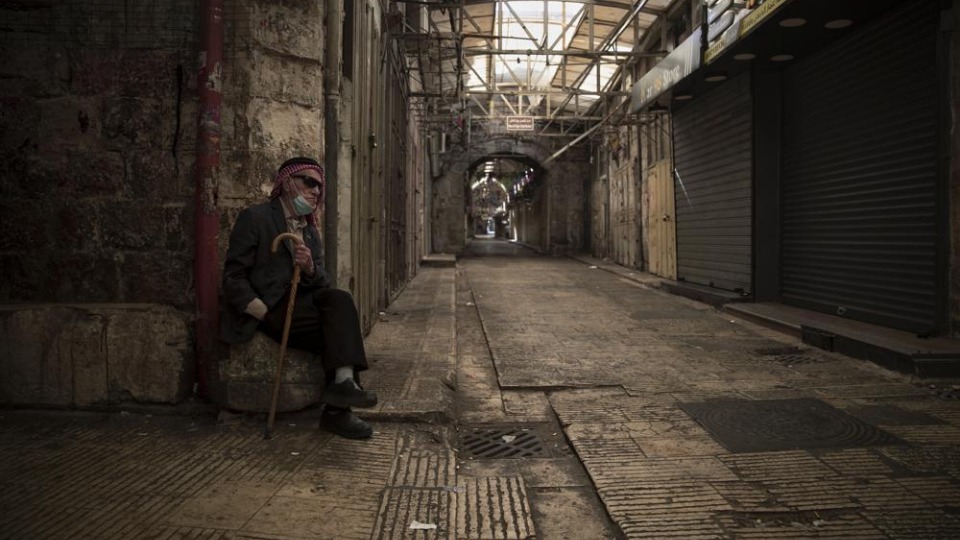 Palestinians in both Israel and the West Bank have declared a general strike Tuesday against the Israeli Netanyahu government's escalation of aircraft bombing runs on Gaza, and the mounting death toll, now exceeding 219, including 59 children, among its inhabitants.
The High Follow-up Committee for Arab Citizens of Israel announced the strike Sunday "in response to ongoing Israeli aggression against Palestinians in Gaza, Jerusalem, and many parts of the West Bank."
"From across colonized Palestine, we call on you to join our general strike and our action … Launched from Jerusalem and extending across the world, we call on your support in maintaining this moment of unprecedented resistance," organizers said in a statement.
"As settler mobs and the Israeli occupation continue a campaign of violence and ethnic cleansing against our people in Sheikh Jarrah, Gaza, and beyond, we will continue our popular uprising until the liberation of our lands and people," it said, adding: "Liberation is within our reach."
Meanwhile, protests mounted worldwide, from Chicago to Copenhagen to Calcutta to Capitol Hill, against both right-wing Israeli Prime Minister Benjamin Netanyahu's ordering of constant attacks against Palestinians. Several U.S. lawmakers also opposed the Democratic Biden administration's approval of a plan to sell $735 million more in weapons to Netanyahu's government.
But in an indication the congressional protests may go nowhere, the deadline for lawmakers to object is May 20, and no action has been planned.
The chairs of the two congressional committees that must deal with the arms sales denounced the attacks, along with Hamas rockets fired from Gaza into Israel. But neither scheduled hearings on legislation seeking a weapons sales ban.
Rep. Rashida Tlaib, D-Mich., whose parents and grandparents are Palestinian, called for reconsidering all U.S. military aid to Israel, which now totals some $3 billion annually. Reps. Ilhan Omar, DFL-Minn., and Andre Carson, D-Ind., joined her.
There are "no conditions or accountability for wanton human rights abuses and continuing illegal seizures of Palestinian land," they said. Violent "acts only serve to advance the political goals of the powerful at the expense of the suffering of the people.
"For decades, we have paid lip service to a Palestinian state," the three said of U.S. policy, while land seizures, settlement expansion, and forced displacement continue, putting a future home for Palestinians more and more out of reach. "It is long past time we finally take action to protect Palestinian human rights and save lives."
Unity across Israel and the Occupied Territories
With the verbal and moral support from the worldwide marches over the prior weekend, the Israeli Palestinians—who comprise about 20% of its population—and their West Bank colleagues planned the strike, the English-language New Arab reported. And 22 Palestinian members of the Egyptian Parliament demanded a special session on the conflict, Al-Ahram reported.
"The Palestinian people are fighting a fateful battle that requires unprecedented unity among all internal factions, so we can unite against the enemy," said Fatah, which governs the West Bank, said New Arab. Fatah's youth movement will join the strike, too.
Israel's left-wing electoral alliance Hadash jumped in, too, with its leader, Israeli Parliament MK (Knesset) member Ayman Odeh leading joint Palestinian-Israeli protests in Tel Aviv on the night of May 15. Hadash is the Hebrew acronym for the Democratic Front for Peace and Equality, a coalition of parties led by the Communist Party of Israel.
Another of many protests nationwide occurred in Jerusalem's Zion Square. Police tried to stop it, using the pretext that right-wing Israelis could attack the demonstrators. When 200 people gathered anyway, police broke up the march.
Both protests featured people and signs proclaiming Israelis and Palestinians can live together in peace, the CPI said. Hadash signs proclaimed: "In Gaza and Sderot, children want to live." Marchers chanted "Jews and Arabs refuse to be enemies."
"We here are the proof that the struggle is not of one people against another, nor of one religion against another. This struggle is a political one, between those who want occupation and supremacy and those who want peace and equality," declared Odeh. Knesset member Mara'ana-Menuhin added: "The war here is not between Arabs and Jews. This is the war of men who want to control our lives. More destruction, more widowed women. We refuse to continue this way. I ask you not to lose hope."
The CP of Israel reported that in the northern city of Sakhnin, "Thousands of Arab-Palestinian citizens of Israel, as well as scores of Jewish Israelis, marched in the annual Nakba Day demonstration," which coincides with Israeli Independence Day in the Jewish state. The Palestinians consider May 15 a day of mourning, as it commemorates the end of the 1948 British Mandate over Palestine, which then included both Israel and the West Bank.
The establishment of Israel led, the CPI said, to "disentitlement of some 750,000 Arab Palestinians from their lands, homes, and other forms of property within the 1949 armistice lines. That is more than 60% of all Arabs who lived in late Mandatory Palestine and in excess of 80% of the Palestinian Arabs who had resided within those areas that would become recognized as the State of Israel."
Former Hadash lawmaker Muhammad Barakeh, a top CP of Israel member, told the Tel Aviv crowd: "Arab society has convened here in the thousands today to oppose arrests, Netanyahu's wild incitement, and the attempt to re-institute a military regime—something that has already begun in the cities of Lod, Kafr Kanna, and Jadeidi-Makr."
Opposition mounts in U.S.
Back in the U.S., meanwhile, besides Tlaib, Omar, and Carson, Sen. Bernie Sanders, Ind-Vt.—a frequent critic of Netanyahu and U.S. aid to Israel but also the only U.S. lawmaker who has ever lived in Israel—again criticized U.S. arms sales to the Israeli military.
"The devastation in Gaza is unconscionable," he tweeted. "We must urge an immediate ceasefire. The killing of Palestinians and Israelis must end. We must also take a hard look at nearly $4 billion a year in military aid to Israel. It is illegal for U.S. aid to support human rights violations."
"It would be appalling for the Biden administration to go through with $735 million in precision-guided weaponry to Netanyahu without any strings attached in the wake of escalating violence and attacks on civilians," said Omar. "If this goes through, this will be seen as a green light for continued escalation and will undercut any attempts at brokering a ceasefire."
"We should be standing unequivocally and consistently on the side of human rights, holding all state and non-state actors accountable for their crimes and using every tool at our disposal to end the violence and bring about peace."
Rep. Alexandria Ocasio-Cortez, D-N.Y., joined in, labeling Israel "an apartheid state" in a tweet.
Besides Chicago, Copenhagen, and Calcutta, other cities worldwide that have hosted protests in recent days include: London; Cape Town, South Africa; Algiers; Amman, Jordan; Athens; Ankara, Turkey; Beirut, Lebanon; Boston; Brooklyn and Manhattan, N.Y.; Karachi, Pakistan; Brussels, Belgium; Milwaukee; Montreal, Toronto, Calgary and Ottawa, Canada; Oslo, Norway; Paris; Philadelphia and Pittsburgh, Pa.; San Jose, Calif.; Tokyo, and D.C.
A further international day of action is planned for Saturday, May 22, as pressure mounts on world leaders to take firm action, including sanctions against Israel.