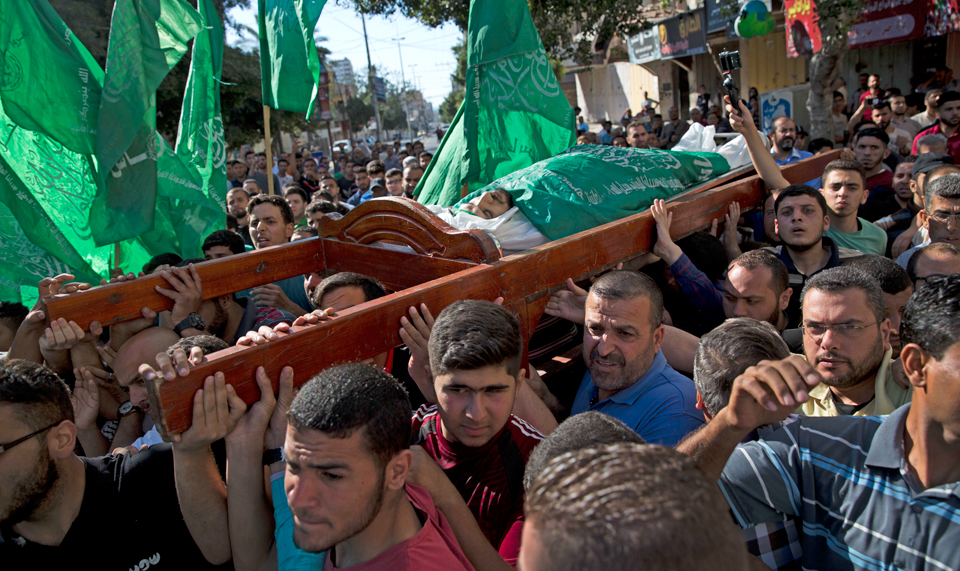 Palestinians buried their dead yesterday as thousands of people took part in protests to mark the 70th anniversary of the Nakba, or "Catastrophe"—the mass expulsion of more than 700,000 Palestinians from their land that accompanied the foundation of Israel in 1948.
At least 61 people were killed on Monday when Israeli troops fired on unarmed crowds who were protesting at the inauguration of the new U.S. embassy in Jerusalem after the Trump administration moved its diplomatic mission from Tel Aviv.
Guatemala followed the U.S. example and opened its embassy in Jerusalem today.
However, South Africa withdrew its ambassador from the country, calling for the immediate withdrawal of the Israeli Defense Forces (IDF) from the Gaza Strip and an end to its "violent and destructive incursions into Palestinian territories.
"Given the indiscriminate and grave manner of the latest Israeli attack, the South African government has taken a decision to recall ambassador Sisa Ngombane with immediate effect until further notice," a Foreign Ministry statement said.
The late president Nelson Mandela once condemned Israel for creating "the worst type of apartheid system," reflecting the long-standing affinity between South African progressives and the Palestinian liberation movement.
Earlier People's World coverage:

> Gaza massacre: Palestinians killed as U.S. embassy moves to Jerusalem

> Rubbing salt into Palestine's wounds
Neoconservatives refused to blame Israeli aggression for the killings and made desperate attempts to link the violence to Iran, which has faced an escalation in hostile rhetoric from both Tel Aviv and Washington in recent weeks.
Speaking at a press conference yesterday, Danny Dannon, Israel's representative at the United Nations, blamed Iran for the cold-blooded killings.
He suggesting that Tehran had funded Hamas, which he said had coordinated the "well-organized protests."
Israeli Prime Minister Benjamin Netanyahu claimed soldiers had been acting in self-defense, while the army said it had fired at "targets of terrorist activity."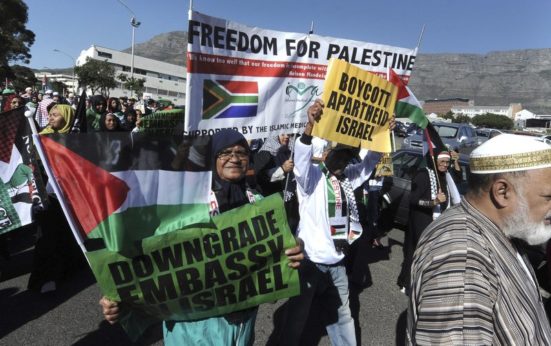 Israeli ambassador to Belgium Simona Frankel branded all the Palestinians killed in Gaza "terrorists."
She claimed: "I regret the loss of life of any human being who has died, regardless of their nationality, even though they are terrorists, 55 terrorists who tried to cross the fence to enter Israeli territory."
The dead included eight children and a baby.
However, United Nations spokesman Rupert Colville said, "The mere fact of approaching a fence is not a lethal, life-threatening act, so that does not warrant being shot.
"How much threat can a double amputee be making from the other side of a large fortified fence?"
In Washington, the Trump administration kept in lockstep with its Israeli ally, placing all blame for Palestinian deaths on Hamas, the group governing Gaza. White House deputy press secretary Raj Shah declared the deaths to be "a propaganda attempt."
At the UN, the United States torpedoed an attempt by the Security Council to initiate an "independent and transparent investigation" of Israel's killing of Palestinians. The proposal, made by Kuwait, also called on countries to comply with an earlier UN mandate not to locate their embassies in Jerusalem.
American armaments manufacturers continue to be mainstay suppliers to the IDF, and Israel remains the largest cumulative recipient of U.S. military assistance since World War II. Since 1987, U.S. military aid to Israel—which includes money earmarked for buying equipment from U.S. defense companies—has averaged $1.8 billion annually.
A shorter version of this article appeared in Morning Star. It has been supplemented with additional material.