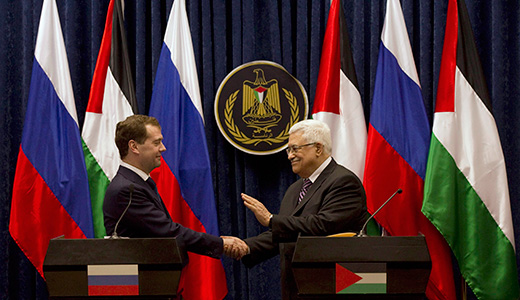 With Israeli-Palestinian peace negotiations broken down, Palestinian leaders are pursuing "plan B" – seeking United Nations recognition of a sovereign Palestinian state. Already several Latin American countries have announced their recognition of the state of Palestine, and Russian President Dmitry Medvedev on Tuesday reaffirmed his country's recognition of Palestine, declared in 1988 when Russia was part of the Soviet Union.
Also on Tuesday, the Palestinian diplomatic mission in Washington raised the Palestinian flag over its building for the first time. Palestinian chief envoy to the U.S. Maen Areikat said he hoped the symbolic act would help spur U.S. recognition of Palestinian statehood regardless of whether there is a peace agreement with Israel.
The Obama administration has indicated it opposes the unilateral Palestinian move for recognition, but it is unclear if the U.S. would veto a UN Security Council resolution on the issue. If the U.S. does cast a veto, Palestinian leaders say they will bring the matter to the UN General Assembly, where there is no veto and where the resolution is expected to pass overwhelmingly.
Currently Palestine has non-voting observer status at the UN. Presumably a UN vote to formally recognize a Palestinian state would give it full United Nations status.
That would be a symbolic victory for the Palestinian national struggle. However, the right-wing Israeli government of Prime Minister Benjamin Netanyahu is pursuing its own unilateral path, creating "facts on the ground" that could render international recognition of a Palestinian state meaningless. It is being egged on by far-right elements in the U.S., particularly non-Jews like Rep. Ileana Ros-Lehtinen, R-Fla., who with the Republican takeover of the House now heads its Foreign Affairs Committee.
Netanyahu spurned a White House push for a short-term extension of a ban on Israeli settlement construction in the occupied Palestinian West Bank, in exchange for increased U.S. military aid to Israel. Instead, the Israeli government announced plans for more settlement construction.
It is widely accepted on all sides that a two-state agreement would involve land swaps in which certain long-established Israeli settlements in the West Bank bordering Israel would become part of Israel, and equivalent pieces of current Israeli territory would become part of the Palestinian state. Other Israeli settlements would be dismantled or handed over to the Palestinian state, with residents given the option of resettlement within Israel or remaining and becoming citizens of Palestine. But the Netanyahu government's move to further expand Israeli settlements throughout the West Bank makes any such agreement more difficult, if not impossible.
Palestinian leaders are also seeking a UN resolution condemning the settlement expansion.
While U.S. officials have expressed opposition to unilateral actions by both the Israelis and Palestinians, the Obama administration has not indicated what it plans to do now to try to advance a two-state solution.
With peace talks stalemated, Palestinian Prime Minister Salam Fayyad has drawn praise for his moves to bolster the Palestinian economy and stabilize security and daily life for Palestinians in the West Bank. But the Palestinian national struggle continues to suffer from divided leadership, with no party appearing to command clear support across the Palestinian population – itself divided between the West Bank and Gaza.
At the same time Israel is being wracked by political crisis.
The extreme right, both religious and secular, holds leading positions in the government and is pushing a range of extremely sectarian and chauvinistic social, religious and political measures, targeting not only Israel's Arab citizens, but also Israeli Jews and social movements.
And just days ago, Labor Party head Ehud Barak, who is Netanyahu's defense minister, announced he was quitting the Labor Party, along with several other Labor ministers in the government, and forming a new party that will continue in the right-wing governing coalition. The Labor Party, the pre-eminent party for most of Israel's history, is now reduced to a fragment whose future is in doubt.
These developments are perceived by many Israelis, and American Jewish supporters of Israel, as shifting Israeli society far from what they value as its founding liberal, democratic, even socialist-oriented ethos.
The crisis may be bringing to a head the contradiction that has dogged Israel since its 1948 founding: how it can be both a democratic state and a Jewish state, with a population that includes not only Jews but also Arabs and other ethnicities.
Daniel Levy, who was an advisor to the 1999-2001 Labor government led by Barak, and served on Labor Prime Minister Yitzhak Rabin's negotiating team for the Oslo accords in 1995, points to this in a Jan. 17 article in Foreign Affairs titled "A Requiem for Israel's Labor Party."
Citing the "inability to create a liberal narrative for what the marriage of a Jewish and democratic state might look like," he says Israel's leaders repeatedly ceded to a "more narrow, nationalist agenda which eventually became the majority and is now utterly hegemonic."
Noting the Barak-Netanyahu government's " willingness to work with an equally willing Republican congressional leadership in cornering Obama," Levy says "a period of instability and brinkmanship replete with danger may well be on the horizon."
If the U.S. fails to stand up to the Netanyahu government, America's standing in the international arena will further erode, Levy warns.
Photo: Palestinian President Mahmoud Abbas, right, and Russian President Dmitry Medvedev, left, shake hands during a press conference in the West Bank town of Jericho, Jan. 18. During his visit, Medvedev reaffirmed Russia's recognition of Palestine as an independent state. (AP/Bernat Armangue)