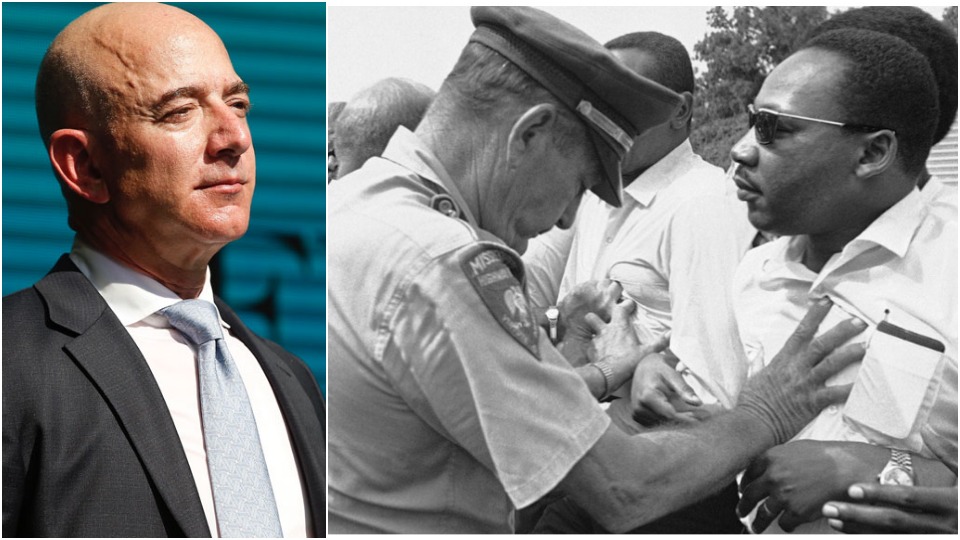 WASHINGTON—On Wednesday, Jan. 26, the D.C. Library Board of Trustees voted to name the auditorium at D.C.'s Martin Luther King, Jr. Memorial Library for Amazon founder and billionaire Jeff Bezos.
Bezos, whose net worth is close to $170 billion, donated $2.7 million to the library's literacy program for young children to support transitions from pre-K to kindergarten in 2021. This donation is the latest installment of Bezos's influence-buying effort in the D.C. region, including the development of Amazon's second headquarters in Northern Virginia, a $23 million mansion in Kalorama, as well as a recent $200 million donation to the Smithsonian Museum.
The decision by library trustees faced swift backlash from the city government and local community leaders. Ward 6 Councilmember Charles Allen tweeted, "I'm sorry, what? That's ridiculous."
"Disrespectful on so many levels," tweeted Zachary Parker, candidate for the council's Ward 5 position.
Community groups like Harriet's Wildest Dreams, Empower D.C., D.C. Communist Party USA, Remora House D.C., and more expressed their disgust with the board's decision and how it treats the legacy of Dr. King, given that he was a man who fought tirelessly against economic inequality and exploitation of working-class people.
"To name any part of the MLK Library in honor of Jeff Bezos is disrespectful to the legacy of Dr. King and would also cause hurt and harm to D.C.'s Black community," Harriet's Wildest Dream, said in a statement. "Bezos is on a world tour to launder his reputation, and the MLK Library should have no part in it."
This corporate influence on publicly-funded institutions is a dangerous trend toward full privatization of public resources like libraries. Local community leaders are asking D.C. residents to call for "No Bezos Auditorium at MLK!"
To have your voice heard, there is a sample email here that you can send to the Board of Library Trustees along with a sign-up sheet to testify on Feb. 9 at the Library Oversight Committee hearing to fight to get Bezos's name removed from all public library spaces.