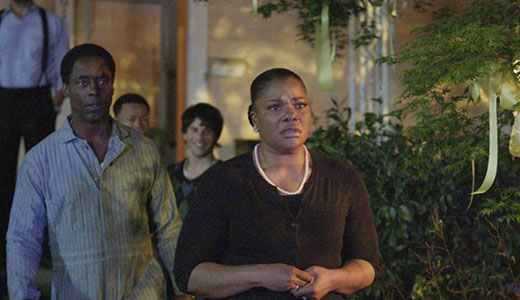 The 22nd Pan African Film Festival (PAFF), one of L.A.'s leading annual cinema showcases and the biggest and most prestigious Black-themed film festivals, will take place February 6-17 at the new Rave Cinemas Baldwin Hills 15 at the Baldwin Hills Crenshaw Plaza.
The PAFF will screen 172 features, documentaries, shorts, as well as web series in the New Media category, from more than 40 countries straddling the globe. There will also be panel discussions, workshops, a fine art exhibit, a spoken word fest, a fashion show, personal appearances by talents, etc.
Following are some highlights of this year's PAFF:
Opening Night Los Angeles Premiere
Of Good Report (South Africa/101 minutes/2013), February 6 – directed by Jahmil X. T. Qubeka. Parker, a shy and mysterious high school teacher, arrives at his new assignment in a rural school. While he is earnest in his passion for teaching, his extracurricular attentions are drawn to a gorgeous young girl. When he realizes she is a student at his very school-and forbidden fruit-he grows increasingly obsessed with her. When the girl goes missing, a female detective comes snooping around, fueling Parker's unstable, even dangerous, behavior. It's a modern-day classic, a film noir that will in time prove to be a milestone in Pan African films. Mothusi Magano (Parker) and Petronella Tshum (Nolitha) co-stars along with Thobi Mkhwanazi , Nomhlé Nkyonyeni , Tshamano Sebe.
Super-sized Centerpiece Presentation World Premiere
About Last Night (US/2013), February 11 — directed by Steve Pink.
A very hip re-imagining of the classic sophisticated romantic comedy, this contemporary version closely follows new love for two couples as they journey from the bar to the bedroom, and are eventually put to the test in the real world. The cast includes Kevin Hart, Michael Ealy, Regina Hall, Joy Bryant, Christopher McDonald and Paula Patton.
Closing Night World Premiere
Blackbird (US/102 minutes/2013), February 16 — directed by Patrick-Ian Polk. Based on the novel by Larry Duplechan, this film is a powerful coming-of-age story about 17-year-old Randy Rousseau. A devout high school choirboy, Randy is struggling to come to terms with his sexuality in his small, religiously-conservative Mississippi hometown. Randy juggles his role as star of the church choir while facing the everyday trials of life as a high school misfit. Complicating matters, his little sister has gone missing and his parents have subsequently split up, leaving him to care for his heartbroken mother, Claire. When Claire discovers the shocking secret her son has been hiding, she blames him for the disappearance of his sister. Randy's father, Lance, who has been keeping a watchful eye on his broken family, steps in to give his son a hand as he struggles to make the difficult transition into manhood. The cast includes Oscar-winner Mo'Nique (Precious) and veteran actor Isaiah Washington, fresh off his critically-acclaimed and Gotham Award-nominated performance in Blue Caprice.
On February 8 at 7:45 p.m. there will be a special evening with the actor Charles S. Dutton, star of the 1990s TV series Roc.
On February 15 at 6:30 p.m. there will be a Town Hall at the Rave Cinemas 15 Baldwin Hills called: "Black Cinema Rebirth." It will examine: Is Black Back? Since the latter months of 2013, we have been experiencing an unprecedented number of Black films on commercial theater screens. Are we experiencing the birth of a new era for Black cinema or is it just false labor? With the success of films like Think Like a Man, Best Man Holiday, The Butler, as well as the multi-Oscar nominated, Golden Globe Award-winning 12 Years A Slave, what's the future for films with a predominately Black cast? Panelists discussing the who, what, and why of this new phenomenon include: Gil Robertson (co-founder of the African-American Film Critics Association), Sharon Johnson (Author), Loretta Devine (Grey's Anatomy, Jumping the Broom), James Lopez, SVP of Production, Screen Gems-Sony Pictures Ent. Film historian/critic Ed Rampell will be the panel moderator. Tickets: $20.
For more PAFF info, visit their website.
Ed Rampell wrote Progressive Hollywood: A People's Film History of the United States and co-authored the new The Hawaii Movie and Television Book.
Photo: Mo'Nique in scene from Blackbird.