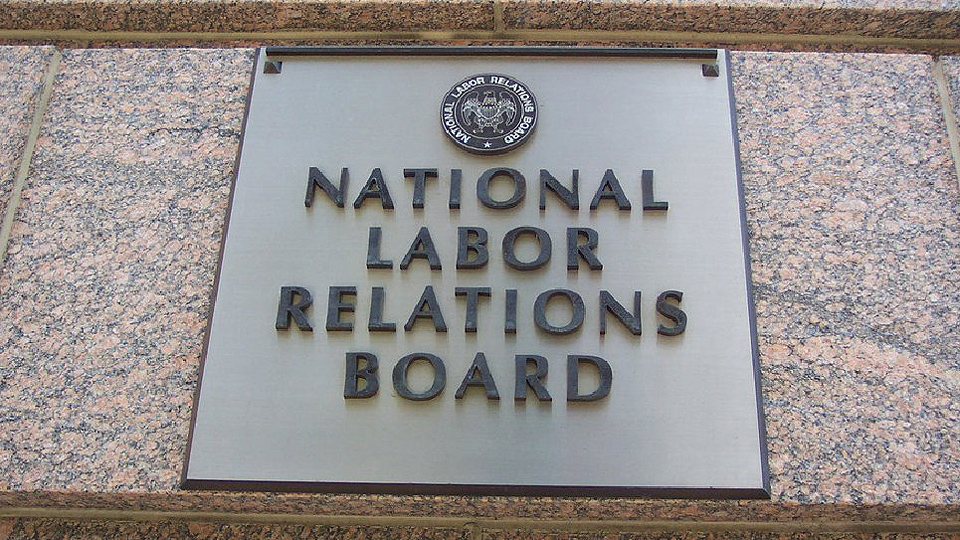 WASHINGTON—When it comes to workers' rights, Peter Robb, the National Labor Relations Board's General Counsel and its top enforcement official, seems to have "got religion" on that basic labor law goal. It only took the coronavirus pandemic to force his hand.
And while Robb issued a stern memo to the agency's regions, warning them of ways bosses are using the pandemic to trash workers and their rights, he's still apparently set on his course to dismantle other protections with yet another memo issuing Sept. 21 from his desk.
Needless to say, analysts at the Economic Policy Institute, including former AFL-CIO General Counsel Lynn Rhinehart, look at Robb's record with some skepticism, especially given his prior pro-boss track record all the way back to 1981.
Robb, who will turn 73 just after next year's presidential inauguration, became the NLRB's General Counsel in late 2017. GOP Oval Office occupant Donald Trump nominated Robb and he's backed by the three remaining NLRB members—all also right-wing Republican white men named by Trump.
Robb's openly set out to roll back workers' rights stretching all the way back through the Obama administration and before. He even said so in a General Counsel's memo to the regions soon after taking office.
That's totally in character. Robb first came to conservative fame as the young Justice Department lawyer who drafted the 1981 legal memo that let GOP President Ronald Reagan fire all U.S. air traffic controllers and smash their union, the Professional Air Traffic Controllers Organization (PATCO).
Reagan's success in firing all 14,000 controllers, who struck for safety reasons, opened the floodgates for corporate criminals to break labor law and fire workers with impunity in succeeding years. Robb went on to become a career boss-side labor lawyer.
Now, as General Counsel, Robb is the NLRB's top enforcement officer, and in that context his current memo is important.
"A variety of issues related to the virus have arisen in unfair labor practice charges filed across the country," he starts, in discussing ULP cases, also known as labor law-breaking.
"Some cases, where the [NLRB] Division of Advice determined there was no merit to the allegations, were dismissed or withdrawn" and Robb published those advisory rulings on the NLRB website.
But others are still going, so Robb said he couldn't publish those memos, or identify the law-breaking firms. The memos go from the NLRB's central office to its regions and are tough guidelines about which labor law-breaking cases to take, and when. So instead, his overarching memo offers examples of when an employer breaks labor law and violates workers' rights, in a coronavirus-related case.
In one case Robb cited, several workers at a health care provider "drafted a letter to the employer requesting…more input on how to provide services to clients after the employer announced some in-person therapy services would continue during the pandemic." The firm singled out one worker, "coercively questioned" her about the letter, told her to shut up about the issue with co-workers, and told her "only management could affect change, and that taking problems to her co-workers makes matters worse.
If she didn't follow those orders, the firm warned the worker, she had a "Hobson's choice," in Robb's words: To shut up and keep her job or be fired. Robb said in that case, NLRB's regional director should ask the central office whether or not to seek a court order, called a 10(j) injunction, against the company.
In a second case, a group of fast-food workers got together and protested their boss's refusal to provide personal protective equipment (PPE), such as masks and hand sanitizers, against the virus, as well as the firm's refusal to enforce social distancing. All those measures are designed to stop community spread of the virus.
They also walked out, without pay. When they later asked for their jobs back, the boss told all but two, including the leader, to return. That worker led "protected concerted action," legal under labor law, Robb said. He told the regional officials to order the fast-food joint to take the worker back or face a possible injunction to do so.
There were other cases where bosses tried to use the pandemic to avoid bargaining with the union on a contract extension, or use their losses to justify unilateral cutoffs of pensions and health care benefits, or, at one casino, to discipline a worker for wearing a mask in an area where the boss banned it. All broke labor law, Robb said.
But Robb's examples also showed loopholes, where labor law ordinarily would force the boss to bargain, but Robb said they didn't have to do so. One case was at the Crowne Plaza Hotel at Chicago's O'Hare Airport. The hotel laid off all of its workers, including 12 bellmen and airport shuttle drivers in March. It claimed the pandemic trashed its traffic and revenues.
Their union, Teamsters Local 727, requested financial documents from the hotel so it could use "effects bargaining" to get a better deal for the workers. That included documents about whether the Crowne Plaza sought federal small business aid, in the PPP program Congress set up in March to deal with the pandemic's impact on small firms.
The hotel provided some documents and didn't provide others. The Division of Advice sided with the bosses and recommended closing the case without more action. So did Robb.
That's even though Local 727 told NLRB local officials that if the hotel "was claiming economic hardship had caused the recent layoffs," it "opened the door to discussing any conditions that caused its weakened economic status." And, Local 727 noted, that if the hotel did not seek PPP or other available money "the employer was financially solvent and could continue paying its employees.
NLRB spokesman Edwin Egee told DLA Piper, a prominent pro-boss law firm, that Robb's examples show NLRB lawyers "have been aggressive and effective in ensuring that workers' rights are being protected during this difficult time. Today's memo summarizes just a handful of the many cases in which the Agency is actively protecting workers from discrimination during the pandemic."
EPI's Rhinehart, Lynn McNicholas, and Margaret Poydock are skeptical.
"The Trump administration has stacked the National Labor Relations Board with corporate lawyers and a former Republican Hill staffer," they wrote in 50 Reasons The Trump Administration Is Bad For Workers, available at www.epi.org/publication/50-reasons.
Besides the NLRB  members, "Robb, who spent much of his career as a management-side labor and employment lawyer, was confirmed as the NLRB's General Counsel" in late 2017. "John Ring, another corporate-side lawyer, was confirmed and made chairman in April 2018.  These Trump appointees have systematically rolled back workers' rights under the National Labor Relations Act."
And another top union lawyer, Andrew Strom, associate general counsel for Service Employees Local 32BJ, wrote in Harvard Law School's On Labor blog that Robb is still on his crusade to curb if not kill workers' rights, in that Sept. 21 memo to the regions.
"Robb's memo directs agency staff to issue complaints against unions and employers if, during an organizing campaign, an employer agrees (1) to provide the union with a list of employees (2) to allow the union to meet with workers at the worksite or (3) that a particular bargaining unit would be appropriate," Strom said.
"Robb also wants to outlaw any discussions between unions and employers about acceptable parameters for a collective bargaining agreement that occur before a union achieves majority status, or even agreements to submit to interest arbitration if the parties are unable to negotiate a first contract," he added.
All those moves are designed to ease tensions that normally occur between bosses and workers, especially pro-union workers, during organizing drives. After all, Strom said, the point of the original National Labor Relations Act, is to, as a federal government goal, foster worker organizing for their own protection and benefit—and to encourage good worker-boss relations.