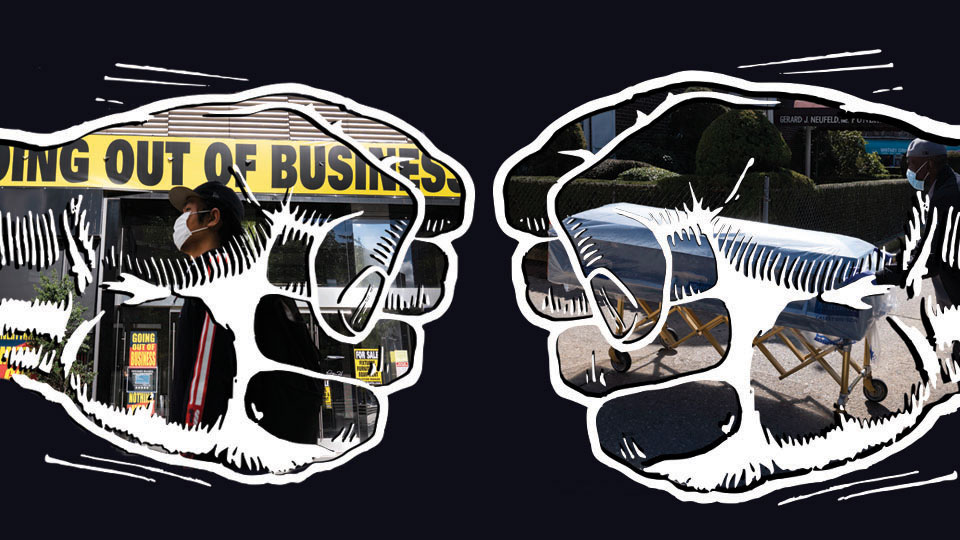 WASHINGTON (PAI)—The ongoing coronavirus pandemic packed a one-two punch against the nation's workers, federal agencies reported, as almost 1.38 million more people sought federal or state jobless aid in the week ending Feb. 13. Meanwhile, U.S. life expectancy dropped by a year in the first half of 2020, another federal report showed.
And that second statistic, which re-emphasized the modern-day plague's impact on people of color—life expectancy for Black Americans dropped by 2.7 years—could get worse. That's because the preliminary data from the National Center for Health Statistics cover only the first half of 2020, not the whole year. The pandemic's worst impact came in the back half of the year, with deaths skyrocketing after Labor Day.
The Bureau of Labor Statistics numbers, as usual, show the huge impact on jobs from business closures forced by the battle against the virus, officially called COVID-19. The 1,378,650 workers who applied for state or federal jobless benefits in the second week of February joined 1,209,925 who sought the aid the week before and the 18,340,161 who were already receiving federal or state jobless checks.
Together, those 20,928,736 people either seeking or receiving jobless aid are equivalent to one out of every seven workers in the U.S.
The bad jobless numbers are another argument for Democratic President Joe Biden's $1.9 trillion American Relief Act, which the Democratic-run House is putting together. It extends federal jobless benefits, which top off state jobless aid for those who get it or are the only benefits for "independent contractors" and "gig economy" workers.
Those benefits, now $300 weekly, are scheduled to end in mid-March. Biden's bill extends them to the end of August and increases them to $400 weekly.
It also includes more money to battle the viruses, and the health data make it clear why. Biden's bill has $46 billion for testing, contact tracing, and mitigation efforts; $7.6 billion to hire 100,000 public health workers; and $14 billion to develop more vaccines.
"In the first half of 2020, life expectancy at birth for the total U.S. population was 77.8 years, declining by one year from 78.8 in 2019," the National Center for Health Statistics reported. That wiped out all gains since 2006. "Life expectancy at birth for males was 75.1 years in the first half of 2020, representing a decline of 1.2 years from 76.3 years in 2019. For females, life expectancy declined to 80.5 years, decreasing 0.9 years from 81.4 years in 2019."
People of color saw even larger declines in lifespans: Three years for Black men, 2.4 years for Spanish-speaking men, 2.3 years for Black women, and 1.1 years for Spanish-speaking women.
"The provisional life expectancy estimates presented in this report are subject to important limitations. First, they are based on deaths that occurred during the first six months of the year and do not reflect the entirety of the effects of the COVID-19 pandemic in 2020, or other changes in causes of death, such as the increases in provisional drug overdose deaths through early 2020," the federal agency warned. Deaths rise in the winter, it added.
It also said the "pandemic differentially affected certain geographic areas in the first half of 2020. The life table estimates may disproportionately represent mortality in those regions, which are more urban and have different demographic characteristics than areas affected by the pandemic in the latter part of the year."