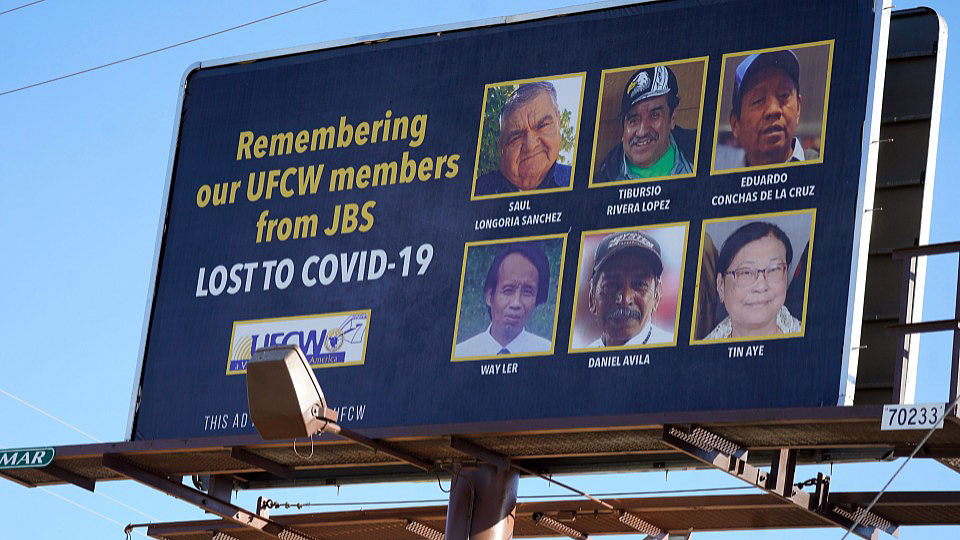 WASHINGTON—The GOP Trump White House officials assigned to direct the nation's response to the coronavirus pandemic concentrated instead on his re-election campaign, a new report, and insider testimony shows. The result was needless deaths, including in the meatpacking industry.
Specifically, the House Subcommittee on the Coronavirus and its impact reviewed company data, medical records, and other reports from mid-March 2020 to Feb. 1, 2021, and found 59,000 meatpacking workers had tested positive and 269 had died at the nation's big five packers. Half the infections and more than half of the deaths were at Tyson Foods meat and poultry packing plants.
Meanwhile, a key insider, Dr. Deborah Birx, told panel probers that Trump task force officials, including task force chair Vice President Mike Pence, concentrated on the president's campaign.
As for Trump himself, the Q-&-A went like this:
"Do you think that President Trump did everything he could to try to mitigate the spread of the virus and save lives during the pandemic?" an investigator asked, the transcript says.
"No," she replied.
"And I've said that to the White House in general, and I believe I was very clear to the president in specifics of what I needed him to do," she elaborated.
The report's meatpacking plant numbers are triple the infections (22,400) and the death toll (132) the United Food and Commercial Workers (UFCW), the leading union for those workers, has posted, using numbers from the Food and Environment Reporting Network.
Overall, the committee said, there were 130,000 needless deaths among those from the official start of the pandemic last March through the end of February 2021. The pandemic has killed 741,321 people in the U.S. as of Oct. 28. That's midway between killing all of Denver (727,251) and Seattle 753,675).
Birx, a career federal airborne disease specialist assigned to the White House coronavirus task force, said Pence, his chief of staff, top adviser Jared Kushner, and other Trump minions repeatedly ignored science-based recommendations for early, effective anti-viral measures. They kept ignoring them, she said, even after Trump lost the election.
Ironically, the panel report and release of 13 pages of Birx's sworn testimony to its probers came the day UFCW and Tyson announced a company-wide vaccination agreement, including paid sick and family leave for workers who become ill anyway. Some 96% of Tyson's 60,000 workers—26,000 of whom are UFCW members—have been vaccinated.
Those unvaccinated by Nov. 1 would be called back to work when they change their minds and ways,
Tyson President Donnie King e-mailed workers. "This is your choice, and we respect that choice. If you change your mind and want to rejoin Tyson—let us know. Our doors are open," his e-mail said.
"Working together, the UFCW and Tyson set a new standard with this vaccine mandate and proved what's possible when we listen to workers and negotiate the implementation of vaccination mandates fairly and responsibly," said UFCW President Marc Perrone in announcing the pact.
"We urge every company, across this country, to do what is right by their frontline workers and work cooperatively with their unions and employees to help end this pandemic and keep all essential workers and their families safe."
But the panel report and Birx's testimony paint a far different role of both Trump's response to the pandemic and that of the meatpackers, including Tyson. That upset Perrone.
The report "exposes the truth the deadly impact of the pandemic on meatpacking workers was far worse than previously reported.
As the largest union for frontline food workers, UFCW called out" Trump's regime "for its failure to hold the industry accountable and we successfully pushed many companies to make the urgent reforms needed to strengthen worker protections," he said.
"With federal regulators asleep at the switch when the pandemic began and many non-union plants refusing to disclose the full number of COVID worker infections, far too many Americans on the frontlines were defenseless.
Such "safety failures cannot be ignored" and Congress and the USDA—which regulates meatpackers—must immediately "strengthen protections for meatpacking workers to keep them safe on the job and ensure this never happens again."
Those OSHA protections must be "clear, science-based, emergency, and then permanent, enforceable regulations to protect workers from airborne disease such as COVID-19, including updated ventilation standards," UFCW said.
OSHA, at Trump's orders, did nothing, the committee reported. And Trump listened to unqualified Dr. Scott Atlas instead, testified Birx. Atlas advocated achieving "herd immunity" nationwide against the virus by no action against infected people who did not show symptoms. They would infect others, who would recover and gain immunity, Atlas claimed.
And the meatpackers, by and large, first denied their plants were a superspreading problem for the virus. OSHA staffers also told the panel's probers that Trump pulled the political plug.
"Companies could have done more to mitigate coronavirus infections and deaths," the subcommittee reported. That viral rampage produced infection rates often exceeding 40% at meatpacking plants, the panel, after plowing through 150,000 documents, interviews, and outside medical records, revealed.
Infection rates included 54% at the 1,400-worker JBS plant in Hyrum, Utah, 44% at National Beef's 857-worker plant in Tama, Iowa, 1,917 infections (49%) among workers at Tyson's Amarillo, Texas, plant, and 1,674 infections (42%) among the 3,969 workers at Smithfield's Sioux Falls, S.D., plant.
In Sioux Falls, though the committee did not say so, politics got in the way, too.
The UFCW local representing plant workers, the state AFL-CIO, and the city council all tried to stop community spread from the plant's workforce to Sioux Falls, but right-wing GOP Gov. Kristi Noem and Trumpite opposition overrode them. The plant stayed open and became the superspreader for the city and surrounding area.
The report did not specifically include the infamous Tyson packing plant in Waterloo, Iowa, whose managers set up a betting pool on how many workers would sicken—more than 1,000—and how many would die (six). The firm fired the managers after a lawsuit by the family of one of the dead hit the papers. Those totals were in the overall Tyson figures.
Before that, plant managers defied the Black Hawk County Health Department's warnings and urging to shut down the plant and decontaminate.
"Tyson saw 29,462 employee infections and 151 employee deaths, JBS saw 12,859 employee infections and 62 employee deaths, Smithfield saw 9,666 employee infections and 25 employee deaths, Cargill saw 4,690 employee infections and 25 employee deaths, and National Beef saw 2,470 employee infections and six employee deaths," the report says.
Those numbers may be low, too, says Jordan Barab, a former deputy director of OSHA and Safety and Health Director of AFSCME.
"We really don't have a count of the impact" of the virus in specific occupations, except for health care, he said during a zoom press conference on another OSHA planned rule. That includes no counts of deaths from illnesses at specific workplaces and "deaths from COVID-19," he added. Without such numbers, "it's very difficult" to plan specific rules and guidance for specific industries.
"It's an enormous task and the federal government must focus on it."
So must the meatpackers—and on prevention, too—the subcommittee report declares.
"Instead of addressing the clear indications workers were contracting the coronavirus at alarming rates due to conditions in meatpacking facilities, meatpacking companies prioritized profits and production over worker safety, continuing to employ practices that led to crowded facilities in which the virus spread easily," it summarized.