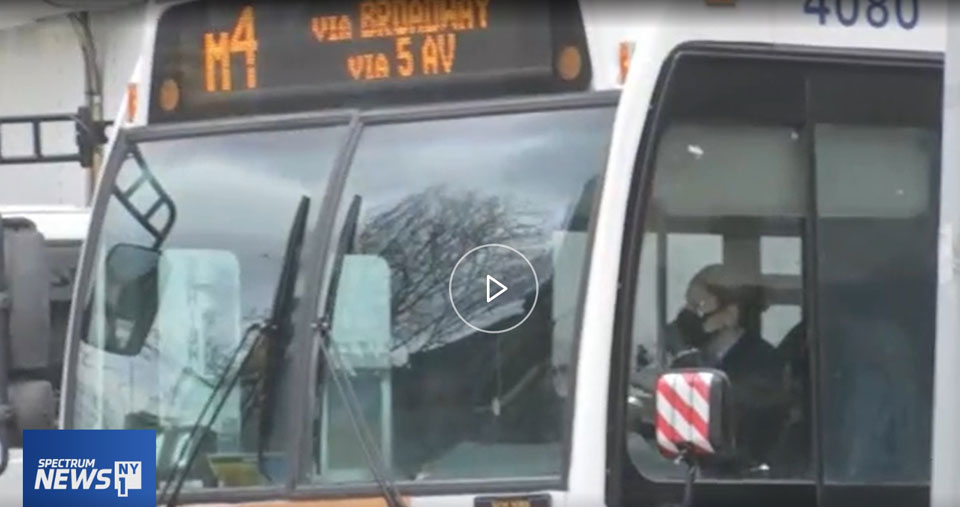 WASHINGTON —Workers on airlines, buses, subways, and trains are at higher risk than other workers of catching the coronavirus, witnesses told Congress in early February.
And while the federal government's figures don't split out the separate risks for transportation workers, former Obama Occupational Safety and Health Administration (OSHA) chief Dr. David Michaels reported studies in other nations to show the risk could be as much as five times as much for bus drivers as for the general population.
Michaels, Association of Flight Attendants-CWA President Sara Nelson and Ismael Rivera, an Amalgamated Transit Union Local 1596 member who drives Lynx system buses in Orlando, Fla., brought that message to the House Transportation Committee's Feb. 4 oversight hearing into the plight of transit workers facing the viral threat.
As of the morning of Feb. 11, a  week after the three testified, the virus, officially called COVID-19, had killed 470,018 people since it was officially declared last March 13. That's like killing everyone in Miami and 3,000 more people in its suburbs.
There are no U.S. statistics broken down by occupation for how many people have sickened and died from the virus, Dr. Michaels, now an occupational health professor reported. There are in other nations, notably Norway.
There, "in the first wave of the pandemic (Feb. 26-July 17), bus and tram drivers had a more than five-fold excess risk of infection," he reported. By the second wave, July 18-Oct. 20, the drivers had improved protections. But "bus and tram drivers still had a 70% increased risk of infection. The risk of infection among travel attendants and travel stewards, a category that includes flight attendants, had almost five-fold excess risk."
The U.S. has anecdotal data, transportation system by system, and union by union. One of those infected in the U.S. was Detroit bus driver and ATU member Jason Hargrove. Rivera, who formerly drove for the New York MTA, told lawmakers about what happened to Hargrove.
"Coughing on someone is not a laughing matter. When the pandemic first began back in March, Hargrove posted a Facebook Live video complaining about one of his passengers who was openly coughing several times on his bus without covering her mouth.
"Eleven days later, Jason died of COVID-19. Jason loved his job and was proud to do it. He was always concerned about his passengers. He suffered too, as his temperature soared, his fingertips turned blue, and he couldn't breathe."
That's not the only COVID-19 hazard, Rivera warned. Drivers now must be "mask police." That often leads to confrontations with belligerent riders. Physical distancing is difficult or impossible, overridden by mass transit system managers, responding to political pressure.
In just one month, Rivera said, an irate passenger beat a bus driver with a baseball bat in California and another leveled "a bone-breaking sucker punch in New York." Passengers threatened drivers with broken scissors in Austin and box cutters in Knoxville, Tenn.
"Last May, a St. Louis man boarded a bus without a mask. After the female driver informed him he could only ride the bus with a face covering on, the man fired a 9 mm pistol at the driver," Rivera said. "She was saved only by the polycarbonate shields installed as part of the COVID response."
The alternative is to not enforce the federal mask mandate, and hope the unmasked patrons aren't sick and don't infect you and the rest of your bus, he told lawmakers.
Nelson told the committee the viral threat to her members occurred when a special federal Payroll Support Program, subsidizing the airlines to keep flying and keep flight attendants, pilots, and other workers on the payroll, lapsed after August. Airlines laid off tens of thousands of workers. Lawmakers revived the PSP in December, but only through March 31.
And workers who flew during the holiday season, when the payroll program had lapsed, were more vulnerable to the virus, Nelson noted.
"We need…to ensure no worker goes to work when they aren't feeling well and to avoid travel disruption when crew call out sick. During the holiday travel season, when" PSP didn't exist and crews had to furlough, "we saw a preview of the kind of disruption…when airlines do not have reserve staff."
"Widespread furloughs hit women and people of color the hardest. Those who remain on the job are older and more likely to have complications from COVID, and they are forced to work more during furloughs."
All three witnesses had lengthy and detailed recommendations for improving protections for transit workers after they got done blasting the prior GOP Trump administration's refusal to battle the pandemic and protect the essential workers on planes, buses, subways, and trains.
Recommendations included more contact tracing, vaccination sites at airports so workers can keep both shot and flight schedules, much better ventilation and outer air exchange for both airplanes and transit vehicles—buses are particularly bad, Rivera said—and maximum disinfection and sanitation.
"The Public Health Agency of Canada maintains a website with a list of flights, including the date, airline, flight number, city pair (and seat number, if known)," where at least one positive COVID-19 case was reported, Nelson said. It's "a useful and inexpensive first step for contact tracing in a timely way. On this, we should follow the lead of our northern neighbor."
That's particularly pertinent. Canada, with one-tenth of the U.S. population, has recorded 21,007 deaths, compared to 471,567 in the U.S., as of mid-day Feb. 11. And Canada reported 818,755 people tested positive since the pandemic began. That's fewer than in Los Angeles County (1.155 million), which has a quarter of Canada's population.