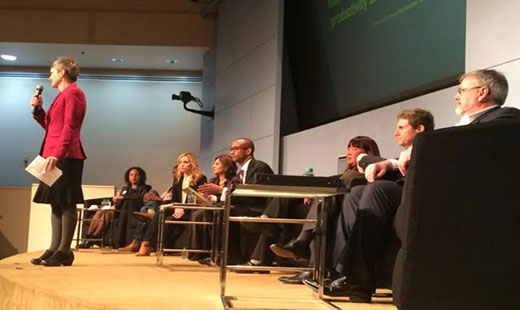 WASHINGTON – A panel of workers, a Laborer-turned-big-city mayor, a small business owner and others proposed practical moves for taking labor's "Raise The Wages," campaign nationwide. And at least one speaker said workers would have to be ready "to engage in civil disobedience" to bring the issue to the forefront of public consciousness.
"Young people are leading the way" in doing so, added Jennifer Epps-Addison, executive director of Wisconsin Jobs Now, which she described as a half-labor half-community organization. "They're stepping up and stepping out."
Speaking at the AFL-CIO-sponsored National Wage Summit on January 7, Epps-Addison and the others discussed practical ways to raise wage stagnation on the national radar. They generally agreed that workers and their allies must take the fight into their own hands, while also holding politicians accountable on the issue for what they do, or don't do.
That prompted another panelist, Boston Mayor Marty Walsh, an active member of the Laborers and former president of the city's building trades, to remind the group that electoral politics is important, too. He reeled off a list of initiatives, especially $4 billion worth of bonds for construction – using the city's first-ever unanimous AAA bond rating – to employ 25,000 workers, all unionists, to build affordable housing. And there were other measures, too.
"We can do it with mutual respect" by having politicians bring labor and business together on such joint projects, Walsh said.
The political system can also be used as leverage, said Angie Wei, the California Labor Federation's chief of staff. In the nation's largest state, 60 percent of workers earn less than $15 an hour, she said. And "public dollars are limited" but can be used to leverage "good jobs – union jobs" as a requirement for businesses to win government bids.
Other panelists advocated direct action. "We're out there marching for racial justice, letting people know that this capitalist system that knocks down our houses to build freeways is the same system that kills black men in the streets," said Epps-Addison. And joblessness particularly hits minorities, the Milwaukee resident says: "55 percent of the black men in my home town are jobless." And she said, workers and their allies "have to stop talking to ourselves," and reach out to rural residents who face the same wage stagnation.
Photo: Seated in back of MaryBe McMillan, secretary-treasurer of the North Carolina State AFL-CIO, were members of the unique panel at the National Summit on Raising Wages. From left to right are Jennifer Epps-Addison, executive director of Wisconsin Jobs Now, Piper Perabo, actor, SAG-AFTRA member, Neera Tanden, president, Center for American Progress, Angie Wei, Chief of Staff, California Labor Federation, David Borris, owner, Hel's Kitchen Catering and Michael Cantrell, president, UAW Local 42. | Patrik Foote/PW