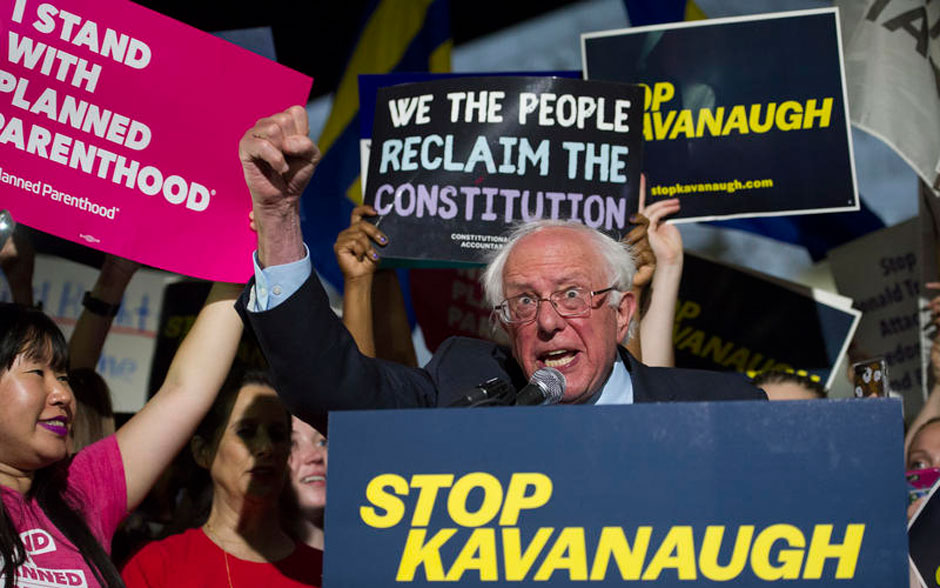 WASHINGTON—If he joins the other four GOP-named justices on the U.S. Supreme Court, federal appellate judge Brett Kavanaugh and his allies would use their High Court seats "to repeal the 20th century," two panelists previewing the High Court's new term say.
That means workers' rights, job safety and health, the role of administrative agencies in protecting workers, citizens and consumers, reproductive choice, the Affordable Care Act, civil rights and much more would or could go out the window, add both Deepak Gupta and Ron Klain.
Gupta, a Georgetown University law professor whose active law practice includes constitutional rights, workers' rights and consumer rights cases and Klain, a former top Clinton and Obama administration legal official, were among five panelists discussing the court's coming term at a packed Sept. 6 symposium sponsored by the American Constitution Society, an organization of progressive and pro-worker lawyers, law students and retired lower court judges.
The other panelists – Georgetown University administrative law professor Lisa Heinzerling, Georgetown constitutional law professor Victoria Nourse and University of Chicago law professor Geoffrey Stone – generally agreed, though not using such stark language.
"The court hasn't invalidated a law" delegating regulatory powers to federal agencies, such as the National Labor Relations Board or the Occupational Safety and Health Administration, "since 1935," said Heinzerling. But a case the justices will hear this session could let them do that, she noted.
Meanwhile, "all of the outrageous daily surprises" from the Trump government "get our eye off the incredibly destructive policies of this administration," she added. "And they'll become even easier if Kavanaugh is on the court."
That's because the ideological bent of the five-justice majority – Kavanaugh included – is that they would toss out the agencies' powers, and their protective rules for workers and consumers, too, the panelists said.
The symposium usually previews the court's coming key cases. But, as might be expected, it turned into a two-hour discussion of Kavanaugh, the right-wing federal appellate judge and former Bush White House aide and political hack whom GOP President Donald Trump nominated to fill the court's vacant seat.
The Senate's 51 ruling Republicans need every one of their votes to jam Kavanaugh through if all 47 Democrats plus both Democratic-leaning independents vote "no." Trump, Senate Majority Leader Mitch McConnell, R-Ken., and their right-wing backers want Kavanaugh on the bench before the November election, if not by the time the court starts its new term on Oct. 1.
Two of the Republicans, Lisa Murkowski of Alaska and Susan Collins of Maine, are pro-reproductive rights and concerned about Kavanaugh's views on that issue. Four Democrats – Joe Manchin (W. Va.), Heidi Heitkamp (N.D.), Joe Donnelly (Ind.) and Claire McCaskill (Mo.) — seek re-election in states  Trump handily carried in 2016 and are under pressure from both sides.
The panel's preview of Kavanaugh's impact on the 9-member court came as uproar erupted, again, at the Senate Judiciary Committee hearings on his nomination. And reproductive choice wasn't the only reason for the chaos and confrontations.
Defying what could be a GOP expulsion threat for violating Senate rules, Sen. Cory Booker, D-N.J., who is African American, released an internal Kavanaugh e-mail showing the judge, as a George W. Bush White House aide, opposed what Kavanaugh called "a naked racial set-aside" for minority-owned companies in federal transportation programs.
"I'm going to release the document on racial profiling," Booker said. He called his release "an act of peaceful civil disobedience" and said he'd willingly take the penalty, which is unlikely. Sens. Dick Durbin, D-Ill., and Mazie Hirono, D-Hawaii, jumped to Booker's defense.
Meanwhile, Sens. Patty Murray, D-Wash., Tammy Duckworth, D-Ill., and Tina Smith, DFL-Minn., along with Planned Parenthood's political arm, released documents – printed also in the New York Times – showing Kavanaugh already pre-judged reproductive rights and fully intends to overturn the court's 1973 historic Roe v Wade decision legalizing abortion in many cases.
And Planned Parenthood took out full-page ads, with those Kavanaugh Bush-era memos on them, in newspapers in Alaska and Maine, to remind Murkowski and Collins of what's at stake – and to get constituents to remind them, too. Kavanaugh's memos said Roe should not be called "settled law." He used that term to reassure Collins, without committing to future rulings.
Reproductive rights again energized demonstrators within the hearing room, who interrupted GOP questions and Kavanaugh's answers with demands that Kavanaugh be rejected due to his opposition to reproductive rights. Police escorted dozens of them out.  Further anti-Kavanaugh demonstrations occurred on the U.S. Capitol lawn during the evening of Sept. 6, for the third straight day.
But reproductive rights and racial justice are not the only causes a Kavanaugh on the court — joining Chief Justice John Roberts and Justices Samuel Alito, Clarence Thomas and Neil Gorsuch — would endanger, panelists said. Gorsuch, also a federal appellate judge, was Trump's first High Court nominee.
Others include extending forced arbitration, which companies almost always win, to virtually all circumstances involving worker-boss or consumer-company relations, invalidating rules governing worker safety and other protections, killing voting rights and extending pro-business deregulation, the panelists said.
And, as Klain put it, the court could also use a pending case to be "sending a 'get-out-of-jail-free card'" to Trump, halting New York state lawsuits against his foundation-cum-personal piggy bank.
"This is the only guy on any of Trump's lists" of potential High Court justices "that has taken an extreme view of presidential power," Nourse said of Kavanaugh. "What happened to Congress? What happened to the courts?" The panelists all noted Trump's lists came from the right-wing Federalist Society. Trump outsourced picking judges to that group, one panelist noted.
There are other dangers from the Kavanaugh nomination, the panelists said. One is that "a more activist court will be shredding constitutional law," Klain noted. "Kavanaugh would be like an Alito and a Gorsuch in his voting," Stone added.
Still another panelist said putting Kavanaugh on the court means 90 percent of the justices' votes could be predicted by which party's president – Republican or Democratic – picked them. And that's bad for the court and the country, others agreed.
"What's necessary, which is unrealistic, is for senators, especially Republicans, to step back and realizing they're destroying the credibility of the judiciary," Stone said.
Ultimately, however, the only people who can halt the court's slide into partisanship, and prevent further Kavanaughs on the bench, are the voters, Klain said.
"In the end, politics is behind all of this. If we want better laws, better rules and better judges, electing better politicians is the way to get that," he explained, closing the symposium.