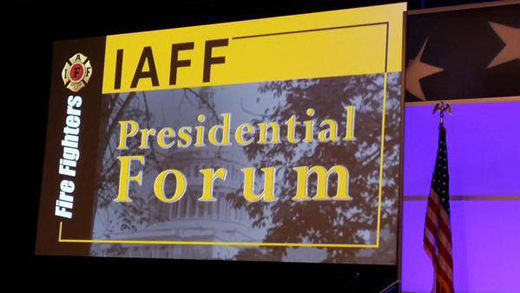 WASHINGTON (PAI) – A parade of nine presidential hopefuls – some little-known beyond their own states – made their cases before more than 1,000 Fire Fighters on Mar. 10.
But even after the nine talked, some of the delegates to the union's legislative-political conference discussed the one who wasn't there: Former Secretary of State Hillary Rodham Clinton, right now the leading Democratic contender in public polls.
The six Republicans, independent Sen. Bernie Sanders, who plans to run in Democratic primaries, and Democrats Martin O'Malley and Jim Webb addressed a wide range of issues, from negotiations with Iran to workers' rights to the decline of the middle class to Islamic terrorism.
The day before, as part of the legislative session, Democratic Vice President Joe Biden and Sen. Elizabeth Warren, D-Mass., also addressed the crowd. Biden, who has said repeatedly that he owes his life to the Fire Fighters, literally – Delaware Fire Fighters saved him from dying from a brain aneurism by rushing him to a hospital years ago – used his just-folks approach in the speech. He is considering a run for the presidency, again.
Warren says she will not run. But the progressive firebrand, who repeated her declaration that the deck in D.C. is stacked against workers and their families, drew loud cheers. Many activists nationwide want Warren to challenge Clinton.
The fight against terrorists is especially relevant to IAFF. The union lost 343 of its members, plus their Catholic priest, in the terror attacks of Sept. 11, 2001, which destroyed the World Trade Center, as New York Fire Fighters were trying to rescue its occupants.
The wall of the large meeting room for IAFF's conference, in a downtown D.C. hotel, was emblazoned with two large posters of the WTC ruins, with "Never Forget" superimposed. Delegates applauded denunciations of the terrorists, but only O'Malley got a spontaneous standing ovation, for his strong advocacy of collective bargaining and strengthening the right to organize.
"There are two very important things you did not hear from the Republicans," the former Maryland governor, the last speaker on the six-hour program, declared. "One is a commitment to collective bargaining."
One delegate yelled out, 'Yeah!" and then everybody jumped up and applauded.
And while other, Republican, governors, have been curtailing workers' collective bargaining rights, O'Malley reminded the crowd that he pushed expansion of those rights through the Maryland legislature.
"In Wisconsin, the ideologues just took action to wipe out unions, " he said its new so-called right to work law. "That might be good for the Koch brothers" – anti-worker right-wing billionaires – "but it's bad for Fire Fighters, bad for their families, and bad for their communities."
The other important issue the GOP did not mention, O'Malley added, was "a commitment to public safety." He then lambasted politicians who give lip service to supporting Fire Fighters and other first responders, but then vote to cut state and local safety budgets or against funding the federal Department of Homeland Security. That's what congressional Republicans attempted this year.
The addresses, which IAFF also televised to its locals nationwide, are the first step in its presidential endorsement process. After extensive communications and canvassing of its members, that will culminate with an endorsement by the IAFF executive board late this year, union President Harold Schaitberger said.
IAFF's endorsement is important: The Fire Fighters have credibility in their communities, the union is evenly split by political registration (minus 12 percent independents) and is credible with both parties. It's also proven its political impact in the past, providing the crucial endorsement and foot soldiers which boosted then-trailing Sen. John Kerry, D-Mass., to wins in the 2004 Iowa caucuses and New Hampshire primary and the Democratic nomination.
Whether a hopeful addressed the Mar. 10 conclave will not determine if that candidate will get IAFF's endorsement, Schaitberger said. And endorsement of collective bargaining rights, especially for first responders, would not be the sole determining factor in its nod. Other issues, from trade to Social Security, would also factor in, he explained.
Thus Clinton, who had a prior commitment to keynote the UN Women's Conference in New York City, will still get a chance to communicate her views to the union. "I wish I had heard her speak," said John Baum of Local 1042 in Greenwich, Conn. "Webb spoke well, and so did O'Malley. As for the Republicans, I don't think they'll support labor."
Former Gov. Jeb Bush, R-Fla., also did not appear live, but sent a 15-minute video. Delegates said his remarks were general. Schaitberger previously said Bush, initially anti-union and anti-worker, wound up working during his two terms as governor, for Florida Fire Fighters issues.
IAFF also did not invite Gov. Chris Christie, R-N.J., who double-crossed New Jersey public workers on state pension fund payments, so much so they successfully sue him. In a later press conference, Schaitberger compared Christie to former New York City Mayor Rudy Giuliani, whom IAFF did not invite to its 2007 presidential hopeful session, after Giuliani broke key post-9/11 promises to Fire Fighters.
Key points from the other presidential hopefuls, and some reactions, included:
Sen. Bernie Sanders, Ind.-Vt., who plans to run in the Democratic primaries, reminded the crowd to ignore social issues and concentrate on economic issues in their decision. Those include universal health care, "being able to send your kids to college" and "creating jobs here or in China" through bad trade agreements. He urged IAFF "to lead a grass-roots political movement which says that the government of the U.S. has gotten to be taken out of the hands of big business and returned to the hands of the people of this country.
"It has to be taken from the hands of the billionaire class who care about nothing but their own greed," the former mayor of Burlington added. "I like his ideas," delegate Richard Pauley said of Sanders, "but I don't think he has the horses to make it (a campaign) work."
Sen. Ted Cruz, R-Texas, never uttered the words "labor" or "union," and delegates noticed. Instead, he blamed wage stagnation and declining incomes on the size of the federal government and on government regulations in general, and called for abolition of the Affordable Care Act and the IRS. He also advocated for small businesses, whom he claimed create jobs, and for a flat tax. "Big business is in bed with big government," Cruz said.
"He didn't tailor his message to his audience," said John Pearl, a registered Republican from IAFF's St. Petersburg, Fla., local. "It was like telling the Painters you don't like paint."
Former Sen. Jim Webb, D-Va., noted "I'm the only person ever elected to statewide office in Virginia who has a union card, two Purple Hearts, and three tattoos." But the former Marine veteran from the Vietnam War concentrated on income inequality, after noting that he marched in one union's picket line in Danville, Va., during his 2006 campaign. He won that race, against a GOP incumbent, narrowly, then left the Senate after one term.
Webb, too, said he is "a big supporter of collective bargaining rights" in a right-to-work state with 4.9 percent union density. That includes supporting Fire Fighter-sponsored federal legislation telling all states to let first responders bargain collectively, he noted. Supporting collective bargaining "may not have been the least controversial position" in Virginia, Webb deadpanned. "But it's essential to the American economy.
"In the Marines, you first feed the privates, and then you feed the corporals and then you feed the sergeants and then, if anything is left over, you feed the officers. This is the opposite of what our economy is like right now. Maybe if union people sat on corporate boards" like they do in Germany, "more money would go to workers' salaries and health care.
"When one CEO can make $690 million in one year while the structure of our workforce is declining and part-time jobs are becoming the rule, political leaders should have the courage to say 'Enough is enough.'"
James McCarthy, Treasurer of one of the two New York City IAFF locals, praised those views. The Democrats "need Jim Webb to bring up unions, health care and NAFTA," he said, referring to the controversial job-losing free trade pact that started a cascade of similar agreements in ensuing years. "And there's a lack of respect for collective bargaining, too."
Webb, he said, would at the very least force Clinton to address those issues. "I'm not saying she's not" for collective bargaining, McCarthy said, but Webb's challenge would force her to state her case.
Sen. Marco Rubio, R-Fla., said the fact the economy is adding low-paying, not high-paying, jobs shows him "there's a permanent change, not a temporary cyclical downtown." He said the change is due to "automation" and "competition" from overseas.
His solution was to make the U.S. more competitive through "less taxes and less regulation." He claimed to author a tax cut bill that would increase workers' take home pay by 15 percent. "Economic growth is important, but that's not the only thing we can do," Rubio said. "That's where I have a quarrel with my own party."
Rep. Peter King, R-N.Y., spent much of his speech advocating stronger action against "radical Islam." The former chairman of the House Homeland Security Committee also denounced President Obama for refusing to discuss the threat by name. So did Sen. Lindsay Graham, R-S.C.
But King also took some potshots at fellow Republicans: "I find it hypocritical for them to come before you and say 'I support Fire Fighters,' and then turn thumbs down on funding the Department of Homeland Security, by saying 'Well, they'll do their jobs, they just won't get paid.'" Cruz was one of a raft of GOP senators who took that stand in the recent impasse over funding the department, and King singled him out.
Former Gov. George Pataki, R-N.Y., spent his time praising Fire Fighters. But he too took a shot at another GOP hopeful, Gov. Scott Walker, R-Wis. Walker did not appear at the IAFF conclave.
In the first week of March, Walker eagerly signed right-to-work legislation, following up on his prior law, four years ago, stripping 200,000 Wisconsin state and local public workers – but not some police and Fire Fighters – of collective bargaining rights. That battle drew up to 100,000 protesting workers into the streets of Madison, and Walker recently compared the protesters to jihadists of the Islamic State of Iraq and Syria (ISIS).
"Any American politician who compares demonstrators exercising their constitutional rights to ISIS, who would attack us, is just flat-out wrong," Pataki said. "A violent terrorist group committed to destroy our nation and our way of life is not the equivalent to people exercising their peaceful right of protest," which Pataki called "part of the political process."
Pataki also denounced the tilt towards lobbyists in the nation's capital. One solution the ex-governor said he would push: A law banning former members of Congress from that profession. Some 400 now lobby, he declared. "And if you don't do your job, you shouldn't get paid," Pataki added about Congress and its budget antics for the last several years.
Sen. Lindsay Graham, R-S.C., split his speech between foreign policy and saying he's willing to seek Democrats to compromise on long-term solutions to the nation's long-term problems, notably the finances of Social Security and Medicare. He did not mention his past role trying to virtually halt labor law enforcement by the National Labor Relations Board and in blocking Obama's NLRB nominees.
On foreign policy, Graham gave Obama credit for trying to negotiate a pact with Iran to stop its development of nuclear weapons, but predicted it would fail, as the Iranians are "liars."
"Mr. President, there are no moderates running Iran and the ayatollahs are destabilizing the entire region. And they're building ICBMs that could hit us," said Graham, a reservist in the Army's Judge Advocate General Corps. As for ISIS, "we have to destroy" it.
But Graham also warned the crowd that his generation – including them – "would have to make sacrifices" to keep the two big domestic programs going. "When we retire" he said of the 80 million Baby Boomers "we'll wipe Social Security and Medicare out," with payments.
"If I need to get a Democrat to help me get additional (tax) revenue to pay for that" – continuing the two retirement programs – "I'll do it," Graham declared. "If I could find a Democrat to cut increases, I'll do it. And I don't want the government giving me $109 to buy prescription drugs," as the Bush-era Medicare prescription drug program does for anyone 65 or older, "when I earn $175,000 a year." Graham is 59 right now.
Besides talking collective bargaining and support for first responders, Maryland's O'Malley supported other pro-middle class measures, including raising the federal minimum wage, expanding the right to overtime pay, renewing the nation's crumbling infrastructure and "strengthening the right to organize in all areas," public and private.
He too took a potshot at the GOP. "What the hell do these other guys think?" O'Malley asked. "They're wiping out Social Security today and pensions tomorrow."
Photo: International Association of Fire Fighters, Facebook