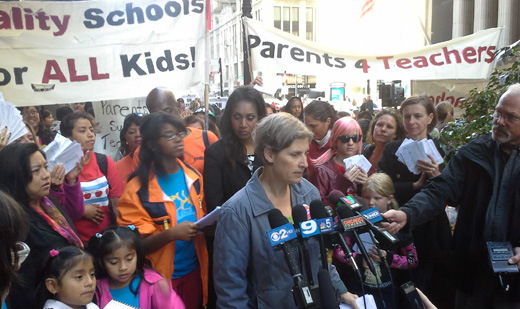 CHICAGO – Hundreds of parents and students demonstrated their solidarity with striking Chicago teachers in rallies across the city Sept.18. The Chicago Teachers Union (CTU) House of Delegates will meet later today to decide whether or not to suspend their strike and return to the classrooms.
Striking teachers marched from Simeon Vocational High School on the South Side joining with striking Walmart warehouse workers picketing in the Chatham neighborhood. Action Now held a press conference highlighting the vast inequalities in the school system.
A vigil will later tonight will send off students and residents to the Department of Education in Washington DC in a "Journey for Justice" to protest school closings in predominantly African American and Latino neighborhoods.
The morning saw the sidewalk in front of the Board of Education jammed with hundreds of protesters. The group Parents for Teachers came to show solidarity with picketing teachers and present 1,000 postcards demanding a fair contract and quality education.
"We want quality neighborhood schools for every child in this city," said Erica Clark of Parents for Teachers. Clark said parents are asking for the same thing teachers are asking for: an end to the disruptive school closings that especially target African-American and Latino neighborhoods, smaller class sizes, a rich curriculum with art, music, physical education and world languages, full staffing with more social workers and more counselors.
"So this is our message to the Board: whatever happens with the contract vote today, the fight continues. Teachers, parents, students, people across this city are united. They want the same thing – quality schools for every children in every neighborhood," said Clark.
"To parents who are frustrated this past week – direct your frustration at the Board of Education, Mr. Brizard and City Hall" said Clark. "They are the ones who caused this strike. They had 11 months to negotiate these issues and they refused to do that."
"There are too many disparities in our schools. We are living in 21st century America and this is unacceptable," said Rev. Krista Alston, "We demand our teachers and students be respected.
Alston called upon elected officials to pass legislation for a school closing moratorium presently in the state legislature. Alston also said if Mayor Emanuel really was concerned about putting children first, he wouldn't be closing schools.
"Today, what you need to do is to take the CEO (head of schools) out of it and put in a superintendent who understands what education is all about," said Alston. "We need an elected school board. This is not corporate America."
Chicago is the birthplace of corporate school reform and national model according to Pauline Lipman of Teachers for Social Justice. "What we've seen this week is that teachers have stood up an we stood up with them. Their courage has inspired us all and electrified the country," she said.
Fifteen years of control of schools by corporations and bankers has bankrupted schools, educationally, morally and financially, said Lipmann. The policies have led to a two tier school system with some world class schools and defunded, disenfranchised, destabilized schools in the predominantly African American and Latino communities setting them up for closure and privatization.
"Parents are fed up," she said.
A delegation of parents and students entered the board of education with the intent to deliver the post cards but was refused. Protesters vowed the fight would continue.
Photo: Erica Clark, parents for teachers. John Bachtell/PW