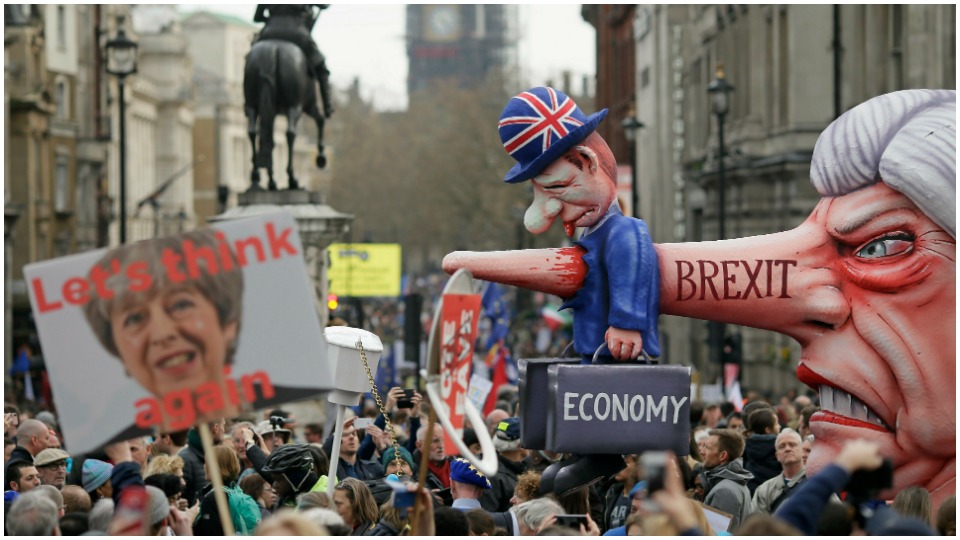 BRUSSELS—In one weekend, two different European Union member countries saw people take to the streets in protest for two very different reasons.
In the United Kingdom, over one million people marched through central London, ending at the Houses of Parliament, calling for a second public referendum to decide whether Britain should withdraw from EU membership. Some called for a complete revocation of Article 50, stopping Brexit altogether.
Meanwhile, the streets of Brussels, Belgium, the EU's capital, were filled with thousands of demonstrators demanding that EU leadership end all racist and discriminatory border practices within EU states. Chants in French, Dutch, Spanish, Romani, and more could be heard for miles. All of them saying the same thing: "We are all European."
"We want to let it be heard that we won't allow ourselves to be divided by racism and discriminatory measures and that we will continue to fight for a society in which everyone is equal," explained one unnamed anti-racism march organizer. "We remember the victims of hatred and terrorism in Brussels and elsewhere. Terrorism seeks to throw up walls and to divide society into 'us' and 'them'. We will not let this happen."
Walls and borders, sounds familiar, doesn't it?
This past weekend was a visual representation of the complicated phenomenon that is the EU and membership in the bloc. The union is itself the product of capitalist class efforts to create a single economic market after World War II. Today, the EU acts as bank, judicial system, economic enforcer, and watchdog military alliance. Dominated by Germany's central bank, the EU's austerity policies have created millions of discontented workers across the continent, particularly in recession-hit countries like Greece, Portugal, Spain, and Italy. The same is true in Britain.
At the same time, a more fluid and cosmopolitan European identity has been forged for just as many millions. They abhor the anti-immigrant rhetoric employed by the EU's right-wing critics and oppose any return to hard borders or the nationalist sentiments of the past.
The protests in London and Brussels demonstrated the reality that arguments for and against the EU which both carry some merit—depending on where you live, and how hard EU austerity measures have hit your economy.
And speaking of complications, back in the U.K., British lawmakers wrested control of the Brexit process from Prime Minister Theresa May Monday and will now seek to decide how the U.K. withdraws from the EU—or not.
May admitted early Monday that her Brexit "Plan B" agreement didn't have the votes needed to carry a win. After seizing control of the agenda from May, Members of Parliament decided 329 to 302 to schedule a series of votes on alternative Brexit strategies, with options including a second referendum, keeping the U.K. in the EU's single-market, a no-deal divorce, or canceling the whole thing.
Currently, there are no less than 16 alternative Brexit options proposed, including:

— No-Deal Brexit: The U.K. would leave April 12.

— The Labour Party's Brexit plan: "Prioritize jobs and living standards, build a close new relationship with the EU, protect workers' rights and environmental standards, provide certainty to EU nationals, and give a meaningful role to Parliament throughout negotiations."

— Rewrite the Irish "backstop" agreement: An amendment to the Withdrawal Agreement that gives the U.K. a unilateral right to exit the so-called Irish backstop, or open border trading between Ireland, an EU member state, and the U.K.'s Northern Ireland. No one wants the return to violence that a hard border could bring, but Brexit advocates fear becoming trapped in a customs union with the EU.

— Soft Brexit/Norway style: The U.K. stays in the European Economic Area and rejoins the European Free Trade Association, giving it access to the EU single market.

— Revoke Article 50 if no withdrawal agreement is reached four days before the April 12 deadline.

MPs will begin voting by paper ballot tonight at about 7:00 p.m. GMT (2:00 p.m. CST).
With the calls for May to resign beginning weeks ago, the reality of the situation just seemed to hit. With the House of Commons prepared to make moves on Brexit, May is scheduled to speak with Conservative Party lawmakers before the vote in one final Hail Mary pass.
It is expected she will indicate a date for her resignation following the meeting if she is able to secure the votes for her deal.
"The prime minister might get a deal over the line on Thursday or Friday," said Oliver Letwin, the former Conservative cabinet minister who has led parliament's unusual power grab, along with Labour MP Hilary Benn. "If she does, no one would be happier than I am."
People's World correspondent Al Neal's earlier Brexit coverage from London and Brussels is available here.