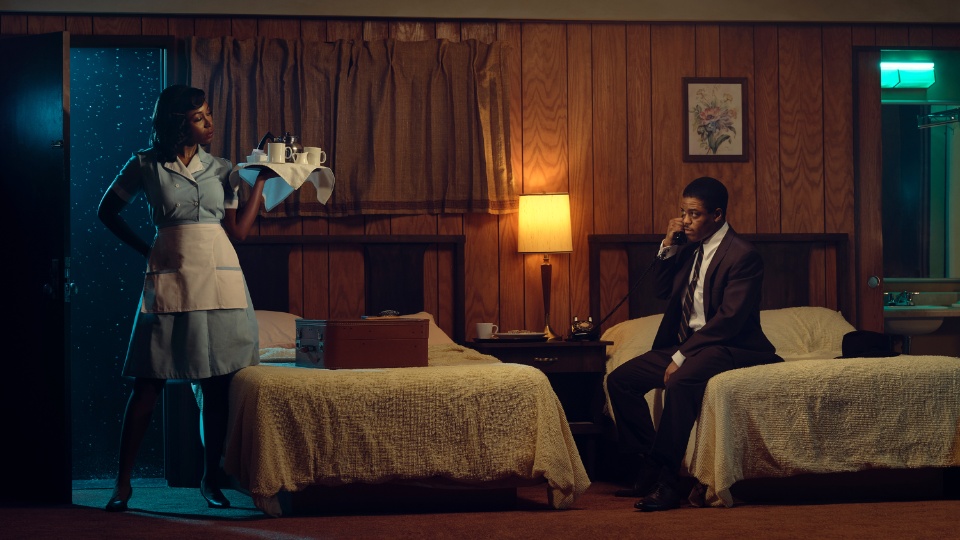 LOS ANGELES — Katori Hall's brilliant is probably the best play I've seen in a long time. Just as Kemp Powers's One Night in Miami vividly imagined the night of February 25, 1964, when Cassius Clay won the heavyweight boxing championship at his Hampton House Motel room in Florida, The Mountaintop revisits the night of April 3, 1968, when Rev. Martin Luther King, Jr. (Jon Michael Hill) stayed at the Lorraine Motel in Memphis, where he was spending the night while campaigning for the rights of striking sanitation workers.
Whereas Clay's (soon to become Muhammad Ali) companions were Malcolm X, Sam Cooke and the recently deceased Jim Brown, when Dr. King calls room service, he is joined by motel maid Camae (the absolutely stellar Amanda Warren) who brings the Civil Rights leader hot coffee. King has just returned from the Mason Temple where he delivered his final speech, perhaps extemporaneously, proclaiming: "Like anybody, I would like to live—a long life; longevity has its place. But I'm not concerned about that now. I just want to do God's will. And He's allowed me to go up to the mountain. And I've looked over. And I've seen the Promised Land. I may not get there with you. But I want you to know tonight, that we, as a people, will get to the Promised Land. So, I'm happy, tonight. I'm not worried about anything. I'm not fearing any man…."
The Mountaintop opens with an audio clip of King's famous address (which is preceded, before the curtain rises, by period songs, such as the Beatles' 1968 "Back in the U.S.S.R."). Listening to this speech delivered the night before his assassination, one senses, especially in retrospect, that King had a sense of foreboding, that he knew someone was literally gunning for him and his days were numbered. He is depicted in his motel room searching for bugs, as King suspected he was under surveillance (he was indeed, by the FBI—your tax dollars at work, readers).
When Camae brings the coffee to room 306 on her first night on the job, she encounters a weary man who is not in the best of health, with the weight of the world upon his shoulders as King tries to traverse the tricky terrain of a Black rights movement split by increasingly militant activists eschewing his pacifist politics, as well as the anti-Vietnam War cause, which has brought King into conflict with the Democratic Party establishment. Exactly a year earlier at New York's Riverside Church, King had courageously excoriated the war in Vietnam, condemning the U.S. government as "the greatest purveyor of violence in the world." That infuriated LBJ, who regarded this as a betrayal after Pres. Johnson had signed major Civil Rights legislation. (In doing so, King arguably signed his death warrant.)
The motel maid is a striking looking woman, earthy yet also ethereal, who towers over King. They engage in friendly banter and there is a sexual frisson between them: Will they or won't they do it? At first Camae seems simply like a member of the Black masses whom the more educated, middle-class preacher has been speaking on behalf of and fighting for. But as the evening unfolds and Camae extends her often humorous interlude in King's motel room, questions arise as to who this motel maid really is.
Is the voluptuous, leggy Camae surreptitiously a COINTELPRO temptress dispatched by the FBI to entice this man of the cloth out of his clothes and into bed, for federal agents to record the married clergyman's marital indiscretion in order to discredit and/or blackmail the Civil Rights crusader?
Suffice it to say the following so I don't ruin any surprises for theatergoers: On what is King's last night on Earth, The Mountaintop takes a decidedly metaphysical twist and turn that I didn't see coming.
The performances by both actors in this two-hander are simply outstanding. Because of the familiarity viewers have with the world-famous Reverend King, Amanda Warren as the unknown Camae (who, by the way, is named after the playwright's mother, who was denied an opportunity to hear Dr. King's last speech) is at a disadvantage vis-à-vis her co-star. But Warren rises to the occasion to deliver great acting that should be remembered when it comes time for awards season. Warren is captivating and frequently spectacular to behold.
Hill finds the nuance in depicting a character with the status of a prophet, but who is, as those picket signs of the sanitation strikers he's supporting declare, "a man," after all. As a longtime admirer of Reverend King who still misses him, it was fulfilling to see him again, albeit for an all too brief incarnation that lasted only 90 minutes.
Both actors have substantial stage and big/little screen credits under their belts. Hill played a minister in Steve McQueen's 2018 Widows starring Viola Davis and appeared in TV programs such as Elementary and The Good Fight. On the boards he has acted in Steppenwolf and Broadway productions. Warren currently stars in the CBS police series East New York as Deputy Inspector Regina Haywood and was in the 2017 movies Roman J. Israel, Esq. with Denzel Washington and Three Billboards Outside Ebbing, Missouri with Frances McDormand.
Veteran theater director Patricia McGregor elicits penetrating, powerful portrayals from her cast. Award-winning scenic designer Rachel Myers's set evokes the essence of the Lorraine Motel, where most of the action takes place. I won't disclose details of The Mountaintop's grand finale, but it is a live audiovisual tour de force executed onstage by projection designer Yee Eun Nam, lighting designer Lap Chi Chu and sound designer Cricket S. Myers, who ingeniously endeavor to take us to the mountaintop via state-of-the-art stagecraft. When the awards for stage special effects are dispensed, this aural-optical extravaganza also deserves to be remembered.
The Mountaintop's ending is also extremely philosophical, as is much of this gripping, witty one-act play. Memphis-born playwright Katori Hall, who has won a Pulitzer Prize (for Drama for her 2021 The Hot Wing King) and NAACP Image Award, and been nominated for two Tonys, is a dramatist of the highest caliber with a long list of stage and screen credits, including Tina: The Tina Turner Musical. The Mountaintop premiered in London and won the Laurence Olivier Award for Best New Play in 2010. The drama debuted on Broadway in 2011, co-starring Samuel L. Jackson (in his first Broadway role) opposite Angela Bassett, and Warren and Hill admirably fill those esteemed shoes. The Mountaintop's West Coast premiere was apparently in 2013 at Palo Alto's TheatreWorks.
I highly recommend The Mountaintop as a work of live, electrifying drama. Hall's play is for serious theatergoers who enjoy great acting and writing, and works about what really matters in the grand scheme of things. Anyone concerned with racial and political issues will likely find this an engulfing, rewarding theatrical experience. I hope this review helps convince you to go up to The Mountaintop. Don't miss it!
The Mountaintop is being performed through July 9 at the Gil Cates Theater, The Geffen Playhouse, 10886 Le Conte Ave., Los Angeles 90024. Tickets and info can be found here or at (310) 208-2028.
Aloha oe (farewell to thee), Daniel Ellsberg, whom war criminal Henry Kissinger called "the most dangerous man in America," truly one of the greatest of all time. He shall be missed and eternally blessed.
We hope you appreciated this article. At 

People's World

, we believe news and information should be free and accessible to all, but we need your help. Our journalism is free of corporate influence and paywalls because we are totally reader-supported. Only you, our readers and supporters, make this possible. If you enjoy reading 

People's World

 and the stories we bring you, please 

support our work by donating or becoming a monthly sustainer today

. Thank you!