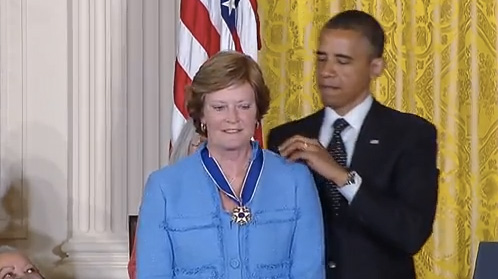 Watching ESPN coverage of Pat Summitt, who died last night at 64. Summit, if you don't know, was the legendary and beloved women's basketball coach at the University of Tennessee. It is hard to overstate her impact on women's basketball and everyone who came in touch with her.
She was, as sport's commentator Dan Levetar said this morning, a gender pioneer. No one, not even John Wooden the revered coach of UCLA's men's basketball team, stood as tall as her in the profession of college basketball.
Wooden, nicked named the Wizard of Westwood, created teams for the ages, but Summitt's hand – albeit with an assist from the passage of Title 9 – was nearly singular in bringing women's basketball out of the shadows and turning into a sport that commanded national attention. No one did more to make the playground and the gym into a welcoming space where young girls and women honed their basketball skills, fiercely competed, and grew in confidence and so many other ways.
Time won't easily erase her legacy.
Photo: Receiving Freedom Medal from President Obama last year.