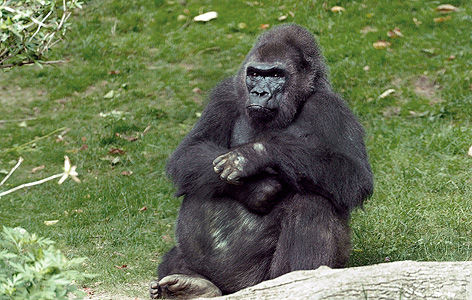 I was 22 years old and living in my native Brooklyn when "Pattycake" was born in the Central Park Zoo on Sept. 3, 1972.
Her birth was celebrated almost universally by New Yorkers, weary as we were at the time with the news of financial crisis, higher-than-ever crime in the streets a president who was destroying democracy and his successor who was telling us to "drop dead' — all while we were still trying to cope with the deaths of so many of our friends who had been shipped off to the jungles of Vietnam.
None of us even knew that Pattycake's parents Kongo and Lulu had mated until Pattycake was born into the world – the first gorilla ever to do that in New York.
We fell in love with Pattycake and we went through some anxious days when, at five months old, she broke her arm. At that time, there was a lot to worry about everywhere: nuclear arms buildup, new missiles in Europe, mass murder in Cambodia, starvation in Biafra and double digit inflation and unemployment at home. Somehow though, worrying about Pattycake's broken arm also seemed important.
Soon after, I learned that one of my good college friends had been killed in Vietnam. It was hard for me to accept his death and it took a long time to get over. But for me, hearing the story that Pattycake's arm was better, showed that some things at least do heal.
In 1983 our beloved gorilla was permanently moved to the Bronx Zoo where she became the best-known gorilla in the zoo and one of the biggest attractions in my entire hometown. For millions growing up during those years, Pattycake was their gorilla too. Every one of those millions has a special story to tell about one of the visits they made to Pattycake. It is doubtful that any pope or king ever received as many visitors as Pattycake!
Pattycake was one of the oldest gorillas of the 338 presently residing in North America. At 40, she surpassed the median life span for gorillas in zoos, which is 37 years.
Pattycake was the mother of 10, including twins born at the Bronx Zoo in 1995. In 1999 the Zoo opened its incredible Congo Gorilla Forest, one of the best zoo habitats for gorillas in the world.
The Zoo currently has three troops of western lowland gorillas, with 18 animals living in the Congo Gorilla Forest. The Zoo contributes admission fees to the exhibit to conservation efforts in Central African countries.
All three of the species of gorillas at the Bronx Zoo are classified as "critically endangered" due to hunting for bushmeat, loss of habitat, and the spread of the Ebola virus, lethal to gorillas as well as humans.
Pattycake was found dead in the zoo's Congo Gorilla Forest she had come to love as age crept up on her. She would interact with humans regularly in that "forest," humans who were providing her with care for her advanced age and treatment for some or her cardiac issues.
There are now 125,000 gorillas thriving in a national park in the northern part of the real Congo region – far more than there were when Pattycake was born in the Central Park Zoo. The conservation movement that helped bring that about results, in large part, from Pattycake having been thrust into the limelight here in New York.
She made life better for the gorillas.
I know she made life better for us.
Photo: An undated photo provided by the Wildlife Conservation Society in New York, April 1, shows Pattycake, the first gorilla born in New York City. Julie Larsen Maher/Wildlife Conservation Society/AP