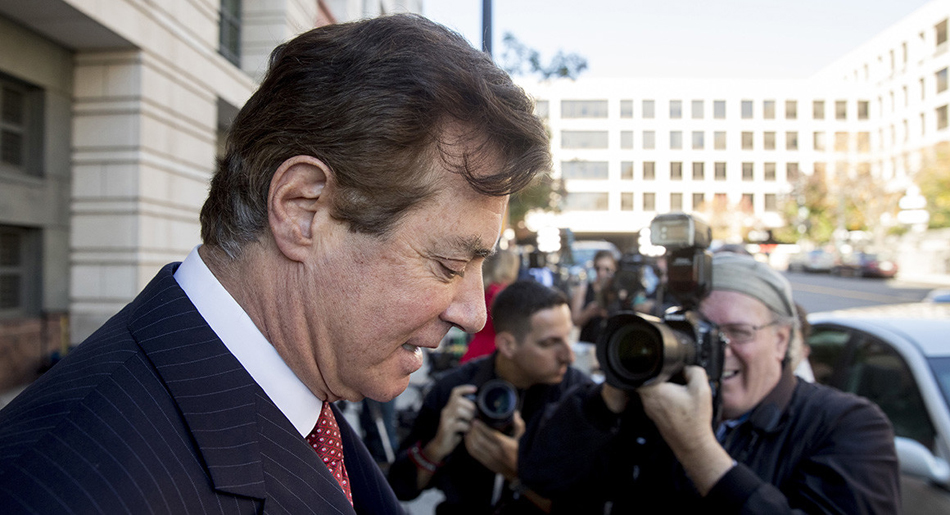 Special counsel Robert Mueller filed 32 new criminal charges yesterday against former Trump campaign chief Paul Manafort and former campaign aide Rick Gates, accusing them of tax and bank fraud crimes and laundering some $30 million in additional money.
The latest indictment was filed in federal court in the Eastern District of Virginia. This increases the pressure on Manafort, of course, and means he would face trial in more than one location. Prior indictments were filed in Washington.  The new indictment is seen as a serious step-up in the pace of the Mueller probe.
His earlier indictment of the pair charges them with money laundering, criminal conspiracy and other crimes.
While Manafort avoided the press yesterday people speaking for him said he is innocent of all charges and that he had nothing to do with Russia or collusion of any type regarding the 2016 elections.
Some but far from all of the new charges filed in Virginia are the same as the ones that had been filed in the District of Columbia.
Manafort and Gates stand accused of evading taxes and concealing funds in overseas accounts. They are also accused of lying about their assets in order to secure millions of dollars worth of real estate loans.
When Manafort was more than three months late paying an American Express bill he lied to the bank by telling them Gates had taken his card and run up the charges.
Gates borrowed money from Citizens Bank without telling them about a $5 million loan that he and Manafort had from a different bank.
Gates unsuccessfully tried to force a bookkeeper to show funds that did not exist. Then he himself falsified the report, faking the amount of money available.
Manafort submitted an affidavit overstating income by $2 million to a bank, and a conspirator working there replied, "Looks Dr'd. Can someone just do a clean excel doc and pdf to me?" A new version, according to the Mueller indictment, was submitted.
In summary, Mueller is now saying Manfort doctored $30 million, much more than the $18 million mentioned in the earlier charges. Gates, however, is accused of only laundering $3 million.
There was also speculation in the press yesterday about whether Manafort had promised anyone jobs in the Trump administration in exchange for the loans he wanted. Reports are that Mueller is investigating this too meaning that Manafort's troubles may have only just begun. Since the latest batch of alleged crimes were, unlike some of the prior ones, committed while Manafort was Trump campaign manager, the implications for Trump himself are unnerving.