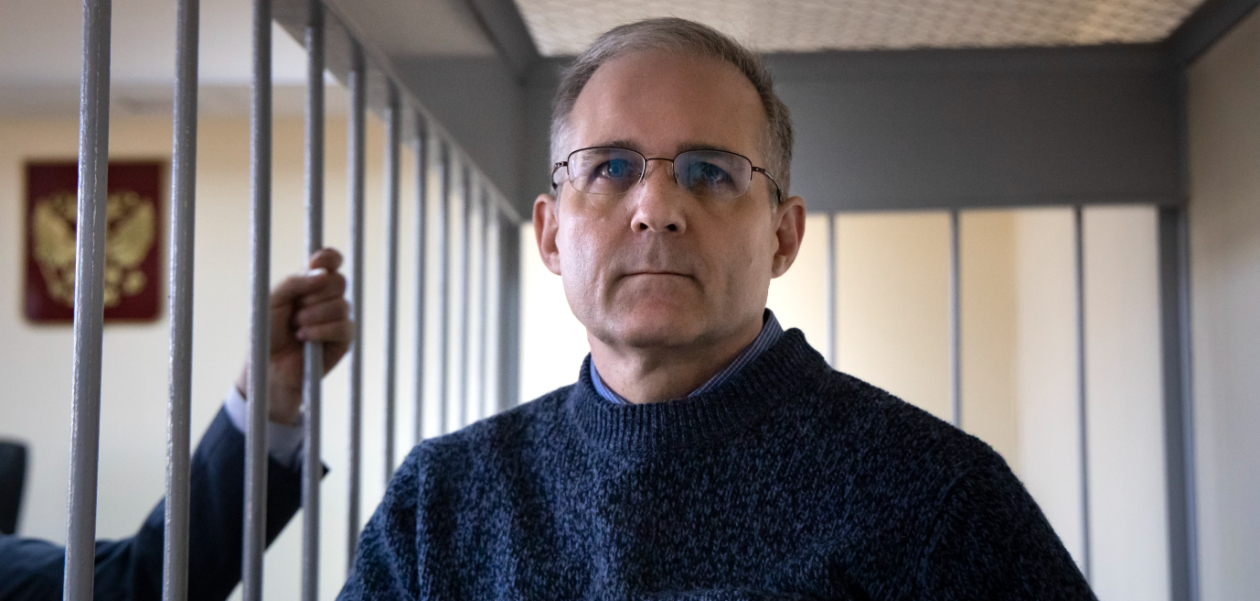 Republicans and right-wingers, but also many Democrats and progressives, are worried now, after the release of Brittney Griner from prison in Russia, about the fate of Paul Whelan. The concern for Whelan is amplified by belief that he, like Griner, was an innocent victim. Nothing can be further from the truth.
Whelan, whom the Biden administration claims it has been trying to get released, received a 16-year jail sentence in Moscow in 2020 after being arrested two years earlier on suspicion of spying.
Whelan—born in Canada in 1970 and a resident of Michigan since moving to the U.S. when he was young—was left out of the prisoner swap which involved exchange of Griner for the Russian arms dealer Victor Bout. Leaving Whelan out of the swap, according to Whelan's brother David, was "a catastrophe for Paul."
If there were only the coverage we get from the major U.S. media, we would know almost nothing about Paul Whelan, especially when compared to how much we know about the details of Griner's life which the press aired during her captivity.
There is no mass movement for Whelan's freedom, as there was in Griner's case, and that is probably for good reason.
The first striking thing about the Whelan case is how it exposes the failure of much of the U.S. media to do its job. The overwhelming majority of journalists in U.S. media have failed to share any significant information about him with the American public.
Who is he? What does he do? What was his line of work before he ended up in Russia? Why did he go to Russia more than once? What was he doing in Russia during those trips? How does a U.S Marine stationed in Iraq go from there direct to Russia and end up snapping travelogue photos in Moscow and St. Petersburg? How is it that he has four identities, one as an American, another as an Irishman, a third as a Canadian, and a fourth as a citizen of the U.K.? How is that he is a citizen of these four different countries, all at the same time? How is it that he holds passports that look like they were issued by each of these countries?
These are only a few of the many "five W's" of journalism (Who, What, When, Where and Why) not addressed by the overwhelming majority of U.S. journalists when they talk about Paul Whelan.
We know about Whelan's multiple passports and citizenships from a variety of reports in Canada, Ireland, and Britain. This information is not widely known by consumers of the U.S. news media—at least not by consumers of the main daily news outlets. The only thing most Americans who know his name know about him is his alleged role as "an American wrongly imprisoned in Russia."
He was reportedly born in March 1970 in Ottawa, Canada's capital, to British immigrants. His parents, twin brother David, sister Elizabeth, and other brother Andrew, all moved to Ann Arbor, Mich., when Paul and David were young. The twins graduated from Huron High School in 1988.
According to the Detroit Free Press, this heritage and chain of events explains his four passports—his native-born Canadian citizenship, U.S. citizenship due to immigration, British citizenship through his parents, and Irish because it was the birthplace of his grandparents.
Military records show Paul Whelan joined the U.S. Marine Reserves in 1994, about six years after he had reportedly begun work as a police officer in Michigan at the age of 18. He never married and has no children.
Whelan started as an IT project manager for a company called Kelly Services in the early 2000s, but deployed with the Marines within a couple of years on the first of two tours to Iraq, in 2004 and then 2006.
It was while serving in the Marines that he made his first trip to Russia, a visit he once detailed on his website, a website that has now been taken down. On that now-erased website, there were pictures of his visits to Moscow and St. Petersburg with his comments about the "quite enjoyable time" he had during those "explorations."
Suddenly in 2008, this modern-day U.S. "hero," now "unjustly" imprisoned in cold, cruel Russia, who had been promoted up to the rank of Sergeant in the Marines, was discharged from that service. The reason: According to the Pentagon, he had committed larceny, using someone else's Social Security number and writing bad checks.
With four identities in as many countries we guess that at least the second charge (stealing Social Security numbers) was no surprise, nor was the charge that he had written bad checks. Any checks written under any name other than his own would have to have been bad, although even checks bearing his real name could also have been bad ones.
At this time, there's no way to verify whether the charges of larceny and stolen Social Security numbers and bad checks were actually true or whether they were cover stories to explain his leaving the Marines. His family apparently said they knew nothing about the criminal charges. In either case, he comes out looking like anything but a great American hero worthy of a mass movement demanding his freedom.
After being discharged from the Marines for larceny and everything else, for some unexplained reason, Kelly Services continued his employment. One wonders how many other criminals they keep on the payroll.
His criminal activity while in the Marines bothered Kelly Services so little that they actually promoted him, first to senior manager and then to the position of Manager of Global Security and Investigations in 2010.
He left the company in 2016, moving to become director of global security for automotive components supplier BorgWarner. Whelan was "responsible for overseeing security" at facilities in Michigan and around the world, a company statement said.
Since his first visit in 2006, Whelan made several other trips to Russia and developed what his brother David described as "in-depth knowledge of the country."
His brother Daniel gave an "explanation" of one of Whelan's frequent trips to Russia on British, not U.S. television. According to David, it was due to Paul's "in-depth knowledge" of Russia that he had been asked to attend the wedding of a fellow former Marine in Moscow in December 2018. David told that story to the BBC's Newshour after Paul's arrest in Moscow.
Apparently then, there was another U.S. Marine in Russia, this one getting married there! Another "Marine" was ending up in Russia and Whelan was connected to him. We don't know about other Americans, "Marines" or others, whom Whelan might have helped become "familiar" with Russia. The betting is that the Russians can answer that question.
"His experience of having already been to the Kremlin and having already walked around Red Square and navigating the metro, his (Marine) friend felt Paul could assist a bunch of Americans who hadn't otherwise ever been to Moscow," David Whelan said to the BBC.
With the multiple passports and citizenships and the frequent trips to Russia while he was head of security for major U.S. information-gathering corporations, if the Russians had not taken him in, at least for questioning, it would have spoken volumes about the competence of their intelligence agencies.
On Dec. 28, 2018, however, he was arrested by Russia's FSB state security agency. Unsurprisingly, the Russians say he was caught spying. They and the British press reported that he been handed a digital storage device containing a list of Russian intelligence officials.
Some in the U.S. claimed at first that Whelan was arrested only because it could give Russia leverage to get back Maria Butina, a Russian gun rights advocate jailed in the U.S. in 2018. She, however, was deported back to Russia in 2019.
The BBC asked David Whelan about these things, and he called the Russian charges "nonsense." He said, "I can't imagine how someone with a law enforcement background who is also a former U.S. Marine, and who is now working in corporate security and is also aware of the risks of travel, would have broken any law let alone the law related to espionage."
Speaking in the White House Oval Office as he announced Griner's release, President Joe Biden said that "sadly and for totally illegitimate reasons, Russia is treating Paul's case differently than Brittney's."
That, of course, is an absurd statement by the president. No country, including the U.S, would equate an innocent sports hero and popular cultural icon like Griner with a possible spy. And David's description of his brother's work history does more to paint a picture of the ideal spy than it does to paint one of an innocent victim.
While David Whelan said the family does not "begrudge Ms. Griner her freedom," the family believes it is "clear that the U.S. government needs to be more assertive.
If bad actors like Russia are going to grab innocent Americans, the U.S. needs a swifter, more direct response, and to be prepared in advance," he added. "I can't imagine he [Paul] retains any hope that a government will negotiate his freedom at this point. It's clear that the U.S. government has no concessions that the Russian government will take for Paul Whelan. And so Paul will remain a prisoner until then."
What is abundantly clear is that all major countries engage in spying. Americans and Russians both know this, so it makes no sense to pretend the jailing of a captured U.S. spy is somehow a shocking violation of rights or constitutes "grabbing" an innocent victim. Butina was not an innocent victim when she was captured in the U.S., and Whelan was very likely not such a victim when he was arrested in Russia. There are plenty of American corporate figures working in Russia even today, none of whom have been "grabbed" and charged by Russia.
The U.S. and Whelan both knew the risks when he engaged in his "explorations" in Moscow and St. Petersburg, so there is little use in playing hypocritical games. Those games can, in addition, derail much more important tasks facing the U.S. and Russia.
The U.S. is engaged in a war against Russia, with Ukraine as the battleground. Tens of thousands have died with enormous casualties on all sides in Ukraine, including many Russian soldiers also killed and wounded. In Europe, the U.S., and around the world, the public also suffers many consequences.
To the relief and joy of most of the world, the two countries, Russia and the U.S, have successfully negotiated the release of Brittney Griner. It proves they can talk rather than fight and that, when they talk, they can get good results.
The U.S., instead of using the Whelan case to whip up more anti-Russian sentiment, should be declaring its readiness to negotiate with Russia and Ukraine on ending the deadly war in which the three countries and NATO are now embroiled. Negotiations for a ceasefire would go a long way to benefiting the people of the United States, Ukraine, Russia, Europe, and the world and reduce the danger of a nuclear war no one wants.
We can't determine what Russia will do next in its dealings with the U.S., but we can influence what our country does or says next in its dealings with Russia. The people of the U.S. must demand negotiations to end the war now. Making an overture for peace would be so much better than trading pot shots about the spies who have not yet come in from the cold in both countries. In a world where peace prevails, all the spies will get to go back to the homes where they belong.
As with all op-eds published by People's World, this article reflects the opinions of its author.